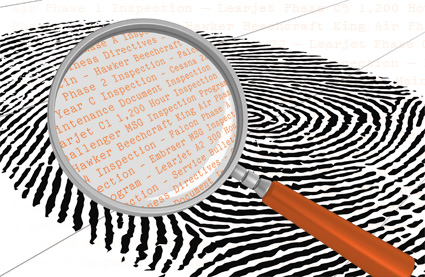 Dirty Fingerprint: How Detailed Logbook Entries Benefit Your Aircraft
When you think about the tools and equipment necessary to properly operate an aircraft, some of the first items on the list might be properly tuned engines, overhauled landing gear and the latest in flat-panel technology. There is one that is often given only cursory consideration but that can ground an aircraft faster than anything... paperwork.
Aircraft paperwork consists of log books, maintenance records, aircraft registration, airworthiness certificate, flight manual and ops books, among others. Not all have to be carried on the aircraft at all times, but must be up-to-date, complete and available for inspection. Without them, your aircraft is grounded.
Aircraft Logbooks: Safety & Compliance
Aircraft inspections are all about preventative maintenance. Because it is unwise and unsafe to allow certain critical parts to fail while they are in service, the Federal Aviation Administration (FAA) mandates that the owner/ operator follow a Maintenance Program, one option would be the manufacturer Chapter 5 Requirements, or the operator could choose to use an FAA-approved Approved Aircraft Inspection Program (AAIP) program. The goal of Chapter 5 and the AAIP is to find and fix things before they go wrong and to keep an aircraft airworthy and in the air. It is the aircraft's logbook that provides the evidence everything is up-to-date with all maintenance and inspections. Of course this is nothing new to aircraft owners or operators. Logbooks have been required since the beginning of time, or so it seems.
An aircraft's logbook provides the proof that maintenance and inspections are up-to-date.
The logbook is the written record and true representation of an aircraft's history. Whatever impacts an aircraft, whether maintenance, parts, life-limited components, inspections, etc., it requires documentation in the form of a logbook entry. In Federal Aviation Regulation (FAR) 43.9 and FAR 43.11, the FAA advises an operator to write it down. If maintenance is performed, write it down. Did you have it inspected? Write it down. FAR 43.9 regulates maintenance while FAR 43.11 regulates inspections. It is the law and failure to comply with either puts your aircraft in jeopardy of being grounded. According to the FAA, if it is not recorded, there is no proof it was ever done.
Paul Lewandowski, Duncan Aviation's Chief Inspector, likes to call it the dirty fingerprint. "If it's not documented in the records, it's like it never happened. You may have a perfectly safe aircraft but if you don't have it in your logbook, you can't prove it to the FAA. And if you can't prove it, the aircraft could be deemed unairworthy." Paul goes on to say, "Logbooks provide two things: safety and compliance with the law."
( Return to top )