NDT Is In The House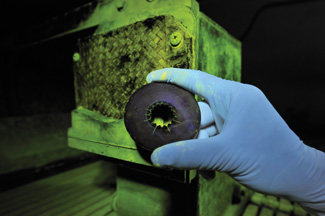 A smart business invests in the right tools, equipment and employees to meet growing business needs. Those businesses that use aircraft use them as productive business tools to enhance their ability to grow. As with all tools and equipment, when an aircraft is down for repair or maintenance, it ceases to help produce revenue until it is up flying again. Time is of the essence, so when it's time to schedule necessary maintenance, savvy operators want one maintenance facility with the ability to provide the highest in quality service with the shortest downtime while utilizing innovative thinking and flexibility to find solutions for the unexpected. They want Duncan Aviation.
Duncan Aviation believes that being prepared to meet the smallest needs of every customer has the biggest impact and has invested millions of dollars in tools, equipment and talent to quickly and efficiently provide for required aviation maintenance services.
For example, Duncan Aviation has one of the highest skilled (Level 2 or higher) in-house non-destructive testing (NDT) teams in the industry providing eddy current, dye penetrant, ultrasonics and magnetic particle inspections for required NDT testing on all makes and model aircraft.
NDT is the testing of parts without destroying them to determine if there is still life in them. Many parts are life-limited and need to be replaced after a determined number of cycles or hours. These limits and testing-intervals are determined by engineering standards. Depending on the aircraft manufacturer, these inspections could be called phase inspections or time-limit inspections (per thousands of hours of usage or number of cycles).
NDT Team Leader Ray Vieselmeyer explains what sets his team apart from other service providers. "Providing NDT testing is what we do full-time every day, day in and day out. We don't divide our time with other areas and work NDT part-time."
They are extremely knowledgeable and always there exactly when we need them.
According to Brad Lenneman, Duncan Aviation Airframe Service Sales Representative, "The list of capabilities Ray's team can provide is unmatched. We'll go to the NDT shop with a concern and almost instantly they have a list of tooling, manuals and tests ready with a plan of action." He goes on to say, "They are extremely knowledgeable and always there exactly when we need them."
The Duncan Aviation NDT team can test nearly every surface of an aircraft and a near limitless list of materials including common metals such as aluminum, steel and titanium to the obscure engine parts made of Inconel. They are called to locate cracks in parts before they fail, determine remaining thickness on materials such as paint, skin, windshield and corrosion as well as multiple-level bond testing along seams. Following a strict, established protocol, every piece of equipment is calibrated to the exact test and material surface prior to every use and then again when testing is complete. Specialized probes increase their capabilities of accurately testing any size or shaped surface whether on the exterior of the aircraft or hidden deep inside an engine.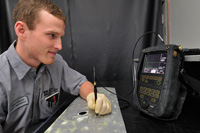 There is some form of NDT testing on nearly every inspection performed on an aircraft. That makes the Duncan Aviation NDT team the most requested service on location. They are on-call and ready when the call comes in. And the calls do come in. Much of the NDT performed is at the aircraft's location in the hangar with portable testing equipment. For required NDT on engines parts, larger aircraft sections and accessories, two dedicated NDT testing booths are equipped with fluorescent penetrant and magnetic particle inspection testing equipment.
The Duncan Aviation NDT services come highly recommended. Just ask those who rely on their services the most—other Duncan Aviation teams.
"With the amount of maintenance and testing mandatory on aircraft, I'd say it is a requirement for a quality Maintenance Repair and Overhaul organization (MRO) to have an in-house NDT resource. We couldn't function without them," says Rob Anderson, Airframe Maintenance Team Leader.
Brad Carter, Duncan Aviation Master Paint Technician, shares this sentiment. "They are a very valuable resource for the critical information we need for each aircraft we work on. If we didn't have them on-site we would have to outsource it, causing delays in work progress and deliveries."
Technology that Travels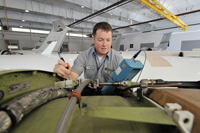 Duncan Aviation NDT services are not just available to customers at our maintenance facilities in Battle Creek, Michigan, and Lincoln, Nebraska. With accurate, portable testing equipment, Ray and his team are able to travel to a customer at their location. They have traveled all across the United States from East Wenatchee, Washington, to Miami and even to other countries.
Aircraft owners and operators are smart. They understand that in order for an aircraft to be the most efficient and effective business tool it can be, it needs to be flying. Duncan Aviation understands this too. We stand prepared.
Note to Falcon operators
Duncan Aviation's NDT capabilities include Dassault authorized NDT. Only a handful of facilities have been trained and authorized to perform stringent Falcon NDT. Duncan Aviation NDT Team Leader Ray Vieselmeyer, NDT Master Tech Casey Fix and NDT Tech Darrell Stephens are all certified to perform advanced Falcon NDT testing such as Vertical Window Post and Tail Attached Lug Inspections, with Casey (Level 3) addtionally certified to perofrm Falcon Major Corrosion Inspection. All Duncan Aviation NDT technicians are trained and certified for basic Falcon NDT.
NDT X-Ray Services
For major structural inspections on several aircraft models. NDT x-rays are mandatory. This requires a large area of the hangar around the aircraft to be vacated of all maintenance personnel, except for the NDT x-ray specialists using x-ray or gamma ray radiation to detect defects deep within the airframe structure.
Over the years, Duncan Aviation has created a solution that completes this requirement with minimal downtime and disruption. To avoid unneccessary disruption to surrounding aircraft maintenance events and to ensure the safety of all team members, NDT x-ray exposures are performed overnight and on weekends through a third-party NDT x-ray vendor.
Tests are finished and results are ready for airframe maintenance to continue when technicians arrive in the morning.
( Return to top )