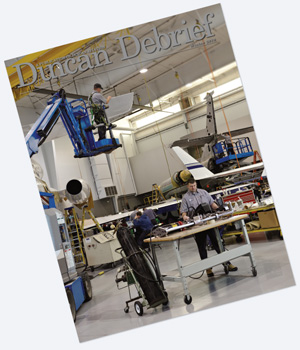 Table Of Contents
Todd Duncan Download

Todd Duncan talks about the positioning of Duncan Aviation to continue customer service for years ahead.

An additional Duncan Aviation nose-to-tail support facility in Provo, Utah, will be open for business in August.

Tony Gilbert is relocating to France for the next couple of years in an effort to make him more accessible to our customers in Europe, Russia, India, Asia, the Middle East and North Africa.


To really equip your aircraft for the future, you'll want to look at upgrading to WAAS. Duncan Aviation's avionics experts weigh in on the upgrade and the future for WAAS.


Duncan Aviation has some of the most forward-thinking technicians, able to develop sustainable and repeatable maintenance and testing procedures that are truly different. Read about some of the most recent here.

Duncan Aviation has avionics, engine and airframe technicians and equipment strategically positioned throughout the United States to quickly help operators stuck anywhere in the world.

Duncan Aviation's professional aircraft interior and paint designers have been setting trends in aircraft paint and completions for years.

In one spot, we provide the latest in Duncan Aviation news, industry trends and technical updates.
( Return to top )