Duncan Aviation Completes Aviation Partners' Blended Winglets Installs On Falcon 2000EX And Hawker 800s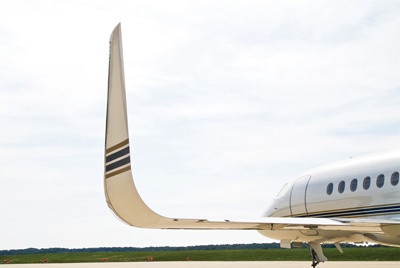 Falcon 2000 Winglet.
Duncan Aviation has completed many installations of after-market winglets for the Falcon 2000EX. Last summer, Duncan Aviation became the first North American center to install the High-Mach Blended Winglets for the Falcon 2000 series. Installed and certified in the second quarter of 2009, Aviation Partners (API) Blended Winglets are now available to all Falcon 2000/2000EX operators.
"Operators are telling us that they have noticed a significant fuel savings within the first few hours after installation," says Dale Hawkins, Aircraft Service Sales Representative with Duncan Aviation-Battle Creek.
Duncan Aviation is also an installation center for the Hawker 800 series Blended Winglet program.
Seattle, Washington-based Aviation Partners, Inc. is the world leader in advanced Winglet technology. API's patented Performance Enhancing Blended Winglets have been designed and certified for a number of commercial and business aircraft; applications include Boeing, Falcon, Hawker and Gulfstream airframes. Over 3,500 in-service aircraft have saved an estimated 1.7 billion gallons of fuel. In addition to the 5-7% improvement in fuel burn, Blended Winglets have reduced global CO2 emissions by almost 19 million tons. Additional airframe programs are in development for existing Blended Winglet technology, and future Winglet designs will lead to greater incremental improvements in performance, fuel savings and emissions reduction.
For more information on blended winglets, please contact any of our Falcon Service Sales Representatives:
Hawkins, Dale - Airframe Service Sales Rep - Battle Creek, MI (BTL). Aviation professional since 1981.

Airframes: Falcon, Hawker

Direct: +1 269.969.8463
Mobile: +1 269.998.3330
Hubbard, Pete - Airframe Service Sales Rep - Lincoln, NE (LNK). Aviation professional since 1977.

Airframes: Falcon

Direct: +1 402.479.4164
Mobile: +1 402.326.0710
Fax: +1 402.479.1645
Klenke, Tim - Airframe Service Sales Rep - Lincoln, NE (LNK). Aviation professional since 1982.

Airframes: Astra, Falcon, Gulfstream

Direct: +1 402.479.1679
Mobile: +1 402.432.2367
Monk, Alan - Airframe Service Sales Rep - Battle Creek, MI (BTL). Aviation professional since 1984.

Airframes: Falcon

Direct: +1 269.969.8423
Mobile: +1 269.209.0436
Fax: +1 269.969.8489
( Return to top )