David Shipperbottom Now Manager of Government Programs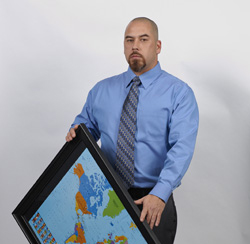 Dave Shipperbottom, Manager of Government Programs.
Duncan Aviation is pleased to announce the appointment of David "Dave" Shipperbottom to the position of Manager of Government Programs, where he is responsible for effective execution of the company's Government Programs and will provide leadership for the Government Programs team. This team is currently managing a diverse mix of projects that includes Special Mission Equipment installations in Learjet 60s, Falcon 20s, and Citations, Casa 235 avionics upgrades, C-12 structural maintenance programs, and various aircraft maintenance and modifications contracts with U.S. and other government and military organizations.
Dave began his aviation career in the Navy where he worked for four years aboard the U.S.S. Nimitz. After his service, he attended Spartan School of Aeronautics in Tulsa, Oklahoma, where he earned his A&P license and an associate's degree in Aviation Applied Sciences. In 1999, he began his career with Duncan Aviation as a Learjet Airframe Mechanic, advancing to Lead Mechanic and then team leader by 2003. In 2007, Shipperbottom became a Project Manager, where he most recently served as Team Coordinator.
"We are excited to have Dave in this important leadership role," says John Slieter, Vice President of Sales and Marketing. "Throughout his years with Duncan Aviation, Dave has showcased his leadership abilities and communication skills with customers as well as Duncan Aviation team members. I am confident Dave will have an immediate impact in his new role and will continue to provide excellent support for customers interested in our government and special programs services."
For more information about Duncan Aviation's Government & Special Programs services, visit www.DuncanAviation.aero/government.
( Return to top )