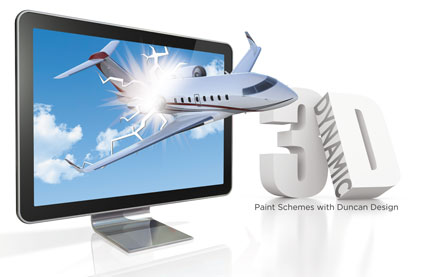 Dynamic 3D Paint Schemes with Duncan Design
Customers now have the option to work with three-dimensional (3D) renderings while collaborating with Duncan Design on their aircraft's exterior paint scheme.
3Ddesigns provide customers with the same customization and individual customer service that has always been offered by the Duncan Design team. This new design tool now helps customers better visualize how a design will wrap around an aircraft before they actually have the paint scheme applied. Duncan Aviation designers are excited to add it to their design capabilities.
Visualizing Complex Contours
"The experience builds confidence that the customer's design will turn out as expected and helps to eliminate any unexpected aspects of a design."
- Lori Browning, Aircraft Completions Designer
With traditional two-dimensional designs, areas of the aircraft can be difficult to view. "Providing three-dimensional designs gives our customers a visually improved representation of their aircraft's design," says Lori Browning, Aircraft Completions Designer at Duncan Aviation.
Contours and shaping within the 3D design provide a greater representation for complex areas such as airframe belly, engines, pylons and winglets. This advantage allows Duncan Aviation's completions designers to present a design that can more easily be assessed by customers.
Lori explains that a 3D design for Dassault's Falcon 7X model enhances visual representation. "The three-dimensional design offers visual advantage for how a stripe curves over the side engines and wraps around the top engine's contours," Lori continues. "The experience builds confidence that the customer's design will turn out as expected and helps to eliminate any unexpected aspects of a design."
Advantages with the 3D Stripe Layout
An additional advantage of receiving multiple views with the 3D design is being able to see the stripes applied to the entire aircraft. Rachael Weverka, Duncan Aviation Aircraft Completions Designer, explains. "With two-dimensional designs, certain aspects of the paint design are not shown. Such is the case for the visual representation of the stripes and emergency exit markings on the right-hand side of the aircraft."
In a 2D design, only the left-hand side of the aircraft is represented. The 2D drawings show how stripes relate with the entry door markings, but when there is a design that extends through the cabin windows, it is helpful to see how it interacts with the emergency exit markings.
Rachael says, "As a designer, we anticipate how the stripes interact in certain areas on both sides of the aircraft and we want to give the customer the opportunity to see what we envision for them. A 3D design gives a truer representation of the stripe design from both the entry side and right-hand side of the aircraft." This can be beneficial for customers and designers, giving them the freedom to experiment with new and interesting designs before taking the leap of putting paint on an aircraft.
3D Design Process
Once specifications have been determined, through the use of concept sketches and basic 2D designs, completions designers construct two unique 3D representations of a specific design with two different color schemes. This assists customers with final decisions. The entire design process results in a final choice that is pleasing to both customer and designer.
With each project, a 3D design provides three exterior views of the aircraft, a compact disc of images for the customer, a framed photo of the design and an option to receive a short video representation of the scheme.
The Duncan Design team has 3D capabilities for more than 12 airframes, including Dassault Falcon models, the Gulfstream IV and the Global XRS, with plans to further expand these capabilities in the near future.
As always, Duncan Aviation looks for more innovative and inspiring ways to provide customers all that they need to design their perfect aircraft. 3D interior designs will be that next step.
( Return to top )