August 2009 Edition
Falcon 50: Inspect For Cracked Rib in Baggage Compartment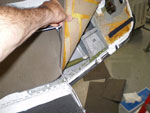 During inspections of the Falcon 50 baggage door, Duncan Aviation technicians have found a formed rib to be cracked in the radius. During the next 2A+, make sure to conduct a thorough visual inspection of this area. Because the baggage door is part of the pressure vessel, it requires the manufacture to be notified... (read more).
Clearing The Air on ELTs
The United States does not require the 406MHz Emergency Locator Transmitter (ELT), but as of February 1, 2009, the international monitoring of your 121.5/243 MHz ELT signal ended... (read more).
A Primer on RNP SAAAR
Until recently, RNP had not been implemented in U.S. airspace, but has now been implemented with approximately 30 RNP SAAAR published... (read more).
New Hawker Mandatory Service Bulletin
If you operate a Hawker 750, 800XP, 850XP or 900XP, please take note. Hawker Beechcraft Corporation recently released Mandatory Service Bulletin (MSB) 24-3968 titled Electrical Power-Introduction of In-Line Fuses... (read more).
King Air Autopilot Troubleshooting
If your autopilot is not performing as well as it once was, there are a few quick items you can easily check... (read more).
Q&A: CFE738 Ugly Cabin Odor
"The crew aboard our F2000 has reported an ugly odor in the cabin on the last three or four flights during start, climb and descent. I'm having trouble isolating the source of this odor"... (read more).
PW Enhancement offers a lower ESP Rate For Falcon 2000EX Operators
Pratt & Whitney has recently notified Falcon 2000EX operators of ESP of a new service enhancement for their engines. This upgrade will allow operators who currently or wish to fly "on condition"... (read more).
About The Newsletter
This Duncan Intelligence Newsletter is a publication of Duncan Aviation, written by our technical experts. Please contact us with any questions, or if you have a topic that you would like to see discussed.
( Return to top )