Hawker Spring 2006
New Fan Venturi AD
— Dick Hyde
Once again the fan venturi has raised its ugly head in the form of a new Airworthiness Directive (AD). AD 94-11-03 which has been superseded by AD 2006-01-04 and relates to RAC SB 21-3669. Simply stated, the fan motor has to be replaced by an improved motor P/N 207640-34 or the whole venturi has to be replaced by a new fan venturi P/N 132322-3-1. There is an effective date of 1200 flight hours or 24 months from the issuance of the February 22, 2006, effective date. If you have questions about this AD or any Hawker technical issue, contact Dick Hyde at 800.228.4277.
KHF-950 System
— Kevin Miesbach
Are you experiencing tuning and/or garbled transmitter problems with your KHF-950 system? Duncan Aviation has seen these issues resolved by installing the following Service Bulletins (SB). Complying with notes in each SB regarding each of the boxes associated with your HF system can keep you from having further problems (such as failure of high-dollar power amplifiers).
KTR-953
SB 8: To reduce transmit distortion encountered when the KTR-953 is mounted in a different location (> 3 feet) than the KAC-952.
KAC-952
SB 9: To improve common mode rejection encountered when the KAC-952 and the KTR- 953 are installed in separate locations.
SB 10: To reduce transmitter distortion when the KAC-952 is mounted more that three feet from the KTR-953.
SB 11: To prevent the failure of the power amplifier driver and final transistors.
SB 13: Mod 13 to improve the tuning reliability of some shunt antennae.
* Ensure these SBs are installed together to avoid further problems.
NOTE: Remember to pull the HF coupler circuit breaker before removing or installing the KAC-952 HF antenna coupler!
Contact Dan Magnus at 800.228.4277 with any questions.
Watch Your Step
— Dick Hyde
There is an area in the cabin main door that gets little attention from the chapter 05 inspection guide.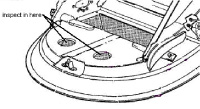 In inclement weather (rain/snow) water can get into the door in the area of the bottom step and cause corrosion. The bottom step tread is attached with several screws and when removed, two lighting holes are exposed. From this vantage point visual access can be obtained to inspect for corrosion and cracks that can appear in the three ribs that support the bottom step. When the door is closed with water in it, the water runs to the other end of the door and now you have double the trouble.
Thanks, Roy!
— Dick Hyde
Roy Olsen, BTL Hawker Tech Rep., retired on March 17th. Roy began with Kal-Aero in 1985 and has served as Duncan Aviation's Hawker Tech Rep since 1999. His expertise and commitment will be greatly missed. Thank you, Roy, and best wishes!
( Return to top )