How ADS-B Works
What is ADS-B?
ADS-B is an aircraft and satellite-based transmission system. ADS-B components can be broken into two primary functions: ADS-B Out and ADS-B In. An aircraft equipped with ADS-B Out sends WAAS/GPS-derived position and velocity data from the aircraft systems through an ADS-B-modified Mode S Transponder or a Universal Access Transceiver (UAT) to other aircraft, ground vehicles and ground stations to control and coordinate air traffic.
ADS-B Out instruments transmit aircraft information to ATC ground stations and to aircraft equipped with ADS-B In-capable devices. Hyper-accurate WAAS/GPS position data is automatically broadcast from all ADS-B Out-equipped aircraft to ATC ground stations and ADS-B In-equipped aircraft. The FAA has mandated that aircraft flying in the airspace that now requires Mode-C transponders to be equipped with ADS-B Out-capable devices by January 1, 2020.
ADS-B In-capable aircraft receive information from other aircraft transmitting ADS-B Out data and the ATC ground infrastructure. ADS-B In will remain optional for most aircraft.
How ADS-B Works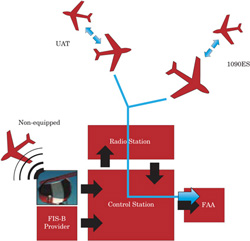 Surveillance of ADS-B equipped aircraft for Air Traffic Control and Aircraft Situational Awareness.
The first step in the on-board ADS-B system is the GPS-generated position system. The only position information that is accurate enough to meet the ADS-B specification is a WAAS/GPS system, which can either be a part of an existing FMS, another WAAS/GPS navigator, or a stand-alone WAAS/GPS sensor specifically employed for use by the ADS-B system. Aircraft equipped with either a 1090 MHz ES transponder or a 978 MHz UAT gathers that WAAS/GPS information and aircraft-specific parameters from on-board sensors, such as the Inertial Reference System (IRS), Attitude and Heading Reference System (AHRS) and Air Data Systems (ADS). The transponder or UAT processes the information and transmits it.
This information is processed in real-time and sent to ATC and can be published online for flight-tracking purposes. Ground stations receive these signals and rebroadcast them for other aircraft to see, effectively merging the 1090 and 978 MHz systems. The rebroadcast traffic service is referred to as Traffic Information Services-Broadcast (TIS-B). Other aircraft can directly receive these signals if both aircraft are equipped to do so. ATC uses the aircraft-based information to tighten the lateral separation at altitude and tighten the lateral and vertical separation when the aircraft is ascending or descending through airspace.
Another service, called Flight Information Services-Broadcast (FIS-B) provides the flight crew with weather in graphic and text formats along with other information, such as Air Travel Information Service (ATIS) and Notes to Airmen (NOTAMS). This service will typically use the 978 MHz UAT format because it has a larger bandwidth. FIS-B will not require a subscription for use, giving flight crews more information than they have previously had using subscription-based products like satellite weather.
For older aircraft, a multi-function display can be used as a Cockpit Display of Traffic Information (CDTI) to replace a radar display. This will merge the existing radar with FIS-B, TIS-B, terrain and TCAS data. Newer avionics suites will fully integrate this information into the Electronic Flight Instrument System (EFIS) display.
ADS-C Confusion
Not to be confused with ADS-B, ADS-C is Automatic Dependent Surveillance-Contract, and it has to do with FANS datalink. For more information on ADS-C, please refer to our FANS 1/A Straight Talk book on our website: www.DuncanAviation.aero/straighttalk/fans/index.php
ADS-B Evolution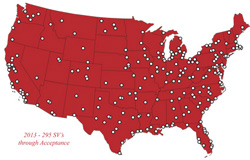 The concept of ADS-B goes back to an FAA-sponsored study in 1973. The standards to make the concepts a reality were proposed in the early 1990s and have been revised many times. International standards have been developed by the International Civil Aviation Organization (ICAO).
Ground stations were installed in Alaska, Arizona, and on the east coast to fully test the system. Eleven ground stations were deployed and activated in 2008, and Florida was the first state to be officially set up by the FAA for ADS-B. Full infrastructure deployment is now complete in the United States, Hudson Bay, and the Gulf of Mexico with an FAA mandate for all aircraft to be equipped by 2020.
The OEM specification for 1090ES Transponders is DO-260 and, as mentioned, it has been revised twice; DO-260B is the current revision. In spite of the revisions, several regions that implemented the ADS-B specifications stipulated in the earlier versions of DO-260 have largely retained the earlier revisions as their implementation specification. For example, the Hudson Bay, Australia, Singapore, Indonesia, and Hong Kong retained the specification for DO-260A. Europe and the United States intend to meet the mandate specification for DO-260B.
DO-260B has been adopted as the future worldwide standard. The high-level differences are as follows:
DO-260 — Initial specification, which later was determined to have latency and accuracy measurements outside of the parameters expected.
DO-260A — First specification revision developed to add accuracy to DO-260. This usually incorporates modified WAAS/GPS receivers. This version was installed and tested by the airlines, and the results were still outside the range of latency desired for domestic United States. Other failsafe functions were also desired.
DO-260B — Incorporates WAAS/GPS accuracies from DO-260A and improved latency, which also adds position forecasting developed from position and velocity to predict aircraft position. This adds additional cockpit failure annunciators and other procedures.
International Implementation
Internationally, Canada, China, Sweden and the United Arab Emirates (UAE) all currently have ground stations in place with varying coverage and services. Australia was the first country with full ADS-B coverage. In addition to the NextGen standards in the United States, ADS-B will be the backbone for SESAR being developed for Eurocontrol. NextGen and SESAR are parallel sets of standards with complete interoperability, which provides seamless transitions for aircraft traveling between the United States and Europe.
( Return to top )