How ADS-B Works
What is ADS-B?
ADS-B is an aircraft and satellite-based transmission system. ADS-B can be broken into two primary functions, ADS-B Out and ADS-B In. An aircraft equipped with ADS-B Out works by sending GPS-derived position and velocity data from the aircraft systems, through an ADS-B-modified Mode S Transponder or a Universal Access Transceiver (UAT) to other aircraft, ground vehicles and ground stations for the purpose of Air Traffic Control and coordination.
ADS-B Out allows an aircraft to transmit information to ATC ground stations and to properly equipped aircraft. Position data will be automatically broadcast from all ADS-B Out-equipped aircraft. ATC ground stations and ADS-B In-equipped aircraft will receive this data. ADS-B Out has been mandated by the FAA in the airspace that now requires Mode-C transponder.
ADS-B In is the ability of an aircraft to receive information from other transmitting aircraft and the ATC ground infrastructure. In addition to location data, it will provide traffic and weather information to pilots. Traffic information will be similar to that received from the current Traffic Information System (TIS), Traffic Advisory System (TAS), and TCAS technologies in use today. Weather information will be similar to the current XM Weather, except that it will be customized to the aircraft's geographic location and it will not require a subscription. The information will be free to anyone who chooses to equip their aircraft with certified ADS-B In capability. And at this time, ADS-B In will be optional for most aircraft.
How ADS-B Works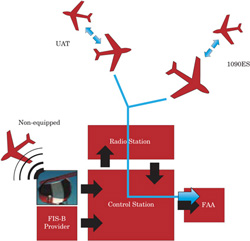 Surveillance of ADS-B equipped aircraft for Air Traffic Control and Aircraft Situational Awareness.
Aircraft equipped with either 1090 MHz Extended Squitter (ES) or 978 MHz Universal Access Transceiver (UAT) receiver/transmitters gathers information from existing on-board aircraft sensors, such as the FMS/GPS, Inertial Reference System (IRS), Attitude and Heading Reference System (AHRS), and Air Data Systems (ADS) and transmit them. Ground stations receive these signals and rebroadcast them for other aircraft to see, effectively merging the 1090 and 978 MHz systems. This information is also processed and sent to Air Traffic Control and can be published online for flight tracking purposes. Other aircraft can directly receive these signals if both aircraft are equipped to do so. This service is referred to as Traffic Information Services-Broadcast (TIS-B). If you hear the term "ADS-C", that term means "Automatic Dependent Surveillance – Contract", and is identical to ADS-B, although instead of transmitting its data to ground stations, the Mode S Transponder transmits the information over a Satcom, which is relayed to ground stations by satellites. ADS-C will be the same method of communication in areas without radar coverage, such as large bodies of water.
Another service, called Flight Information Services-Broadcast (FIS-B) provides the flight crew with weather in graphic and text format along with other information like ATIS and NOTAMS. This service will typically use the 978 MHz UAT format because it has a larger bandwidth. FIS-B will not require a subscription for use, giving flight crews more information than they have previously had using subscription-based products like satellite weather.
For older aircraft, a multi-function display can be used as a Cockpit Display of Traffic Information (CDTI) to replace a radar display. This will merge the existing radar with FIS-B, TIS-B, terrain and TCAS data. Newer avionics suites will fully integrate this information into the Electronic Flight Instrument System (EFIS) display.
ADS-B Testing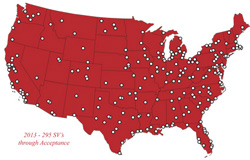 The concept of ADS-B goes back to an FAA-sponsored study in 1973. The standards it was based on were first proposed in the early 1990s and have been revised many times. International standards have been developed by the International Civil Aviation Organization (ICAO). Ground stations were installed in Alaska, Arizona, and on the East Coast to fully test the system. Eleven ground stations were deployed and activated in 2008, making Florida the first state to be officially set up by the FAA for ADS-B.
Full infrastructure deployment is expected to be complete by end of 2014 with an FAA mandate for all aircraft to be equipped by 2020 when flying in an airspace which currently requires a transponder.
International Implementation
Internationally, Australia was the first country with full ADS-B coverage. Canada, China, Sweden and the United Arab Emirates (UAE) all currently have ground stations in place with varying coverage and service. In addition to the U.S.'s NextGen, ADS-B will be the backbone for the Single European Sky (SES) being developed for Eurocontrol. Both systems are being developed in parallel and are planned to offer complete interoperability and a seamless transition for aircraft traveling between them. ADS-C will link the systems over the oceans and other large bodies of water.
( Return to top )