ADS-B FAA Mandate
The FAA began implementing NextGen in Fiscal Year 2009, starting with ADS-B. The FAA plans on having the ADS-B infrastructure operational by the end of 2014 and has mandated ADS-B Out compliance by January 1, 2020. On May 27, 2010, the FAA published new rules contained in 14 CFR §92.225 and §91.227 mandating airspace and avionics performance requirements after January 1, 2020. Advisory Circular AC 20-165 issued in May 2010 provides guidance for the installation and airworthiness approval of ADS-B Out systems in aircraft. Advisory Circular AC 90-ADSB was issued for public comment in June. The mandated avionics perform the ADS-B Out function, which transmits precise location and other information about the aircraft to ground stations and other aircraft equipped with ADS-B. The rule does not mandate ADS-B In avionics, which enable other services available with ADS-B. Aircraft outfitted with ADS-B In avionics can take advantage of broadcast services of data, like graphical and textual weather, traffic advisories, and other aeronautical information, in the flight deck. The ADS-B rule mandates ADS-B Out avionics performance when operating within designated affected airspace, giving aircraft owners approximately 10 years to equip their aircraft. The ADS-B rule, like current transponder operating requirements, requires operators to have ADS-B Out avionics installed and operating in order to fly their aircraft in the busiest airspace, as described below: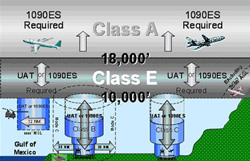 Graphic source: www.faa.gov
Class A, B, and C airspace.
All airspace at and above 10,000 feet Mean Sea Level (MSL) over the 48 contiguous United States and the District of Columbia.
Within 30 nautical miles of airports listed in 14 CFR §91.225, from the surface up to 10,000 feet MSL.
For Class E airspace over the Gulf of Mexico from the coastline of the United States out to 12 nautical miles, at and above 3,000 feet MSL.
It is important to note that current transponder or RVSM maintenance requirements are not changed or affected by the ADS-B rule.
FAA Technical Service Orders (TSOs) describe the equipment specifications approved for ADS-B operations. The ADS-B rule states that avionics must meet the standards of either TSO-C166b (for 1090 MHz ES link equipment) or TSO-C154c (for 978 MHz UAT link equipment). TSO-C166b is required in Class A airspace and either link can be used in all other airspace.
( Return to top )