Locations Using FANS 1A / CPDLC
North Atlantic Tracks (NAT)
Phase 1—Feb 2013

Reduced lateral spacing of the two core center tracks,
FL350-FL400.

Phase 2—2015  
Phase 3—2017

Potentially, reduced lateral spacing within all North Atlantic MNPS
airspace, FL350-FL400.
At the time of this publication, this is the timeline for implementation of FANS in the North Atlantic Tracks.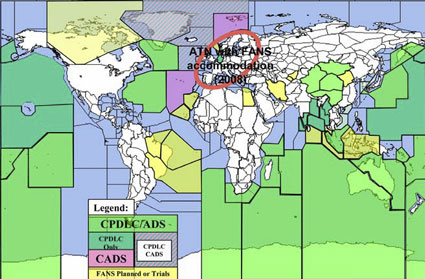 Courtesy of www.atnconference.com/downloadppt.php?id=322.
EASA Mandates (ATN B1 Requirement)
January 1, 2011—All new aircraft operating above FL 285 must be delivered with a compliant system.
January 1, 2014—Aircraft with individual airworthiness certificates before this date that are equipped with Future Air Navigation System (FANS) are exempt for the lifetime of the aircraft. Aircraft entering into service after January 1, 2014, shall comply with the rule.
February 5, 2015—By this date, all aircraft flying above FL 285 must be delivered with a compliant ATN B1 datalink system.
December 31, 2017—Aircraft that are at least 20 years old and that will cease operation in the concerned airspace before 31 December 2017 are exempt.
( Return to top )