What Is Satcom?
Satcom systems use satellites positioned in space for voice and data telecommunications. Modern communications satellites use both geo-stationary orbits and low-Earth polar orbits depending on the service network infrastructure you choose.
How does it work?
The basic satellite system consists of space and ground components. The space segment consists of the orbiting satellites and the ground segment is made up of control stations that maintain the satellites' health in orbit and gateways that provide the interconnecting link to the ground-based telecommunications networks.
The Big Players:
While there are many government and commercial Satcom services, the number of providers for business aviation is limited; the two major players are Iridium and Inmarsat. Several companies have also made inroads into airborne communication by utilizing the Ka and Ku satellite communications bands for television and broadband signals. They are still relatively underutilized. Please see our Frequently Asked Questions and Key Terms pages for more information on Ka and Ku satcom.
Iridium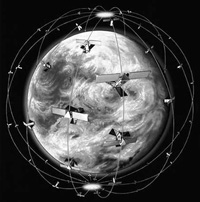 Iridium is a provider of complete worldwide satellite voice and data covering the oceans, airways and even the Polar Regions. The Iridium constellation uses 66 cross-linked satellites (plus seven spares) which create its network of global coverage. The satellites orbit the Earth at an altitude of 485 miles. They circle the Earth once every 100 minutes, traveling at a rate of 16,832 miles per hour. Each satellite is cross-linked to four other satellites; two satellites in the same orbital plane and two in an adjacent plane.

On the ground, Iridium's network includes gateways in Arizona and Alaska; a satellite network operations center in Virginia; a technical support center in Arizona; and four tracking and control stations in Canada, Alaska, Norway and Arizona - all interconnected by advanced fiber-optic and broadband satellite links.
The large number of fast-moving satellites with multiple overlapping spot beams minimizes missed connections and dropped calls.
More information can be found at the Iridium website: www.Iridium.com.
Iridium Today:
Due to the constellation architecture, Iridium provides worldwide voice communications, but currently is limited in its data rate ability, simply due to the age and original architecture of the satellites themselves.
Pertinent Details:
Because the call has to go up to the orbiting satellite and come back, a slight delay does occur. This is called a "clipping effect" for data and a "voice delay" for telephones. The voice delay is around .25 seconds. The Iridium network is truly global, with no holes in coverage. Iridium systems are far less invasive for aircraft installation/retrofit, although they are more susceptible to interference by other onboard systems.

Iridium in The Future:
The current Iridium service is predicted to remain fully operational until approximately 2014, however industry experts see its lifespan lasting much longer. Iridium has developed a next-generation satellite constellation named "Iridium NEXT." NEXT is being developed with an architecture offering the same voice services and a higher-powered data transfer system with backward compatibility for existing users. The Iridium NEXT satellite constellation will begin launching in 2015, and will be fully deployed by 2017.
For answers to specific questions, please refer to Iridium Questions.
Inmarsat
Inmarsat Today:
Inmarsat is the traditional international satellite service provider. Inmarsat presently offers a number of voice and data services including Aero H, H+, I, M, Swift 64 and their popular SwiftBroadband high-speed data service. Swift 64 and SwiftBroadband systems are commonly used in larger corporate aircraft with voice and data options. This is mainly due to the size of the high-gain antenna system normally installed on the tail of the aircraft, although there have been some smaller antenna options developed recently.
In the past few years, Inmarsat has launched its three fourth-generation SwiftBroadband (I4) satellites, which were operational in the Fall of 2008. SwiftBroadband offers voice and data transfer rates of up to 432kbps and is available globally except for extreme Polar Regions.
Inmarsat in The Future:
The safety capabilities of Inmarsat's system are designed to be fully compliant with the International Civil Aviation Organisation's (ICAO) plans for an integrated global traffic management system. A pillar of the ICAO's strategy is a global, air-to-ground and ground-to-ground network called the Aeronautical Telecommunications Network (ATN), to increase safety and improve management of aircraft. ATN is intended to carry data from a number of systems - including VHF datalink, Mode-S secondary surveillance radar and satellite communications - to provide seamless global information transfer among air traffic management providers, aircraft operators, service providers and passengers. ATN is being introduced over several years. In the interim, Inmarsat-based FANS 1/A avionics and the ACARS (Aircraft Communication Addressing and Reporting System) datalink protocol is being used to support communications on oceanic flights.
In August 2010 Inmarsat awarded Boeing a contract to build a constellation of three Inmarsat-5 satellites as part of a U.S. $1.2 billion worldwide wireless broadband network called Inmarsat Global Xpress. The three Inmarsat-5 (I-5) satellites will be based on Boeing's 702HP spacecraft platform. The first is scheduled for completion in 2013, with full global coverage expected by the end of 2014. The satellites will operate at Ka-band in the range of 20–30 GHz. Each Inmarsat-5 will carry a payload of 89 small Ka-band beams which combined will offer global Ka-band spot coverage. There are plans to offer high-speed inflight broadband on airliners.
More information may be found at www.Inmarsat.com/swiftbroadband.
Safety Services
Air Traffic Control Service – Position Reporting:
When making a trans-oceanic flight, it is important to have reliable position reporting. VHF range is inadequate. HF Voice, while in common use, is spotty and unreliable. There are now several services that are certified for use of position reporting (FAR 91.511, 135.165 and AC91-70 contain HF guidance). Inmarsat Aero-I, H, and H+, HF DataLink and more recently, Iridium, are all ICAO SARPS qualified.
Automatic Position Reports through the Satcom are known as ADS-C and require no pilot interaction. The Contract in ADS-C means that ATC will control the reporting system. There can be up to 5 separate ATC contracts at any one time.
Voice Safety Services:
Safety voice services is a capability that allows ATC to contact the aircraft through the Satcom or the aircraft to contact ATC through the Satcom. This requires the Satcom to be interfaced with the CVR, which is usually done through the audio panels. Because of this, either the FMS CDU must be an MCDU capable of dialing the Satcom or there must be an external dialer attached to the Satcom to allow communication through the crews' headsets. This must be a dedicated channel to the cockpit (the same is true for the datalink), which means the cabin Satcom channels must be separate. A telephone handset does not meet this requirement. The current ground-based portion of the Inmarsat network will require upgrades to make this function viable. Because of this, it is currently not certified for use.
Please contact Duncan Aviation for a listing of qualified systems.
Medical Service – Crew/Passenger Safety
Passenger health while airborne is another safety concern. Aircell and MedAire provide a service that allows flight crew and passengers to communicate directly to emergency room physicians at MedAire's 24/7 MedLink Global Response Center. With special training in remote airborne diagnosis and treatment, the physicians provide real-time medical advice to help people manage any medical issues that occur during the flight. MedAire service is available with Iridium and Inmarsat telephones.
For answers to specific questions, please refer to Inmarsat FAQs.
Comparing Apples to Apples
Iridium

Inmarsat

Number of Users:
500,000+

Satellite Quantity:
66 satellites plus multiple in-orbit
7 backup satellites

Low-Earth Orbiting (LEO)

Orbital Height:
485 miles

Orbital Period:
1 hour, 40 minutes

Satellite Weight and Size:
1,500 pounds
14 feet long/3.5 feet high

Spot Beams:
48 per satellite (30 miles in diameter per beam)

Frequencies:
Downlinks: 1616-1626.5 MHz
Uplinks: 1616-1626.5 MHz

Data Transmission Rate:
2.4-10 Kbps

Satellite Lifetime:
2015 – 2017 Current Generation
2015 – 2025 Iridium NEXT

Number of Users:
400,000+

Satellite Quantity:
I3: 5 satellites I
4: 3 satellites

Geo-Stationary (GEO)

Orbital Height:
22,000 miles

Orbital Period:
Stationary

Satellite Weight and Size:
I4: 13,200 pounds
23 feet long/10 feet high

Spot Beams:
I3: 1 global, 7 spot beams
I4: 1 global, 19 regional, 228 narrow

Frequencies:
1525.0-1559.0 MHz
1626.5-1660.5 MHz

Data Transmission Rate:
432 Kbps

Satellite Lifetime:
10+ years
( Return to top )