«Fall 2010
The Rise of "Chrome-Free" Paint: Why Aircraft Paint Systems Are Going Green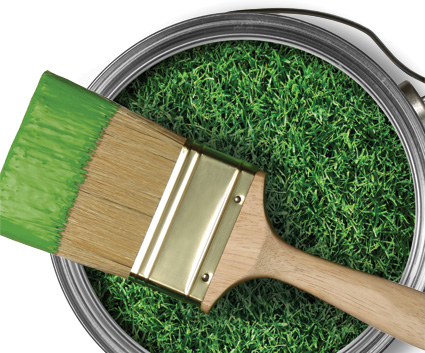 Duncan Aviation has been researching and testing "green" paint processes for nearly two years, and by 2011 all aircraft painted at Duncan Aviation's facilities will use a FAA-approved, chrome-free paint process.
The company is not the first business aircraft maintenance, repair and overhaul service provider to make the transition to an eco-friendly aviation paint process, nor will it be the last. For customers who have come to rely on Duncan Aviation's quality and attention to detail, the change begs the question: why make the switch without a regulatory mandate?
Chrome, a.k.a. "Hexavalent Chromium"
Hexavalent chromium has served as the primary means of corrosion protection in the aircraft industry since 1936 and allowed for the distinctive bare-metal finishes of the World War II era.
Generally referred to as chrome, chromate, or chromium, hexavalent chromium is found in the surface preparation processes and primers of traditional aircraft paint systems.
Chromates function as "sacrificial anodes," or metals that protect an aircraft's aluminum skin by reacting to corrosion first. While chromates serve this purpose very effectively, questions have been raised regarding safety and possible environmental hazards. They also come with stringent regulatory requirements.
Environmental & Safety Considerations
Chromates are known cancer-causing agents, or carcinogens. According to the Occupational Safety and Health Administration (OSHA), health impairments from continued workplace exposure could include increased risk of lung cancer and irritation or damage to the nose, throat, lungs, eyes and skin.
Although there are no regulations requiring the adoption of chrome-free processes, OSHA and the Environmental Protection Agency (EPA) both have regulations for tolerance levels.
A chrome-free paint process isenvironmentally conscious. It's good for the airplane, customers and paint technicians.
In a ruling in 2006, OSHA mandated a 52% reduction in permissible exposure limits (PEL) to all forms of hexavalent chromium in the aerospace industry.
The EPA also takes a keen interest in contaminants leaving a facility through waste water and exhaust vents. Chromates create hazardous waste streams "that cost the company dearly" to properly dispose of, explains Kelly Becker, Duncan Aviation's Environmental Director.
Paint processes that use chromates must capture waste streams and treat them at onsite pretreatment facilities. All contaminated materials, from waste water and exhaust filters to masking materials, must be properly disposed of as hazardous waste.
Doug Bohac is a paint industry veteran of 25 years and is the Paint Manager for Duncan Aviation's Lincoln, Nebraska, and Battle Creek, Michigan, paint facilities. He is a strong advocate for chrome-free paint systems.
A chrome-free paint process uses "safer products that perform just as well," Doug says. "It's environmentally conscious. It's good for the airplane. It's good for my customers. And it's excellent for my people."
"Chrome-free" Aircraft Paint Systems
While the industry tends to refer to chromate paint system alternatives as "chrome-free," they can contain trace amounts of chromium, says Kelly. Although hazardous materials like chromium and lead could be present in trace amounts, the levels are low enough to meet the tolerances for landfill disposal.
Traditional chromate paint systems use an acid etch to remove impurities, a chromate conversion coating to seal and protect the aluminum and its alloys, a solvent wipe and a zinc chromate primer as a second corrosion resistant barrier.
Chrome-free paint systems function in much the same way. Duncan Aviation's FAA-approved chrome-free paint process, available in both Lincoln and Battle Creek, uses PreKote® as a pretreatment alternative and a Sherwin-Williams Chrome Hazard Free primer in place of traditional zinc chromate primer.
PreKote serves as an adhesion promoter, creating a stronger bond between the primer and substrate than traditional pretreatments. This results in fewer adhesion failures. The primer provides the corrosion resistance for this paint system. It is a more advanced product than its predecessors, providing corrosion protection without the use of chromate.
Every layer of the chrome-free paint system "adheres to itself," says Doug. "The combination of PreKote with a chrome-free primer achieves better adhesion, less mil thickness, and improved flexibility. This flexibility makes it more difficult for the intrusion of salt rain and water to cause corrosion."
Performance
Duncan Aviation's chrome-free paint system has been applied to 18 to 20 aircraft over the last year, says Doug, and has been used on Falcon 7Xs, 2000s, 900s and 50s, as well as Citation XLs, Citation 650s and some Learjets. The transition to this process has been in the works for more than two years and is backed by a long, collaborative relationship between Duncan Aviation and Sherwin-Williams Aerospace Coatings.
The combination of PreKote with a chrome-free primer makes it more difficult for the intrusion of the elementsto cause corrosion.
Like most new products, though, the development and testing of chrome-free paint systems had a rocky start. A decade ago, the systems were not as effective as their chromate counterparts. That reputation still lingers, even though they have become much more effective. Extensive testing and evaluation in civil and military applications have yielded good results. Although test data is not available for the specific combination of PreKote and Sherwin-Williams Chrome Hazard Free primer, individual test results are very positive.
PreKote has passed several paint system specification tests by the United States Air Force (USAF) and aircraft manufacturers. The USAF specified PreKote as the only replacement for chromated conversion coatings in the umbrella Technical Order for aircraft painting. When tested with different paint products, PreKote passed all test criteria and was tested safe on a variety of surfaces.
Sherwin William's Chrome Hazard Free primer passed all criteria and was found to conform to the Society of Automotive Engineers (SAE) requirements when tested on Alodine 1200 treated aluminum.
Maintenance Manual Considerations
For a service provider to be a FAA-certified repair station, they must paint aircraft according to the processes specified in an aircraft's maintenance manual. This poses a unique problem for manuals that do not specify a chrome-free paint process.
A FAA-approved paint process must be used for maintenance manuals that do not specify a chrome-free paint process.
Using a paint manufacturer's process is not an FAA-accepted alternative, says Mike Mertens, Regulatory Compliance Manager at Duncan Aviation. The only legal way to provide a paint process that differs from the maintenance manual is to have an FAA-approved paint procedure.
"Since paint isn't considered a major repair or alteration, an FAA-approved process is usually accepted by foreign Civil Aviation Authorities," says Mike.
Duncan Aviation is among the few business aircraft maintenance, repair and overhaul companies with an FAA-approved chrome-free paint procedure. This ensures that no matter what is specified in an aircraft's maintenance manual, the paint procedure meets federal regulations.
"Our techs go through paint supplier and OEM completion training for the work they perform," says Doug. "Our training is there. We still stand behind our three-year paint warranty with this chrome-free system."
Additional Information
For more information about Duncan Aviation's "chrome-free" paint process, please call Doug Bohac at 402.429.2072.
To schedule your next paint event, please contact a Completions Sales Representative in Lincoln at 402.475.2611 or Battle Creek at 269.969.8400.
What To Look for In A Chrome-Free Paint Service Provider
Chrome-free paint processes are relatively new to business aviation, and vigilance is essential when considering a service provider with a chrome-free paint system.
Proper surface preparation is critical to achieve the necessary adhesion and corrosion resistance. Technician training on chrome-free paint processes and OEM requirements is essential. Knowing how to mix and apply products, and determine if proper application has been achieved, is essential to a quality paint job.
Paint supplier relationships are also important. The stronger the relationship, the more likely a supplier will partner with a service provider to solve any potential problems.
How many aircraft the service provider has painted using chrome-free paint is an indicator of experience. Ask what makes and models they have painted and request customer references.
Watching a paint job in work can be valuable in assessing service quality and competence. Ask to observe a chrome-free paint application, if possible.
Ask if paint services comply with regulations. If a paint process isn't FAA-approved and it differs from the maintenance manual (or the manual doesn't specify a procedure), it doesn't comply with FAA regulations.