«Fall 2016
Duncan Aviation & ACSS to Develop Transponders for ADS-B Mandates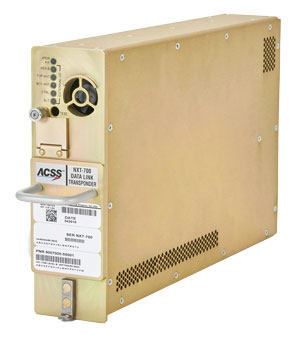 We are proud to partner with ACSS to participate in the launch of the NXT-700 transponder and the development of the AML (Approved Model List) STC (Supplemental Type Certificate). The NXT-700 is a Mode S transponder that satisfies the DO-260B mandate for ADS-B (Automatic Dependent Surveillance-Broadcast), and the AML STC will include more than a dozen legacy aircraft models. Those models include:
Beechcraft Hawker 125-400, 600, and 700
Beechcraft Hawker 400 SP/Beechjet, Early 400 Series
Gulfstream IIB, III, and V
IAI Westwind 1124
Textron Aviation CitationJet, Ultra, V, VII, and 550
Learjet 31A, 35, 35A, 36, and 36A
Dassault Aviation Falcon 10, 20, 50, 200, 900, and 900B
Bombardier CL-6013A, and 3R
In August, Duncan Aviation's Kansas City avionics shop completed several pairings on the NXT-700 on a Learjet 31A. ACSS expects the AML STC to be completed yet this fall.
"Duncan Aviation's Kansas City Shop Manager Jeff Aman and his team completed the three pairings with ACSS and their engineering team in record time under some very difficult conditions," says Mark Francetic, Duncan Aviation's Regional Avionics Sales Manager. "There is one more additional pairing to be completed by the end of the year, on a Honeywell GNSSU. The success of this endeavor so far has a lot to do with the professionalism and expertise of the Duncan Aviation and ACSS technicians, engineers, and program managers. Their commitment to the program, the launch customer, and the legacy aircraft operators who need this ADS-B solution is commendable."
The ACSS NXT-700 transponder will help legacy aircraft operators by providing avionics equipment that meets the NextGen ADS-B mandates. The NXT-700 will save owner/operators costs and downtime because it is form-fit compatible with current retrofit TCAS II (Traffic Collision Avoidance System II) 7.1 systems and may be able to use the existing mounting rack and connectors for a quick installation. Since there are no additional control heads needed, the cockpit configurations will remain the same as well.
Once the AML STC is completed with the FAA, approval will be sought with TCCA (Transport Canada Civil Aviation) and EASA (European Aviation Safety Agency) authorities.