Aircraft Battery Storage
April 2018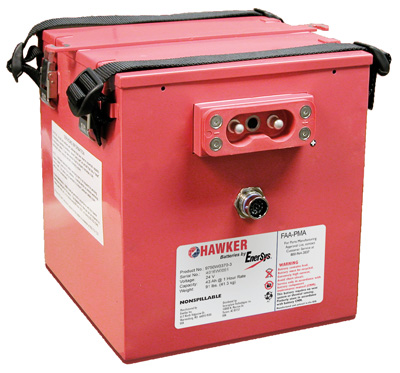 Like many other aircraft components, there is a need to maintain an inventory of spare parts and batteries are no exception. Also, like other aircraft components, batteries have a shelf life and maintenance requirements while in storage. The maintenance intervals and level of maintenance are directly related to the temperature at which the batteries are stored.
Batteries perform better at higher temperatures (70o F to 90o F), because as the temperature increases, so does the rate of reaction. However, the higher temperature also decreases the internal resistance of the battery, leading to higher self-discharge rates. The lower the temperature, the more internal resistance and less self-discharge. Batteries stored at a lower temperature will have less self-discharge, thus allowing them to be stored longer and with more time between required storage maintenance.
The chart below demonstrates typical capacity levels of a sealed lead acid battery stored at various temperatures. Storing at a lower temperature will save storage maintenance costs and preserves the life of the battery. This assumes the battery has been fully charged to 100% capacity before storage.
A battery will maintain at a higher capacity level at lower temperatures for longer periods of time, but it must be brought back to operating temperature to achieve maximum performance. A battery with 100% capacity stored at 0o F will exhibit only 20-25% capacity until it reaches operating temperature.
While at Duncan Aviation, any batteries in storage or for long-term projects are kept in a cold-storage cooler to help maintain capacity levels.