The Duncan Debrief: A Business Aviation Magazine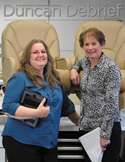 Spring 2013 Edition Available Now!
"Proper Planning"
Mary Bill, Engineering Alterations Planning Specialist and Kristi Steward, Interior Manager of Lincoln, Nebraska, both believe the bottom line is ensuring the safety of our customers.

» Read the Spring 2013 Duncan Debrief
The Duncan Debrief is an award-winning business aviation magazine for aircraft owners and operators. Written in-house, each edition includes articles on topics and trends in business aviation.
The Duncan Debrief is a free, semi-quarterly publication for aviation enthusiasts around the world.
Questions? Contact Publications Services.
Past Editions
( Return to top )