The Duncan Debrief is an award-winning business aviation magazine for aircraft owners and operators. Written and designed in-house by Duncan Aviation team members, each edition includes articles about the topics and trends business aviation operators care most about. We also include stories about new technology, new capabilities, current projects and Duncan Aviation team members, customers and partners.
The free publication is available for aviation enthusiasts around the world through mail and online. Fill out the form below to be added to our mailing list. Or if you have an iPad, access the magazine through Duncan Debrief app. Search for Duncan Debrief in Apple's App Store and download it. Once downloaded, you can receive push notifications each time a new Duncan Debrief magazine is published.
Latest Edition
Fall 2017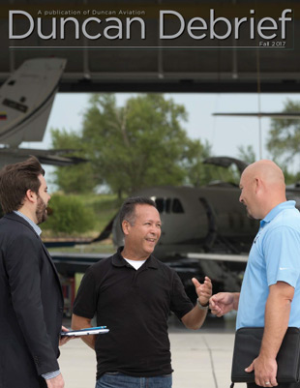 Duncan Aviation welcomes customers from all over the world. Team members like South American Regional Manager Allan Orsi (left) and Project Manager Jason Burhoop (right) strive to make each and every customer feel at home. Argentinian Technician Jose Monascal is a long-time customer of Duncan Aviation. He values the relationships he has developed with our team members and our unmatched service and support.
»View Fall 2017 Online Edition
»Download Fall 2017 PDF
»View Fall 2017 on Debrief App
Join Our Mailing List
This free magazine subscription delivers articles addressing topics of interest to owners and operators of business aircraft. Published in-house, the Duncan Debrief magazine is mailed twice a year.
Subscribe Now
Join Duncan Debrief Mailing List
---