Brad Wales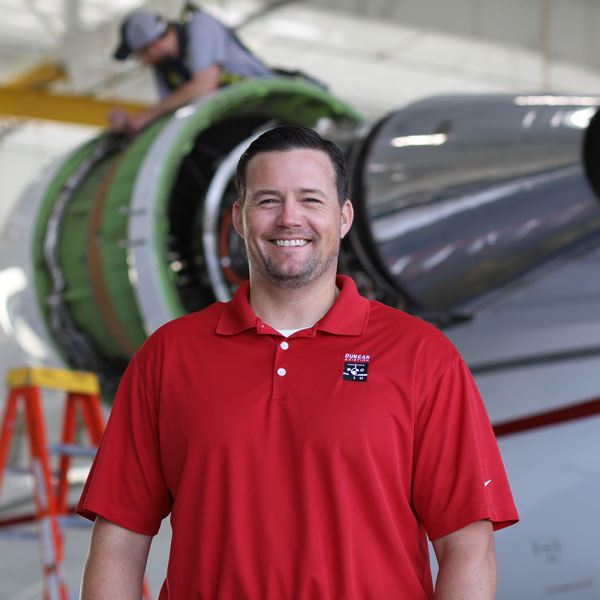 "You provide the hard work, the inquisitiveness, and the dedication, and Duncan Aviation provides the opportunity to learn, grow, and succeed."
Brad Wales uprooted his family from California and moved them halfway across the country to Lincoln, Nebraska. Brad, his wife, and two sons are settled in and truly enjoying the life they're living in Lincoln.
"Although we all loved the ocean, there's a freedom to roam around here that was completely lacking in southern California," says Brad. "There are so many activities for our kids here, too."
In California, Brad and his family lived in a 1,200 square-foot condo, and the kids could not play outside. There just wasn't anywhere for them to go. The cost of living was higher, and he and his wife felt that their daily commutes to work were just brutal.
"It was insane—it would take me anywhere from 45 minutes to 2 hours to drive 15 miles," says Brad.
Brad had gone to school for his A&P with Brian Foersch, Airframe Service Sales Rep, and the two kept in touch. Brian kept telling Brad what a great company Duncan Aviation was, and after realizing he wasn't really going anywhere at the aviation company where he was working at the time, Brad saw an opening at Duncan Aviation and submitted his application.
"When I told Carrie I had applied, she said, 'Well, you'd better get it! We have to get out of California!'" says Brad.
Brad is from California and his wife is a Colorado native, but had lived in California for 7 years. Growing up, Brad played water polo and enjoyed surfing, so it was only natural that he got certified as a lifeguard. He attended the San Diego Regional Lifeguard Academy. Additionally, Brad is Scuba and EMT certified.
As a lifeguard, Brad hauled swimmers out of the water for a number of reasons. Some suffered fatigue in the choppy surf, and some were bitten or stung by encounters with various sea life. After big storms, all kinds of surprising things would wash up, and, sometimes the animals themselves needed help, too. "There were vagrants and homeless people who we had to deal with," says Brad, "and we were also always on the lookout for suspicious vessels that could have been smuggling drugs or humans."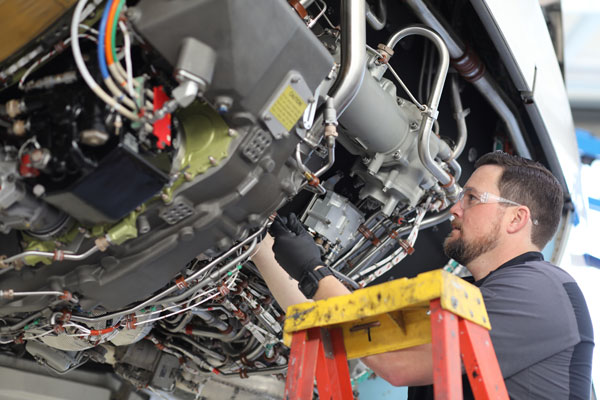 Brad lifeguarded while he attended college and when he wasn't quite sure what he wanted to do with his life, he joined the United States Coast Guard. During north patrols in Alaska, Brad's cutter performed search and rescue assistance to the fishing fleet.
As part of the Department of Homeland Security, the mission of the Coast Guard was still to perform search and rescue operations when needed, but the official mission had shifted to serve as more of a safety and security presence. In the northern seas, there was less focus on performing drug interdiction and human smuggling.
He also served as an airframe mechanic on helicopters while in the Coast Guard, and that was his first experience with aircraft. He enjoyed the experience so much, that when he left the service, he went to school at Miramar College for his A&P.
"I kept in touch with Brian after A&P school, and he knew I wasn't happy at the aviation company where I was working," says Brad. "There was very little chance of advancement."
Brad applied to work at the Engine Line Shop in Lincoln, and he was hired as a Tech I.
"Duncan Aviation is an excellent work environment—the community is open and welcoming, and there are so many opportunities for growth," says Brad. "I was also fortunate to have great supervisors."
Brad progressed through the Engine Line Shop ranks and went on to be a Project Manager before returning to the Engine Line Shop as the Manager. Despite differences between job responsibilities, he has found the same warm, welcoming environment and opportunities to learn and grow in all the positions he's held at Duncan Aviation.