Claribel Schulz
Growing up in the warmth and sunshine of Orange County in Southern California, PM Assistant Claribel Schulz had no idea what she wanted to be when she grew up. She wanted to get out of town and see what she could see and she was drawn to the various military recruiters who visited her high school, especially the one-and-only woman among the Marine Corps recruiters.
"She had graduated from my high school the year before I did, and I was impressed with what she had to say. I also liked the concept of the Marine Corps brotherhood and sisterhood," says Claribel. "In high school, I was a member of the MCJROTC (Marine Corps Junior Reserve Officers' Training Corps), which, among other things, provided the opportunity for physical activity and movement."
In 2011, Claribel shipped out to Marine Corps Recruit Depot in Paris Island, South Carolina, for bootcamp and then went to North Carolina for MCT (Marine Combat Training). For the MOS (Military Occupational Specialty), she'd indicated that she was interested in aviation, thinking those skills would benefit her for her post-military career.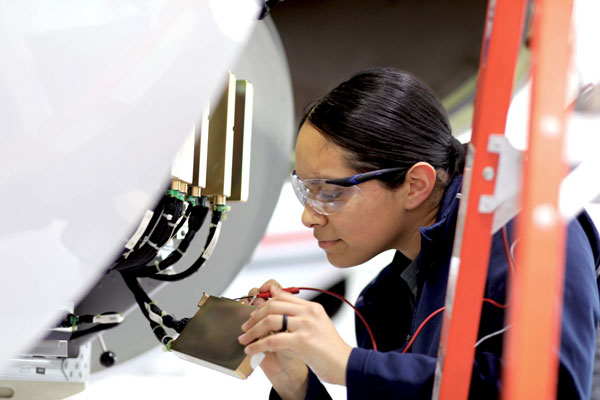 "My life is a complete 180 from where I started, and I am out of my comfort zone!" says Claribel. "I love it that I can learn every day. Instead of worrying that you're in a new field and you don't know anything, use that energy to learn what you need to know. Just do it!"
Claribel was selected for avionics and sent to Pensacola, Florida, and then Camp Pendleton in Oceanside, California, for schooling. From there, she opted to work on the helicopters, and before she knew it, she was stationed at the North Carolina Marine Corps Station New River in Jacksonville, North Carolina.
After a while, she met a guy, and she was happy to have someone to talk to and to go places with. It made being so far away from friends and family a little less difficult.
Through a reciprocity agreement with the Navy, she deployed on a med float, which was a Naval ship, with the 24th MEU (Marine Expeditionary Unit). Claribel was relieved when she found out that Steve, the friend she'd made, was going to be on the ship, too. He was doing hazmat duties while she was assigned to the galley for food prep.
Arriving back in North Carolina in July 2015, Claribel and Steve started dating, and they were married on February 2, 2016. They lived in Maysville, NC, with their sweet dog Charlie, the lab mix they had rescued in August.
Steve finished up in the Marine Corps in June, and by July of that year, Claribel had 20 days of leave. They decided to drive to Nebraska so Claribel could meet Steve's family.
Up until that vacation, Claribel had never lived or been anywhere with wide-open spaces. She struggled to grasp the many fields stretching between cities and towns as they drove to the Great Plains. Between the cities were vast, open fields with corn or soy beans, that were so unfamiliar to her.
"We timed our visit to coincide with the annual 4th of July celebration and fireworks displays in Seward, Nebraska, and decided to make Nebraska our home when I got out of the military."
For the next several months, Claribel continued her work as an avionics technician working on Hueys and Cobras, the helicopters flown by the United States Marine Corps. She performed troubleshooting and repairs, and she removed old equipment and installed new.
She'd accrued enough leave so she was able to take vacation from the end of February until April. Packing their possessions in an 18-wheeler, Claribel and Steve drove back to Nebraska.
On their trip, Steve encouraged her to apply at Duncan Aviation. Looking at the website, Claribel saw openings for Avionics Install and Avionics Line and applied for both positions.
She got a call, set up an interview in March, and was hired to start as an Avionics Technician in April 2017, as soon as she was officially out of the Marines.
"It was culture shock. The military aircraft are so plain—nothing but gray metal, and the components were right there, covered only by a cage. You just pulled them out and got to work. When I started at Duncan Aviation, I was amazed by how nice the airplanes were," says Claribel. "There were so many layers to remove to get to the components we were working on, and I had to be so careful with everything."
The wiring was familiar, but there were usually more wires. All the helicopters were the same—if you knew where the components were in one, you could find them in any other helicopter.
"Although the avionics equipment functioned in a similar manner, it was always in different places, depending on the aircraft. Every single aircraft was different," says Claribel.
Claribel kept in touch with a former Marine she'd met at orientation at Duncan Aviation, and she introduced Claribel to several other women. She wasn't aware of the mobility at Duncan Aviation until she was invited to an evening out with the other women at Deer Springs Winery. One of the women mentioned that she was in Professional Development, but she was job-shadowing as a Project Manager. Intrigued, Claribel realized she wanted to give that a try, too.
In late 2019, Claribel applied for the Project Manager Assistant position, interviewed, and was offered the position; however, early 2020 was when things got chaotic with the pandemic. She moved to her new position in March 2020, just as Duncan Aviation set it up for team members who could work remotely to do so. Claribel was learning a new position from home, but she was able to rely heavily on her friends and fellow team members for answers to her questions.
As Claribel was transitioning to her new job, her husband was attending the Law Enforcement Academy in Grand Island, and although they were living in Omaha, they were building a house Seward.
"I was so worried about everything, and I was slightly nauseated every time we visited the new house," says Claribel. "I told Steve that something was wrong with the new house, that we needed to have it checked. He told me I should take a pregnancy test."
Sure enough, Claribel was pregnant, and she was shocked—shocked but delighted. There was just so much going on right then. They closed on their new house on April 3, 2020, and they moved in that same day. Their son Axel was born later that year on December 29, and he's stolen their hearts.
Although Claribel's focus is now on her family, she absolutely loves the work she does, and the people she gets to work with. It's a job with constant learning that has her a bit out of her element. At 28-years old, Claribel is still not sure what she wants to do with the rest of her life, but she wants to stay at Duncan Aviation in some capacity. She hasn't yet taken any classes at Duncan Aviation, but she knows the company does so much to support its employees.
"Whether it's setting us up to work from home as they did at the start of the pandemic, or giving me flexibility with a new baby, the company and my team members are tremendously supportive," says Claribel. "I worried that having a child would interfere with work, and I didn't want anyone to think I couldn't get my work done, but there's just never been any question or pressure or anything. I've had nothing but support."
Transitioning from the floor to the PM Assistant position gave her a better understanding of how the company works. She also now sees all of the opportunity for team members to move around, and she's excited about exploring some of them.
"I truly believe if you're ready to work, if you're trainable, you'll be taught what you need to know. My advice is to ask questions," says Claribel. "Especially if you're just getting out of the military, it can feel overwhelming. Find someone with a similar background, and don't be afraid to ask for help. There is so much knowledge, so much willingness to help, and there are no stupid questions."
Another big piece of advice from someone who has been there: Don't be afraid to get out of your comfort zone. You may be surprised to find you shine somewhere you never expected.
"My life is a complete 180 from where I started, and I am out of my comfort zone!" says Claribel. "I love it that I can learn every day. Instead of worrying that you're in a new field and you don't know anything, use that energy to learn what you need to know. Just do it!"