Julia Cwiek
In the 3 ½ years Julia Cwiek has been at Duncan Aviation, she's worked mostly on Gulfstream and Embraer aircraft. For the last 3 months of 2022, Julia was Assistant Team Lead, and starting in January 2023, she became an Airframe Team Lead at Duncan Aviation's facility in Battle Creek, Michigan.
Growing up in the Waterford area of eastern Michigan, Julia had originally considered a degree in engineering. She realized pursuing that would be expensive and time-consuming, so she looked at shorter programs that would let her work with her hands. While exploring a career with HVAC systems, she discovered there were interesting careers in aviation maintenance.
"I went to Lansing Community College for Aviation, but I kept putting off the testing for my Airframe license," says Julia. "Then, Duncan Aviation started its AMT test prep program, and I was able to sit in on the test prep classes and study. I took the tests last fall and got my Airframe in December 2022."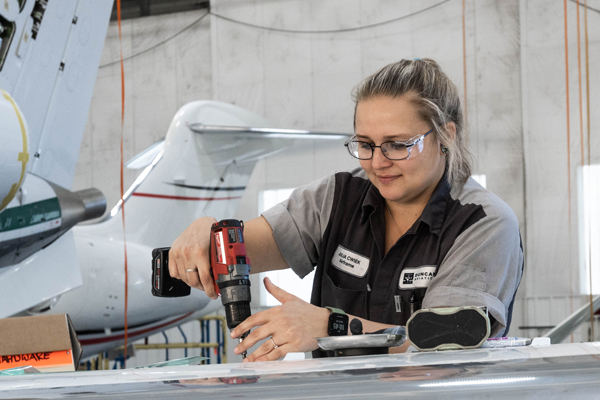 Never A Dull Moment
During the time Julia was working full-time and studying for the FAA exams, she was also caring for an infant. Her daughter, Marleigh, is now 6 months old. She also has 3 bonus children—Alexis (13), Sadie (8) and Grant (6)—whom she sees every weekend. In that already full house, Julia also has her 3 dogs (Doug, Maggie, and Louie) and her cat, Macy.
Julia and Ryan, her fiancée, are also planning a wedding set for September 30, 2023.
"We had hoped for 9/23/23, but it was already booked, so we settled on the 30th instead. It'll be outdoors, so we're hoping for decent weather," says Julia. "You never know—it could be sunny and 76 or rainy and cold. Either way, it'll be fine."
Although she rarely has time for hobbies, Julia wants to learn how to make candles, so she's been researching and preparing for that, too.
Narrowing Her Options
"Prior to going to school, I didn't know much about aviation, and even then, I thought mostly about commercial aviation," says Julia. "Going to school was eye-opening, and we had a good mix of visits from recruiters in both commercial and corporate aviation. The only nice thing about a career in commercial aviation was the dollar signs, and that just wasn't enough for me."
As a student, she visited Dow Chemical and Duncan Aviation. Julia was impressed by the quality and beauty of the aircraft she saw on her visit to Battle Creek, Michigan. She applied and was hired as a Tech 1 on the Gulfstream team.
"I loved it and had no complaints," says Julia. "I thought it was fun, and I was overwhelmed by the amount of support I got. I had people coming up to me, saying, 'If you need anything, let me know.' I'd always been the kind of person who asks questions if I don't know. There's no other way to learn."
The only possible complaint Julia had was the length of her commute. For the first 6 months she worked at Duncan Aviation in Battle Creek, she still had a lease on a house in Lansing. She commuted more than an hour each way.
"When my lease in Lansing was up, I went house hunting in Battle Creek and bought a house that was 5 minutes from work," says Julia. "I've since sold that and bought another, but it's only 15 minutes from work."
At the moment, Julia is perfectly happy where she is.
"I plan to stay in this position and learn all I can before I consider moving on," says Julia. "Team Lead was always my goal, and I reached it long before I thought I would, so who knows?"
Learning & Developing
While she learns all about her current position as Team Lead, Julia plans to take some classes.
"I've never taken Emergenetics, but I've seen the profiles on toolboxes throughout the hangar and been curious about what mine would look like. I've always wanted to take Emergenetics and Crucial Conversations. I'm signed up for both and am really excited," says Julia.
She's also planning to go to Gulfstream school. The courses are offered through Gulfstream, and Julia will be going to Savannah, Georgia, for the initial 4-weeks of classes.
"I've never been there, so I'm pretty excited about that, too," says Julia.
As with a lot of team members at Duncan Aviation, the people with whom she works are a big reason Julia plans to continue her career here.
"I just love the people I work with, and I think that's pretty important; it makes you want to come to work every day," says Julia.
Julia also values communication and feels it's extremely important to keep everyone on her team in the loop.