Linh Abdulrahman
From student in Baghdad, Iraq to Engineer at Duncan Aviation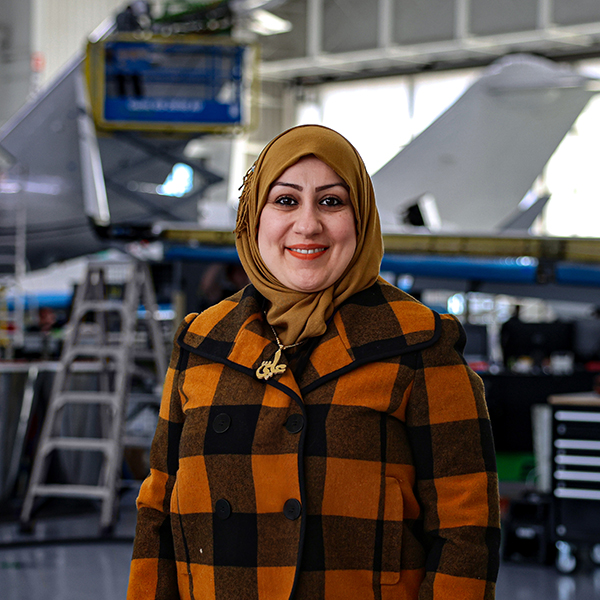 "I'm happy here at Duncan Aviation, and I enjoy helping show that women can face the challenges of engineering, mathematics, and other science-based fields."
In early 2020, Structures Engineer Linh Abdulrahman joined Duncan Aviation's Engineering & Certifications team as a Structures Engineer I. Less than 2 months later, she found herself working from home, alternating days in the office as the pandemic upended normal life.
"I ran into people I'd met during those first couple of months, but seeing them for the first time with their masks on was like meeting them all over again," says Linh.
Growing up in Iraq with her two sisters, Linh realized as a child that she really liked math, enjoyed solving problems, and especially liked to fix things.
"I could also see that my Dad, a man in a house with a wife and 3 daughters, needed a little support," says Linh. "I helped him fix the car. My Mom doesn't like to fix things, but I loved it! It was while helping my Dad that I found out my skills were related to engineering."
Education & Research Opportunity
Linh never hesitated once with regard to her career. She also never felt that engineering was a field for men only.
"It's a misconception. Women love math, they love to create things, find out how things work, fix things," says Linh. "We are more detail-oriented in many ways, and I always say, 'If a woman can control a house with kids, she can control anything.'"
She applied to and was accepted at the Al-Mustansiriyah University in Baghdad, and she earned a degree in Civil Engineering, graduating in the Top 5 students at the university in 2007.
She was one of only a few graduates selected to work for a company affiliated with the Ministry of Oil. She worked there for 5 years, designing and constructing equipment at Al-Dora Oil Refinery. Although she enjoyed what she was doing, when she heard about a scholarship to pursue an advanced degree in the United States, she applied.
Thousands of students applied, and Linh felt fortunate to be among those selected. Among the other requirements (high college and high school GPAs), she had to take the TOFEL and IELTS exams to prove her English proficiency. She took the English tests in Kansas City, Missouri, after arriving in the United States.
As she looked around the United States at various universities, the University of Nebraska at Lincoln stood out.
"UNL has a good reputation and a strong engineering program. Lincoln appeared to be a really safe place," says Linh. "It was a good choice because the people here are so nice and friendly."
Once classes started, she began work on a Master's Degree in Structural Engineering. One of her professors asked Linh to help analyze data from a historic temple in Nepal that had been partially destroyed by an earthquake in 2015. Built in 1702, the temple was unstable and too dangerous to enter. Additionally, Nepal is a poor country and needed help collecting and analyzing data.
Because Linh had only a student VISA, she was unable to go to Nepal and join the others collaborating on the research, including professors from the University of Nebraska Lincoln, Oregon State University and Buffalo, NY, and a researcher from Nepal. While they visited the temple and collected data, Linh analyzed it.
She studied the behavior of the structure that failed and the characteristics of the building that remained intact. Their mission was not to focus on repairing the damage but to look at what had remained stable during the quake.
"Monitoring and studying the structural health and integrity of what remained of the temple, we could use that information to build stronger structures to withstand damage or destruction from future earthquakes," says Linh.
Linh published 3 journal articles, focusing on understanding the seismic vulnerability and structural behavior of these pagoda-style temples so that can lead to more efficient retrofit solutions and conservation practices for similar heritage structures. These retrofit schemes are anticipated to enhance the resilience of these structures, as well.
Linh received her Master's of Science degree in Civil Engineering in May 2018. When she held the diploma for the first time and walked across the state, it was hard for her to hold back tears, thinking of all the things she'd accomplished and been through to get to this point. She was proud knowing that her parents were watching her online overseas.
Family Life
While working toward her Master's Degree, Linh and Ali had welcomed their third child, Leen, a little girl. Prior to coming to the United States, Linh and Ali were married in 2006, and in the next few years, they had two children: Lana and Zaid.
Linh also enjoys designing and making clothes, and she especially loves to design matching outfits for her entire family. She puts on elaborate parties for her children's birthdays, and she always comes up with a theme and colors that she carries through to the clothes, decorations, and cakes.
"I got my love of engineering from my Dad and my creativity from my Mom," says Linh.
Joining the Duncan Aviation Team
After finishing her Master's Degree, Linh and Ali wanted to stay in Lincoln, and she began looking around for a job. She saw a job at Duncan Aviation, and she looked closely at the description.
"I had all of the necessary requirements, and the job fit my skills, but I was a little nervous," says Linh. "Still, I applied, and after the interview, I was taken on a tour. I was surprised and so pleased to see all of the hangars filled with so many different aircrafts!"
She thought seeing the hangars and aircrafts were a great first impression, and she mentioned her interview to a friend who was from Lincoln.
"She was so happy and excited for me, and she said, 'You're lucky! It's a very good company,'" says Linh.
She accepted the offer and started to work in January 2020. Meeting the Team Leader in Engineering Tracy Bohaboj put her mind at ease about the role of women in engineering at the company, and after meeting many of her other fellow team members, she felt especially welcomed and supported.
"We have a saying that a good work environment is like a bee hive: Everyone supports everyone else, there's collaboration and cooperation on projects, and every person carries their own weight," says Linh. "That's exactly how it feels here at Duncan Aviation."
As a Structures Engineer II, Linh works on refurbishing the interior of aircraft by creating new designs for the installations, or modifying previous designs. She also works on creating the structural analysis reports for any installations or modifications to ensure the new designs are safe and follow the FAA regulations. More specifically, her work includes, but is not limited to, the analysis or design of galley modifications, countertop installations, antenna installations, monitor installations, and sideledge modifications. She also works on creating placard installation drawings for the new or modified monuments, in addition to creating the flammability test articles to make sure the materials used are fire resistant.
In a typical day, Linh works on the drawings, creating structural analysis reports, fixing redlines, reviewing drawings or reports for team members, and taking pictures and dimensions.
"I love my job and everything I do here, but I especially like the challenges I face at work, and working to solve them," says Linh. "I like seeing the aircrafts before they are disassembled, and then seeing them again right before they are delivered, to see all of our hard work on them. I'm always so proud of everyone's efforts!"
She's also pleased that there are volunteer opportunities around Lincoln where she can help introduce girls and young women to the engineering field. With Tracy, she volunteers for All Girls All Math and Introduce A Girl To Engineering, programs designed to attract girls to the STEM (Science, Technology, Engineering, Mathematics) fields.
She believes in constantly improving herself, and she plans to continue her education, taking classes to learn about damage tolerance analysis and other issues important to her field. After more than 2 years at Duncan Aviation, Linh finds the support every bit as strong as it was during those first few months.
"I'm happy here at Duncan Aviation, and I enjoy helping show that women can face the challenges of engineering, mathematics, and other science-based fields," says Linh. "It's wonderful to be able to serve as an example and a mentor, and to bring other women along in the field I enjoy so much."
Linh says she enjoys how everyone at Duncan Aviation is extremely positive and always willing to help handle issues in a timely manner.
"We are always so proud of each other," says Linh. "The good reputation that Duncan Aviation has and the way they treat their team members makes me feel a strong affiliation with the company."