«Student-Edition 2022
Carpe Diem: From Knocking On Hangar Doors To Flying A Gulfstream G550

Andrew Young is one of just a few qualified Black Gulfstream Captains in the world. He and Captain Roland Clarke are the all-Black flight crew who fly a Gulfstream G550 that was recently painted by the Paint team in Lincoln, Nebraska.
"I look forward to that being the norm," says Andrew. "I spend a lot of time trying to make our community great and to inspire kids just like me so they know that anything is possible."
Humble Beginnings
Andrew went from knocking on hangar doors asking for a job, to being a well-established, esteemed, Gulfstream pilot for a celebrity.
Being born in Jamaica, Andrew moved to Miami, Florida, when he was five. On their flight into Miami International Airport, it clicked.
"Seeing the Miami International Airport all lit up at night as we flew in, I instantly knew this is what I wanted to do," says Andrew. "Then the thrust reversers went off, and I knew this was it. I want to be a pilot."
The high school Andrew went to had an aviation program, but it wasn't much.
"At least I got more information on airplanes and how they work," Andrew says.
He worked a couple of entry-level jobs and hated them.
"I wanted to do something else," says Andrew. "I was supposed to go into work early one morning, but I decided not to. I quit my job and went straight to the local airport and started knocking on hangar doors, asking for a job. I knew what I wanted to do, but I didn't know how to get there."
He heard no often, and was asked Are you crazy? a few times, but he didn't stop. Then, he ran into an old family friend, Jimmy, who asked Andrew to wash his plane.
As promised, Andrew showed up the next morning and washed the man's Piper Cub. As he was about to dry it, he was abruptly stopped.
"That's not how you dry a plane," Jimmy said. "Get in."
Andrew got in the plane and watched nervously as the older gentlemen shakily got behind the controls.
"Once he got behind the controls and took off, it seemed like he was 17 again," says Andrew. "He was in the zone."
After that Andrew got a job at Van Wagner Aero Media, setting up banners so that planes that towed them could fly by and pick them up. Every opportunity he got, he would get in a plane and fly along.
One Goal: Put Flying First
Andrew's next step was getting his pilot's license. He went to Embry Riddle in Daytona, Florida, and the second he got his pilot's license, he knew he wanted to fly; however, he also knew he needed his commercial license to fly the banner planes.
"I got my commercial license on a Thursday, and that Friday I was towing banners and getting paid to fly," says Andrew. "I worked every weekend throughout college and the summers."
After Jimmy passed away, Andrew found another mentor who flew jets for a living, James. The man told Andrew that he has one job: to get more hours and put flying first. Nothing else matters.
"I missed out a lot on the college experience," says Andrew. "I missed a lot of college parties, but my motivation was flying. I stayed true to the path."
Once Andrew graduated, he was far ahead for his age as he'd been getting flying lessons since he first started washing Jimmy's Piper Cub. He got another job flying banner planes in a Piper Cub all along the East Coast.
Andrew then got his high-altitude endorsement, and started flying a CitationJet.
James flew a Hawker and asked Andrew if he wanted to learn how to fly it and be second in command.
"Yeah," says Andrew. "But I could never fly passengers and I'm not sure they will trust a 21-year-old pilot."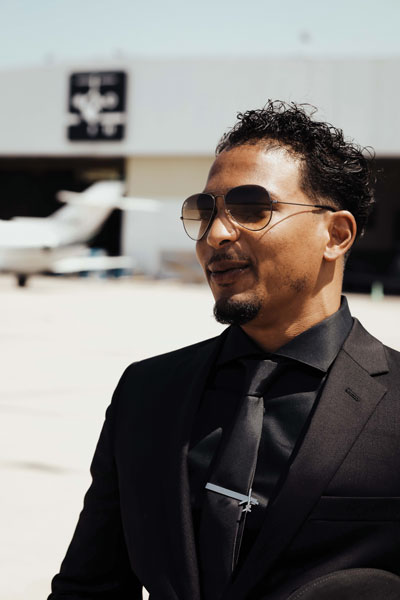 Andrew got a lot of flying experience in the Hawker when they would move the airplane empty. Then one day, James asked Andrew if he had a pilot's uniform. He did, and he put it on, and they went flying to drop the owner off at his yacht in West Palm Beach.
"After flying we had a tradition where we always went to get dinner," says Andrew. "As we were eating, James handed me a check for $700. I asked what this was for, and he told me that this was my pay for working today."
That's when it clicked again for Andrew.
"Flying private jets is what I wanted to do."
Up until then, Andrew had never stopped flying Piper Cubs and banner planes, but he still needed more jet time and complex time. He got a job with an air ambulance company, flying Lear 35s and Lear 55s all around the Caribbean.
"I actually flew the maximum number of hours the FAA allowed," says Andrew. "It took a lot out of me, but I learned a lot."
Andrew then applied to a more reputable company as a Learjet pilot, but they turned him down due to lack of experience flying Learjets. A few years later, he applied again.
"The Chief Pilot mentioned that he wasn't sure how much longer the Learjet would stick around the company," says Andrew. "But he said I was a really good person and hardworking, so he gave me the opportunity to fly the company's GIV. I told him, 'of course!'"
From there, Andrew flew Gulfstreams all around the world. The company owned 17 Gulfstreams, ranging from some of the best Andrew has seen to some of the oldest.
"In flying the oldest, I got great experience to be the Gulfstream pilot I am now," says Andrew. "I worked up to a GV, then G550, and finally the G450. Within 6 months of being on the V series, I got upgraded to Captain where I was met with real stress and started working much harder to be the Captain I wanted to be."
Flying All Over the World
"I've been to 99 countries and really believe in carpe diem," says Andrew. "I went sightseeing wherever I went and did everything I could to make the most out of every trip."
During the pandemic, his company received a government contract, letting them fly more than the FAA allowed.
"I did the most flying ever during COVID," says Andrew. "In 7 days, I flew 103 hours all over Asia. I visited 38 countries last year on the other side of the planet. I loved that, but I had recently bought a house and had spent a lot of time away from home. I knew I had to look for something else."
Once-In-A-Lifetime Opportunity
In January, he received a message on Facebook that this company was looking for Andrew because he was this 'young and amazing Gulfstream pilot.' He decided to hear them out.
"I got a call from their human resources department, saying they wanted me to fly for a celebrity," says Andrew. "This is what I had always wanted. To fly the rich and famous, and live that rock star, seize the day mentality. The fact that they wanted me to pilot one was a feeling unlike anything I'd ever experienced."
They wouldn't take no for an answer.
Working to Change the Norm
Being a Black Gulfstream pilot is unheard of, and Andrew is working to change that.
"To find a qualified Black Captain on a Gulfstream G550 is few and far between," says Andrew. "I'm trying to make the community great and do a lot of things with my old high school. I'll go meet kids at inner-city schools and talk to the kids who want to be pilots. I tell the kids that I fly all over the world, yet I was in your exact same shoes not too long ago. I just want to inspire the youth."
Andrew said that he will take any young person who wants to see the plane to go see it and even check out the cockpit. He also said that these types of experiences are the ones that will help them go far in life.
"My mentors never had a reason to help a poor kid like me," says Andrew. "That has stuck with me, so I'm very big on returning the favor."
Andrew is concerned that he's one of just a few qualified Black Gulfstream Captains.
"I look forward to Black pilots being the norm," says Andrew. "I'm big on believing in the excellence of everybody and helping influence the younger generation that everything is possible. I tell them to aim for the stars and never stop. You can't ever stop when you're chasing your dreams; no one can tell you no."