«Student-Edition 2022
Duncan Aviation Looks To The Future
The aviation industry is currently seeing a workforce shortage for qualified aircraft technicians as the number of retiring technicians with Airframe & Powerplant certifications is higher than the number of young adults expressing interest in the field of aircraft mechanics. In response, Duncan Aviation is educating young adults about careers in business aviation and looking at new ways to introduce talented and motivated individuals to the company and the industry to combat the projected shortage.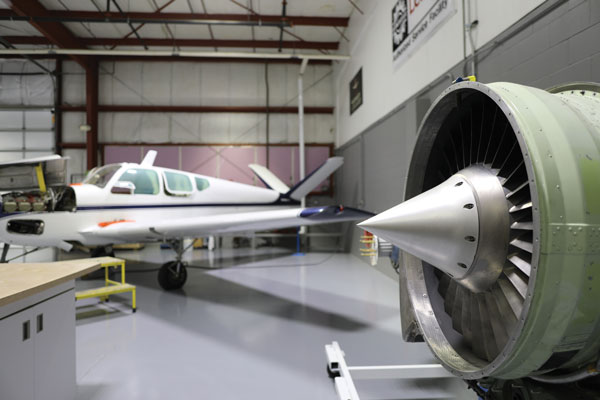 Apprenticeship Program
In eight years' time, Jeremy Rangel went from being a technician with no A&P certification to an A&P certified technician and Manager of the Lincoln, Nebraska, location's Airframe Department. Shortly after becoming manager, Jeremy recognized the upcoming shortage and worked with his team to develop a new entry-level technician program. By on-boarding new team members as Tech Helpers, experienced technicians could offer guidance and on-the-job training.
"Though it was successful, we identified areas of theoretical and practical training that would yield better results through standardization," Jeremy says. "That is exactly what we did, working with the US Department of Labor and the Nebraska Department of Labor. We now have a true pathway to help new team members become knowledgeable, well-rounded aircraft technicians."
This formalized Apprenticeship Program is nationally registered with the US Department of Labor and the Department of Education and is available at Duncan Aviation's full-service maintenance facilities in Lincoln; Battle Creek, Michigan; and Provo, Utah. The program provides those who enroll a streamlined and focused approach to training for the FAA Airframe & Powerplant certificates. The program carries with it Duncan Aviation's reputation for quality, knowledge, and leadership.
When he initially joined the program, Jordan Masek was looking for a way to better understand aircraft and its systems, and to further his career.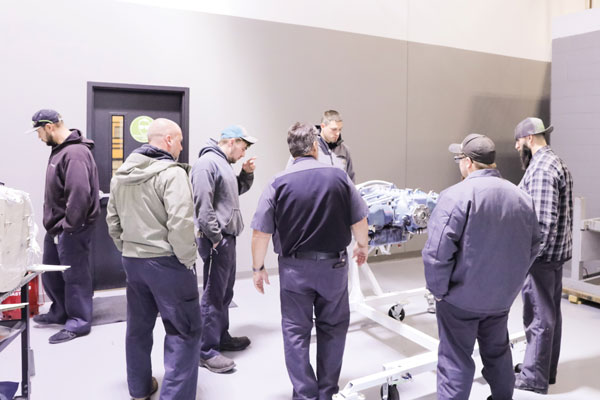 "The program provided great structure to aid in the studying process for my Airframe certificate," says Jordan. "It gave clarity and guidance to some of the questions that I needed to know for the oral and practical tests. Before the program, I just knew that there was an air conditioning system, nothing further. Now I can look at things, like the air conditioning system, and know exactly how it works and why it needs to be serviced the way it does, as well as what each component in the system does."
Thanks to the Apprentice Program, Jordan received his Airframe certificate in August 2021, which will allow him to become a Qualified Inspector and begin inspecting things for others.
Internships
Duncan Aviation also offers internships. These are paid opportunities where students work full-time during the summer and network with others in the industry.
In 2021, Duncan Aviation welcomed 32 interns, 27 in production areas at all of its full-service facilities. Each year, we offer summer internships that allow students the opportunity to learn more about the company and explore possible career paths.
Jackelin Iniguez was hired as an intern in the Interior department at our Provo facility, and has since been hired as a full-time Upholstery Assistant.
"I chose to intern at Duncan Aviation because I heard a lot of good things about it," said Jackelin. "I first became interested when I saw a flyer for Duncan Aviation. I was looking for a job in collision repair, and I asked my professors if they could help me find something. They immediately told me that Duncan Aviation was the perfect choice. In my time at Duncan Aviation I have learned that there is a lot of teamwork that goes into every project. I also noted that everything that is worked on has high standards. Quality before quantity. I feel like this internship has helped me progress a lot. I learned a lot of new things and am exciting to be working at Duncan Aviation."
When asked what the highlight of her internship was, she replied, "Every day was a highlight."
Interns are treated like any other new hire. They attend orientation to receive a solid understanding of the company and culture. They are placed on teams, paired with a mentor, and given actual projects to work on. By pairing the interns with experienced technicians, they get a chance to build relationships and learn at a deeper level than school can provide.
Teaming Up With Local High Schools
Human Resources Supervisor Jennifer Monroe, says that the industry is growing yet there is a decline in the number of people choosing aviation careers.
"We are recruiting at the high school level, trying to inform students that the aviation industry exists beyond just pilots," Jennifer says. "We are trying to get them interested and excited about the aviation industry by getting in front of them as they explore what they want to do in the future."
SkillBridge and Military Outreach
pproximately 25% of Duncan Aviation's current workforce has served, or is currently serving, in a branch of the military.
The Department of Defense SkillBridge program is an opportunity for service members to gain valuable civilian work experience through specific industry training, apprenticeships, or internships during the last 180 days of service. The program helps them bridge the gap between their end of service and the beginning of their civilian careers.
The SkillBridge program allows service members to receive their military compensation and benefits while we provide training and work expertise. We have had 18 service members take part in the SkillBridge Program at Duncan Aviation. Eight have come from the Air Force, seven from the Navy, two from the Marines, and one from the Army.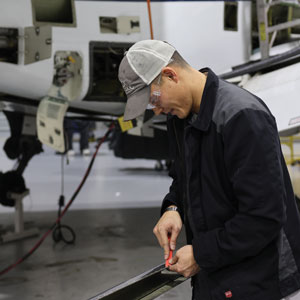 Braeden Brundage was a Drone Mechanic in the Marine Corps for five years before deciding it was time to look for a new opportunity and transition out of the military.
Braeden heard about the SkillBridge program, and began doing a lot of research.
"I found out that Duncan Aviation participated in the program, and I thought it would be a great opportunity," said Braeden. "I have been at Duncan Aviation in Lincoln, Nebraska, for two months now. I've been able to move around to different shops, and get experience in a little of everything."
Braeden said that working at Duncan Aviation has been a blast, and it is an awesome place to be.
"Everyone has been willing to help, and it's a great environment to be in," said Braeden. "After having the opportunity to move around to different places, I decided that I have enjoyed working in the Airframe department the most. That's where I will be staying."
Braeden highly recommends the SkillBridge program because it gives military members the opportunity to try something new or transition into the workforce to a company like Duncan Aviation.
Recruiter Kendall Folds has been instrumental in the implementation of the SkillBridge Program and military outreach at Duncan Aviation.
Kendall says, "As a veteran friendly company approaching 600+ veterans from all services, we are always looking for ways to attract separating service members."
Michigan Veterans Affairs Agency
Duncan Aviation was recently recognized as a Silver-level employer for the Michigan Veterans Affairs Agency.
Michigan Veterans Affairs Agency Strategy Specialist David Dunckel says, "With 355 employers and organizations in the program, Duncan Aviation is one of just 30 Silver-level employers in the state. Only 8% of all certified employers have achieved Silver status."