«Student-Edition 2022
People & Culture: A Work Family
Customers and visitors have told us for years that Duncan Aviation has a unique culture. Our culture has been built into the foundation of the company since Donald Duncan started it in 1956. So who is responsible for such world-renowned culture? Every single one of our 2,400 team members. Although they come from all over the world and have diverse backgrounds, what ties us together is the inherent sense to do the right thing with a professional, positive attitude.
In the Duncan Aviation Straight Talk Podcast titled, "Deliver High-Quality Products and Services," Chairman Emeritus Robert Duncan says that his father Donald would be unbelievably amazed to see the state of the company now.
"He wouldn't believe what the company has become and to see how many customers we touch all over the world, and how we continue to grow," Robert says. "The values that Duncan Aviation has today came from Donald. They were inherent in who he was and how he saw life and thought business should be."
Why is it so important that our culture shines through in everything we do? Because it affects every aspect of our company and the work that we perform.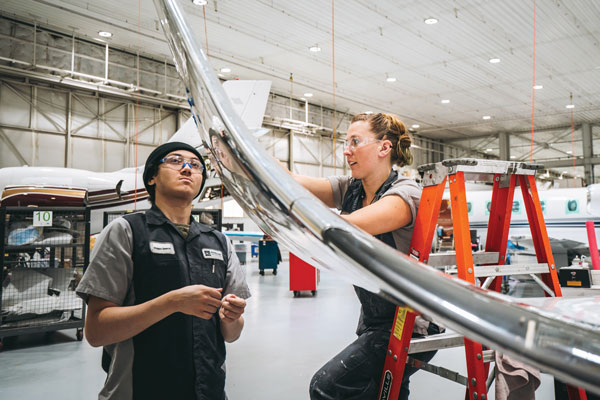 How Is This Achieved?
PPresident Jeff Lake explains that the net of our culture is that we trust each other.
"If you have a healthy culture year after year, it creates trust on all levels," Jeff says. "When you have that trust, it is easy to function as a team to solicit customers, serve them, and maintain their aircraft."
"Our integrity is another important ingredient in building trust," says Jeff. "It shows when we are transparent in sharing our challenges, our goals, and our results each year. It builds when we do the right thing for our team members and our customers, and when we make a mistake with a first-time customer, it creates an opportunity to demonstrate who we are as an organization. When they see how we respond, they often transform to a long-term, loyal customer because we made it right."
Home Away From Home
Aramark Chief of Maintenance Scott Kershaw has personally been bringing aircraft to Duncan Aviation since 1993.
"You always do a great job," Scott says. "Whenever I'm there, I feel like you are as committed to my airplane as I am… I try to always get the same crew. They know me and I know them. Your culture is just very friendly. Everybody always speaks to you and makes you feel that Duncan Aviation is your home away from home… The team members at Duncan Aviation are like my friends, and that's the way they treat me."
Midwest Work Ethic
Rezich & Rezich Aviation Consulting, Inc., President Jim Rezich has been a customer of Duncan Aviation since 1984. Jim has brought everything from Citations to Challengers to Gulfstreams to our facilities and says that the people and culture of Duncan Aviation are a main reason that he's continued to bring his aircraft to us.
"I've had the privilege of working with so many of your team members, and they all have that 'culture'," Jim says. "The way you instill that in your team members is really terrific. Everybody has a vested interest because they know that they want the project out the door on time, right the first time.
"That makes the decision to come back much easier."