«Student-Edition 2022
Who Is Duncan Aviation?

Once you have decided that the world of business aviation deserves a closer career look, you'll probably want to research some of the best employers in the industry. Duncan Aviation should definitely be on your list. Here's why.
A Storied History
Duncan Aviation has a long history that dates back nearly 65 years when an entrepreneur named Donald Duncan realized the value airplanes could bring to local businesses and bought into a Beechcraft distributorship in Omaha, Nebraska, forming the roots of Duncan Aviation. Donald sold hundreds of Bonanzas, Travel Airs, Twin Bonanzas, Barons, and Twin Beeches.
In 1963, Duncan Aviation opened a facility in Lincoln, Nebraska, at the then-new Lincoln Municipal Airport and Donald arranged to be a Learjet Distributor. Over the years, he would sell hundreds of Learjets.
Donald moved the headquarters to Lincoln in 1967 and closed the Omaha location. Then in 1968, Donald's son Robert, who had worked full-time for the company for only three years, became President. Although Duncan Aviation no longer had a jet distributorship, the company supported a growing resale market for Learjets and other business aircraft. The aircraft sales division was led by Donald, and Robert ran the day-to-day operations of line/fuel services and aircraft maintenance and support. He saw the ongoing needs of supporting the aircraft his father sold from tip-to-tail and slowly grew those capabilities.
Throughout the 1980s and early 1990s, Duncan Aviation grew in size and experience with innovative ideas. Many partnerships with aircraft manufacturers were forged and authorized service agreements were obtained for the major OEMs. Innovative growth also came from development of a satellite avionics network, a parts consignment service, and a jet acquisition/consulting offering.
In 1996, Aaron Hilkemann became President of Duncan Aviation and he developed a senior leadership team to help guide the company and make mindful, strategic decisions. Over the next 25 years, the company quadrupled in size. Some of the strategic moves that made this happen include: a 1998 acquisition in Battle Creek, Michigan; continued growth of its avionics network; development of engine Rapid Response service teams; construction projects to enlarge existing maintenance and repair facilities in Nebraska and Michigan; and ground-up development of a maintenance and repair facility in Provo, Utah. Innovation and change have always been a part of Duncan Aviation.
In 2007, Robert retired and his son and longtime Duncan Aviation team member Todd Duncan was named Chairman, where he leads the company's Board of Directors.
"I'm so proud to be a part of Duncan Aviation's 65-year legacy," says Todd Duncan. "Being family owned gives us the ability to plan long-term for our team members and our customers. With my twin sons entering the business recently, making Duncan Aviation a fourth generation business, our family ownership structure is in place to support the company and our team members for decades to come."
Duncan Aviation Today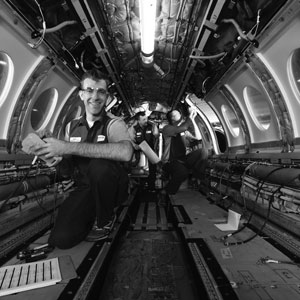 Today, Duncan Aviation is the world's largest privately owned business aviation support network. We have a history of trying new ideas and an ability to innovate and transition to future aviation trends. Duncan Aviation is headquartered in Lincoln with other locations, shops, and teams located across the United States. Three full-service MRO locations provide tip-to-tail service for just about any business aircraft. These services include airframe maintenance, engine repairs and overhauls, interior modifications and completions, exterior paint, avionics installations, and full-service Fixed Based Operator (FBO) support with fuel and line services. There are more than two dozen Satellite locations that provide avionics line and installations services. We also provide dedicated engine Rapid Response teams at strategically placed launch locations. These team members help customers when they need us most by providing engine line services, troubleshooting, and repairs to get their aircraft back up and running again after various Airplane-On-Ground (AOG) events.
Duncan Aviation believes that the most important contributor to customer satisfaction is the quality of its workforce and the training its team members receive; if the company takes care of its team members, the team members will in turn take care of the customers.
This attitude earned Duncan Aviation placement for four This attitude earned Duncan Aviation placement for four successive years on FORTUNE magazine's list of the 100 Best Companies to Work For.
"Duncan Aviation boasts intelligent, driven and passionate team members, hundreds of whom have worked for us for 25 years or more," Todd says. "We are a company of outstanding individuals who strive to be the best team in the field and provide customers with outstanding service. Ask about Duncan Aviation throughout the industry and you will hear that our brand represents excellent quality, service and ethics for our customers and our team members."
Duncan Aviation Leadership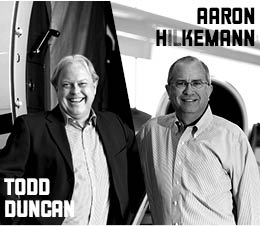 Chairman and CEO
Duncan Aviation is led by Chairman of the Board of Directors Todd Duncan and Chief Executive Officer/Chairman of the Board of Advisors Aaron Hilkemann. Todd and Aaron spend their days at various Duncan Aviation facilities, partner companies, and industry associations. They regularly interact and mentor team members, talk to customers, forge partner relationships, and provide strategic vision for the future.
Duncan Aviation Senior Management Team
Duncan Aviation's leadership team is known as our Senior Management Team. Many Senior Team members built their careers at Duncan Aviation, starting as technicians in the various production shops. The team was formed by Aaron Hilkemann in 1996. It is now lead by President Jeff Lake. Learn more about the Senior Management Team.
Duncan Aviation Board of Advisors
After company founder Donald Duncan passed away in 1981, his son and then-company President Robert Duncan was seeking advice on best business practices from those outside of the company. After attending a seminar, he heard a fellow business executive speak about having an external Board of Advisors for his company and how beneficial it was for him, his team, and his company. Robert returned and immediately implemented that idea. Members of the Duncan Aviation Board of Advisors are often experts in the aviation industry and have formal leadership or executive experience in their careers. These advisors have no ownership in the company, but consist of a rotating team that helps the Duncan family and the Senior Team see blind spots, identify potential pitfalls and opportunities, and discuss changes in the aviation market and the business world in general. They provide important leadership advice and also assist in holding the company's Senior Team accountable.
Duncan Aviation Board of Directors
Duncan Aviation is a privately held company that is legally structured by a formal Board of Directors similar to a publicly traded company. However, this board is comprised of mostly members of the Duncan family. These family members own "shares" in the company and meet when necessary to discuss high-level components of Duncan Aviation such as business strategy, results, and the vision of the company.
Duncan Aviation Customer Advisory Forums
Duncan Aviation's Customer Advisory board was created to help us continually improve our services. The board represents various external business aviation stakeholders who provide a broad perspective of the industry. Board members play an important role in creating a free-flowing exchange of information about important industry and service issues along with feedback that will enable Duncan Aviation to continue to be the service provider of choice in the industry.
Duncan Aviation Core Values
At Duncan Aviation, We:
Deliver high-quality products and services.
Charge fair prices and provide efficient turntimes.
Lead through action and innovation.
Focus on solutions and offer positive suggestions.
Respect others and are accountable for our actions.
Maintain a team approach.
Value honesty, integrity, loyalty and trust.
Promote safety, health and wellness.
Support our communities and respect the environment.
Are proud to be the best at what we do.
Brand Promise
Duncan Aviation is committed to provide an experience unlike any other to owners and operators of business aircraft. We do this by providing personalized expertise, innovative services and ongoing support.
Mission
Duncan Aviation will be the leading provider of business aviation products and services. We will employ and develop the most knowledgeable and trusted individuals in the industry. We will be highly profitable and reinvest these profits in team members, equipment and facilities to extend our leading position.
Vision
Duncan Aviation will be recognized worldwide by its customers, team members and the business aviation community as:
The highest value provider of products and services
The industry leader in utilizing innovative technologies, minimizing downtimes, and delivering safe aircraft on time
Having the most skilled, motivated, stable and family-oriented team members in the industry
Being committed to team member development in the areas of leadership and technical development skills, wellness, safety and personal growth
Being responsive to all customer needs through full-service facilities in Lincoln, Battle Creek and Provo, and a growing network of strategically placed Avionics Satellite shops and Engine Rapid Response teams
Continuing to grow market share and brand recognition by retaining its present customer base and capturing new customers worldwide with special emphasis and focused growth on large business aircraft
Diversity, Equity, and Inclusion
Duncan Aviation believes it is good social and business policy to have a diverse workforce that reflects the community in which we live and the worldwide community we serve. We view the principle of equal employment opportunity as a vital element in the employment process and a good leadership practice.
Duncan Aviation defines diversity as a collective mixture of differences among team members including individual characteristics, values, beliefs, experiences, backgrounds, and preferences.
Duncan Aviation defines equity as the practice and policy of being equal, fair, and impartial regarding hiring and evaluation practices, promotions, and pay with all members of our organization having equal access to the resources, opportunities, and support needed to succeed and grow.
Duncan Aviation defines inclusion as intentionally supporting and respecting all individual characteristics, beliefs, experiences, backgrounds, and preferences. We believe in cultivating an inclusive culture throughout the organization that reflects our core values by listening to diverse voices and promoting practices where we empower multifaceted individuals to be their most authentic selves.
Our commitment to diversity, equity, and inclusion is the shared responsibility of all team members and is supported by all levels of leadership. Our approach is rooted in listening, learning, and acting.