Gulfstream 450: Troubleshooting A "L Bleed Air Hot" CAS Message
March 2015
After takeoff, the crew of a Gulfstream 450 noticed an "L BLEED AIR HOT" CAS message, causing the aircraft to return. Duncan Aviation technicians began troubleshooting but were unable to duplicate the squawk by running engines up to power with Bleed Air turned on. So we tried something different.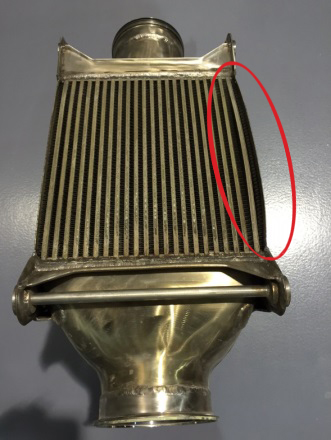 The technicians continued to troubleshoot with the APU running, Bleed Air on and the engines not operating. This is when we noticed bleed air exhausting out of the left pre-cooler in the pylon. We also noticed on the ECS synoptic page that the air temperature into and out of the pre-cooler was approximately 200 degrees higher on the left side.
We determined that bleed air from the bleed air manifold was entering the pre-cooler and being exhausted overboard. Bleed air from the manifold should pass through the pre-cooler, but should not be exhausted overboard.
When the pre-cooler was removed for replacement, we noticed it was slightly deformed and must have been leaking internally (see photo).
After installing a new pre-cooler, the inlet and outlet temperatures returned to normal and bleed air was no longer being exhausted with the APU running.