Falcon 7X Service Bulletin F7X-379
November 2016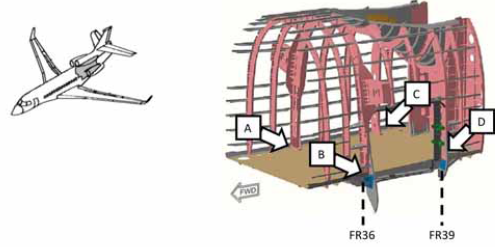 During a quality review by Dassault, it was revealed that bolts located at the root of Frames 36 & 39 in the aft baggage compartment area were improperly installed. Dassault released SB 379 to inspect the bolt holes, ream them to proper size, and install new bolts.
Latecoere, the vendor who builds this section of the fuselage, has dispatched a team of technicians across Europe and the United States performing this SB.
Over the summer, they came to Lincoln for three Falcon 7X aircraft we had in-house that were simultaneously having 1C inspections performed by us. While with us, they trained three Duncan Aviation airframe technicians from different Duncan Aviation facilities to perform the work necessary for this SB. Duncan Aviation is the only Dassault ASC to have technicians trained to perform SB 379 in its entirety.
This SB affects approximately 180 Dassault 7X aircraft. The affected areas are shown below.