Duncan Aviation Is Honeywell Heavy Authorized. What Does That Mean To You?
January 2017
Back in October 2016, we announced our Lincoln, Nebraska, location was now a Honeywell TFE731 Heavy Maintenance facility. We've since discovered that some operators are unclear about what Heavy Authorization means or want to know what has changed for them in terms of what they can expect for their TFE731 engines when they ship or fly them to Duncan Aviation.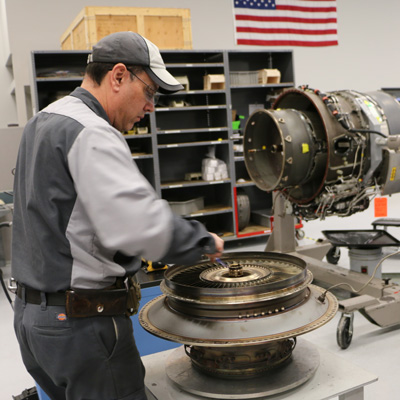 What Does Honeywell Heavy Authorization Mean?
A Heavy Authorization permits us to inspect and repair the compressor zone on the Honeywell TFE731 engine during scheduled CZI (Compressor Zone Inspection) events, unscheduled compressor zone repairs, and expanded Service Bulletin capabilities.
What Has Changed?
Essentially nothing has changed. For years, we have been managing entire overhaul events from start to finish, partnering with heavy maintenance facilities when CZIs were required. The same level of quality and service that you received before we became Heavy Authorized will continue.
But What Has Changed?
In short, we are able to perform both MPIs (Major Periodic Inspections) and now CZIs on your TFE731 engines at our Lincoln, NE, location without having to ship the core zone to another facility. With the start of the new year, we are now scheduling CZI events for non-MSP (Maintenance Service Plan) operators. Starting in 2018, we will be authorized to perform CZI events for MSP engines.
We are currently planning a facility expansion that will house a new test cell. The test cell will be constructed and fully functional by the end of 2017.
Honeywell Engine Rental Pool
Six rental engines have been added to our fleet of available Honeywell engines. This fleet now includes HTF7000, HTF7350 and TFE731 (-2C, -3, -5B, -20, -40, and -60) engines.
We have been a Honeywell Authorized Service Center for more than 30 years. In addition to our TFE Heavy Authorization, we have Minor Authorization on Honeywell AS907 (HTF7000) Series and Line Authorization on CFE738 Engines, GTCP36-100/150, RE100 series and RE220 series APUs.