3D Renderings Help Clients Envision Finished Aircraft
May 2018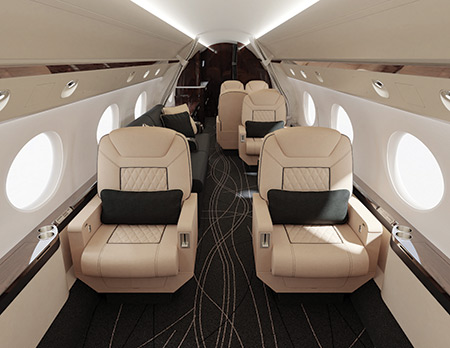 3d Rendering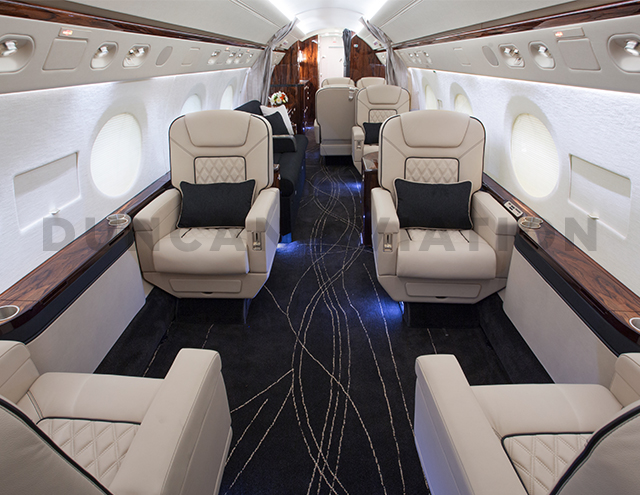 Finished Interior
Working with the Duncan Aviation Aircraft Design team is a remarkable experience. The designer interviews the aircraft owner to get an initial feel for their preferences and tastes. They then bring a suitcase full of pre-selected sample materials to an in-person meeting to further dialog and fine-tune the design. The next step is often the development of a realistic rendering so the client can visually see their future refurbished cabin. Following is an article from our Duncan Debrief magazine that tells a bit more about this process.
Duncan Aviation Lead Designer Rachael Weverka recently worked with a customer who wanted extensive renovations on his G-V (Gulfstream V). He was open to her design ideas, but before he would sign a contract, he wanted to see how the colors, patterns, and materials all came together.
Rachael worked with Dan Ryba, one of Duncan Aviation's Multimedia Illustrators, who produced 3D renderings of what an aircraft would look like with the proposed design.
"Once he saw Dan's 3D renderings with the materials selected, he signed the contract, and we got to work."
Completions and Modifications Sales Representative Joep Cuppens also worked on the project.
"We can't all envision what a finished project is going to look like, and the 3D renderings really take away the guess work," says Joep. "Several of my customers have asked for them, and they're delighted by what they see. Even better, they're especially pleased that the finished product looks like the 3D renderings."
Rachael's designs made big changes to the interior of the aircraft, right down to the smallest detail. For instance, the faucet was a standard faucet that needed to be updated to match the new interior. Rachael had a faucet in mind; it was one she'd used on another G-V.
"This new faucet is a lot like the one that's commonly used on many aircraft but is constructed to be more durable," says Rachael.
The new black Corian countertops served as perfect complements to the veneer with its dark grain, and the eye-popping cream accents kept the cabin from appearing too dark. The black pinstriped divan brought in some masculinity, and the soft, cashmere-covered pillows at every seat provided warmth and contrast.
For extra comfort during overnight flights in and out of the United States, Rachael found a company that makes custom linens, pillows, and foam beds that are contoured to each seat.