Duncan Aviation Parts Search and myDuncan Web Pages Now Translate to Several Languages
May 2018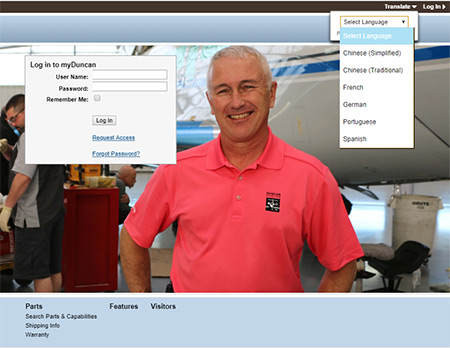 We recently made our parts search/capabilities and myDuncan website pages available in several different languages.
The new feature allows users to choose their language with a drop-down menu accessed through the Translate menu option found on the upper-right toolbar. There, users can choose from Chinese, French, German, Portuguese, or Spanish.
"Although English is considered the official language of aviation, we have many customers who are not native English speakers," says Keith Schell, Manager of Components Repairs and Parts & Rotables Sales. "This feature allows them to use our parts search and repair capabilities pages with more efficiency and, in some cases, better understanding."
In addition to selling new, consigned and rotable parts, Duncan Aviation offers overhauls, repairs, loaners, exchanges, and technical support to aircraft operators around the world and has in-house repair capabilities from more than 45,000 different repair manuals.
In addition to the parts search and capabilities pages, Duncan Aviation's myDuncan project management and customer communication portal is also able to be translated.
myDuncan is Duncan Aviation's aircraft project management system that improves communication, efficiency and accessibility. Customers are able to view quotes, approve work, review log entries, track job progress and retrieve documents in one place. Fast, secure, and easy-to-use, myDuncan is available on any device with an internet connection.