TDR-94/TDR-94D: Fully Stocked And Ready To Rock
October 2019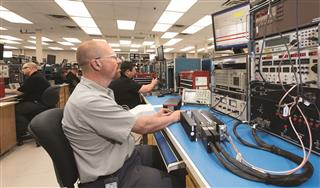 The Duncan Aviation Avionics & Instrument shop in Lincoln, Nebraska, has a full inventory of Rockwell Collins TDR-94/-94D transponder internal parts to upgrade for ADS-B compliance.
The FAA's ADS-B (Automatic Dependent Surveillance-Broadcast) deadline is fast approaching. In case you live under a rock, you know it is at midnight on December 31, 2019. To accommodate last-minute planners, we have expedited AOG service available.
Our technicians have completed just over 1,500 upgrades. Their efficient repair process allows for a one-day repair, provided the following steps are taken by the operator:
Call Duncan Aviation Customer Account Reps to schedule the unit into our shop.
800.562.6377 or 402.475.2611
Provide ID tag information ahead of time.
Ship your unit to this address:
Duncan Aviation
Shipping and Receiving
4001 N Park Rd
Lincoln, NE 68500
We are also able to modify earlier transponders to the -501-502;-551-552 series, which will meet the ADS-B mandate for 2020 when the unit is properly installed and certified.
We are authorized to repair and service transponders with the Rockwell Collins part numbers of
622-9352-002 through -008; -108; -207; -308 -311; -408 -411; -501-502
622-9210-002 through -008; -108; -207; -308 -311; -408 -411; -501-502
To schedule your TDR 94/-94D transponder upgrade, contact a Duncan Aviation Customer Account Rep at +1 402.475.2611 or 800.562.6377.