Engine Overhaul Preparation Recommendations
July 2020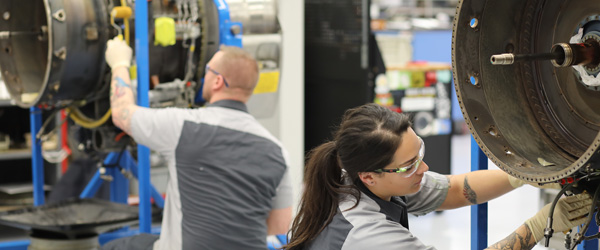 I talk to a lot of people every day about their aircraft engines and how to keep this expensive and critical asset in top operating condition. When it comes to ensuring that every aspect of your overhaul is covered, communication is key.
Below are some of the more common questions I get asked and their answers.
Who is responsible for engine overhaul maintenance planning?
As an aircraft operator or a member of the flight crew, you are ultimately responsible for seeing that all required maintenance events are completed on time.
When should planning begin?
I recommend starting the process a year in advance. Of course, the average hourly usage in a year impacts this timeframe. Always communicate any significant changes in usage hours as this will impact the schedule.
This extended window allows enough time to work through the following:
Financial budgeting
Accurate inspection forecasting
Significant changes in flight hours
Unforeseen on-condition or unscheduled events
Engine parts availability and lead times
Rental engine availability
Proper pre-planning and scheduling requirements
What items need to be completed ahead of the scheduled maintenance?
Engine logbook research
Obtain multiple proposals
ENGINE LOGBOOK RESEARCH
There are three options:
Complete research onsite at your location
Send scans of engine logbook for research**
Ship your engine logbooks to your chosen engine maintenance provider
**I recommend scanning and sending copies of the logbooks well in advance of the overhaul event.
Why is logbook research necessary ahead of scheduled maintenance?
A lot of essential details and information is discovered during the logbook research.
Verifies overhaul requirements based on the inspection hours of the last overhaul and current engine hours
Determines the compliance status of Service Bulletins and potential requirements
Determines the compliance status of Airworthiness Directives and potential requirements
Determines Life Limited Component status with current times and cycles for potential requirements
Confirms accurate engine inspection intervals
OBTAIN MULTIPLE PROPOSALS
Always allow yourself plenty of time to request, review and compare multiple proposals from more than one authorized engine MRO provider. Knowing this information ahead of time allows for more accurate financial planning.
Before awarding your trust to the selected MRO, have a solid understand of the following:
Financial obligation for overhaul event
What is included in your proposal?
What is included in the flat rate?
What is not included and will be billed on the final invoice?
Warranty Support
What support can you expect for your engine event before, during, and in to the future?
What additional costs are applicable for future warranty support?
What warranty coverage is offered?
Deposits, discounts, and incentives
How are these addressed and required or distributed under what timing requirements?
Do you have an established credit line with your provider? If so, confirm the limits and any potential balances due. If no, are you able to set up payment terms in advance of your engine event?
What is covered under my Engine Maintenance Program?
If your engines are on program, have an understanding of what is covered and what is not.
What is covered under the program?
What is required for approvals and applicable over and above costs?
Which engine MRO providers are approved and to what level are they authorized to support your engine maintenance program?
** Whether your engine is on program or not, there are many variables to be aware of. I advise you to speak with experts to fully understand the details well ahead of scheduled maintenance.
What are the potential airframe items that may coincide with the engine overhaul?
Will your engine overhaul be a stand alone event or combined with airframe, interior, paint, avionics installations, CMS upgrade, or other items during the downtime?
If my engines are removed as a part of additional maintenance, is the overhaul performed onsite at the MRO facility or sent to another location?
What Chapter 5 requirements will be included during your engine removal, such as engine mounts, etc? This will avoid the added cost to remove the engine again before it is necessary.
If your engine overhaul is a stand alone event, what support and associated costs will your chosen provider be able to offer?

Coordination of tooling, shipping, support equipment for engine removals, potential engine pre- and post-run requirements
Rental engine shipment and installation, and your engine installation at completion
Timing requirements the rental engine provider may have for return when your engine is complete
What insurance coverage and agreements does your chosen MRO provide?
Rental engine insurance requirements and associated bailment agreements
Logistics insurance coverage
Engine provider insurance coverage's for the event, either on site or at the engine provider's location
How long will my engines be down for overhaul?
Many things impact an overhaul timeline, making turntimes hard to predict. It is critical to understand all of the moving parts to get a realistic expectation for turntime.
Parts availability while engine is in the shop
Shipping time
Engine R&R
Communicate. Communicate. Communicate.
Healthy communication between you and your chosen MRO before, during, and after a maintenance event is the key to keeping the timeline on schedule and completed successfully with few or no surprises.
Always stay engaged and remain available and responsive when your MRO has questions.