Safety First When Shipping Pressurized Containers for Hydrostatic Testing
August 2020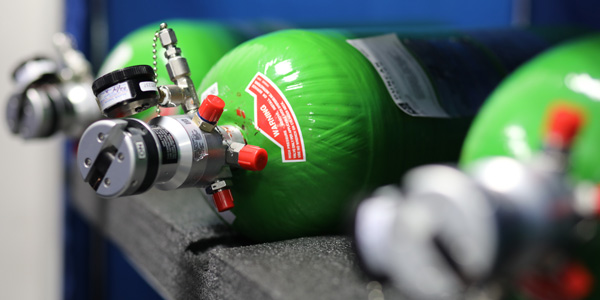 It is time for your aircraft's pressurized containers to be sent to a DOT-certified facility for hydrostatic testing. These containers include but are not limited to, oxygen cylinders, fire bottles, emergency air bottles, reservoirs, and water bottles. Duncan Aviation is DOT-certified for hydrostatic testing.
Now that you know where to send these containers, how do you get them here?
There is only ONE way to safely and legally ship pressurized containers. That is by locating a certified shipper capable of following the U.S. DOT Rule 49 CFR—Hazardous Materials Transportation Regulations.
The U.S. Department of Transportation (US DOT) requires anyone shipping hazardous materials to be trained and certified every two years.
Before selecting a certified shipper, verify they have a current certification. You are responsible for others handling a shipment on your behalf because you know what the hazardous material contains.
Duncan Aviation is a certified shipper.