Have a crack in your APU Exhaust Support? Don't Replace It. Repair It.
November 2020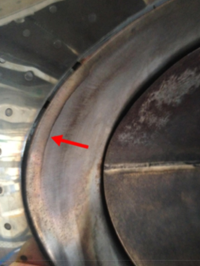 There have been several reported instances of cracked APU exhaust supports, part number: 7083019-1 or GA4453-0009, on Bombardier Global aircraft. All were discovered to be approximately the same length and in the same location, at 9 o'clock along the deflector close to the flange.
There is a recommended weld repair available, giving operators the option of repairing the assembly instead of replacing it. The repair can only be performed on a crack if it is less than six inches in length.
The technical content of Bombardier Repair Engineering Order 700-49-00-003 for this repair is available after an SRPSA (Service Request for Product Support Action) is submitted.
Duncan Aviation Certified Welding Services
Duncan Aviation has AWS D17.1 certified welders and inspectors on-site, capable of welding all types of materials for aerospace applications.
Feel free to contact me If you have any questions.