Straight Talk On Datalink
September 2021
As the aviation community continues to implement airspace modernization initiatives, owner/operators want to know about value: If I upgrade my aircraft, what will I get for the often-substantial investment?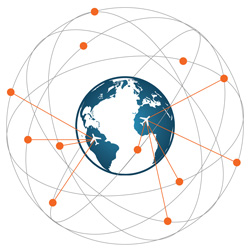 The ultimate return on your investment is your ability to continue flying your aircraft, as you're in compliance with the mandates, of course. Replacing obsolete ATC (Air Traffic Control) communication systems will also make your aircraft safer. This book deals with Datalink functions, specifically highlighting FANS 1/A+ (Future Air Navigation Systems), which is one of the Airspace modernization initiatives.
No single communication system fits every aircraft. Here, we clarify the types of systems available and note how each system is used, so you can make an informed decision regarding the FAA (Federal Aviation Administration) and EASA (European Aviation Safety Agency) mandates.
In keeping with the principle that the best-equipped equals the best-served, the best oceanic routes, the NAT (North Atlantic) tracks, are mandated for FANS-compliant aircraft only. As of January 30, 2020, ICAO (International Civil Aviation Organization) mandated that all aircraft operating between FL290 and FL410 must be FANS-compliant. FANS-equipped aircraft feature components that enhance communication between flight crews and ATC and provide more accurate position reporting, which makes it possible to fly aircraft closer together. This tracking allows ATC to seamlessly track aircraft over land or oceanic routes and as they transition from one to the other.
Legacy avionics systems without FANS don't provide position reporting in oceanic airspace. Aircraft that lack a FANS system may spend more time flying the less efficient routes because ATC has to build an oversized pocket of airspace to accommodate them. Also, aircraft that are equipped with ATN (Aeronautical Telecommunications Network) may see operational advantages over non-compliant aircraft at airports that are equipped with DCL (datalink communications) capability.
At Duncan Aviation, we're on the cutting edge of avionics technology, and we've thoroughly researched digital Datalink systems such as FANS. Download the new book here: https://www.duncanaviation.aero/resources/straight-talk/datalink-acars-fans-1-a-atn
For more information, Duncan Aviation Avionics Installation Sales Representatives:
Adrian Chene, +1 269.565.3635, Adrian.Chene@DuncanAviation.com
Mike Morgan, +1 269.968.8630, Mike.Morgan@DuncanAviation.com
Justin Vena, +1 269.968.8789, Justin.Vena@DuncanAviation.com