Hawker: Don't Forget Chapter 24: Electrical Power Maintenance Practices
April 2022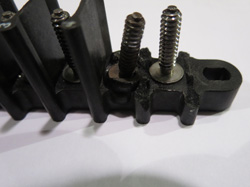 The Duncan Aviation Hawker team recently troubleshot an aircraft with intermittent static plate heat. Our investigation revealed a damaged terminal block which most likely resulted from improper torqueing of the terminal nut and improper orientation of the terminals themselves.
Most of us are familiar with the torqueing of fasteners as required in the AMM for the task being performed. If no specific torque value is noted, then we rely on Chapter 20 (Standard Practices) for determining the proper torque value. Unfortunately, sometimes the information on torque loading contained in Chapter 24 (Torque Loading of Electrical Connections) goes unnoticed or unheeded.
That appears to be the situation here with the damaged terminal block. Not only were the terminals not oriented correctly, it appears an improper torque was applied.
Chapter 24 contains essential information to assure that electrical connections are properly made to ensure that systems operate correctly and are safe.