20 Students Earn 2023 Karen K. Duncan Scholarship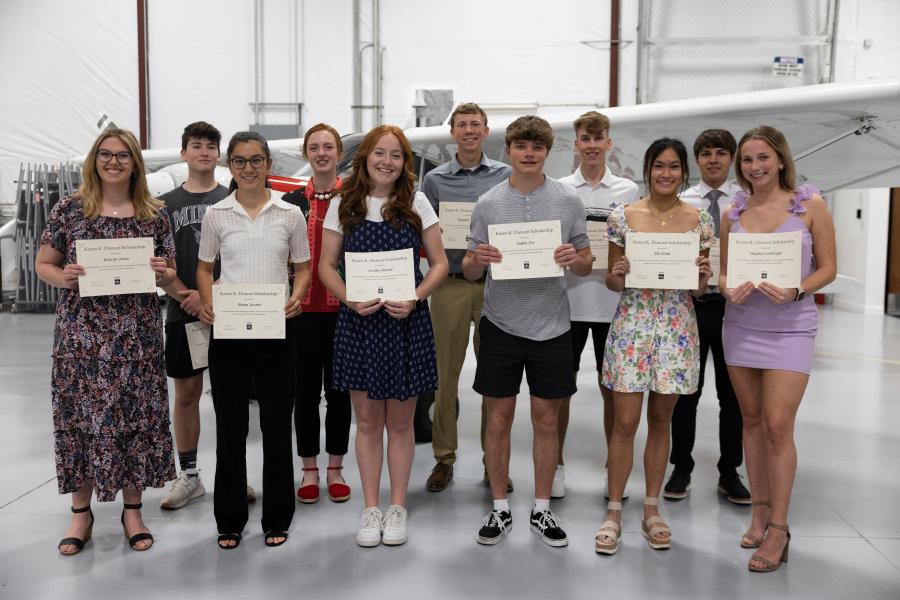 LINCOLN, NEB. — Supporting local communities is one of Duncan Aviation's core values. One way the company invests in its communities is through the children of its team members. For 25 years, Duncan Aviation has advanced the futures of students through the Karen K. Duncan Scholarship program.
"In honor of my mother's strong belief in education, the Karen K. Duncan Scholarship Program was started to help Duncan Aviation team members fund post-secondary education expenses for their kids," says Todd Duncan, Chairman of Duncan Aviation. "In the 25 years since we started this program, 401 scholarships totaling $1,952,500 have been awarded."
All dependent children of full-time Duncan Aviation team members who are entering a two-year or four-year college program or technical school in the fall of 2023 were eligible. Each scholarship winner will receive up to $5,000 for his or her college education—$1,250 a semester for up to four semesters.
An independent committee reviewed applicants' essays and assigned point values to them. Students also earned points for academic achievement, leadership, citizenship, career goals and extracurricular activities.
The following students from local communities will receive the 2023 scholarships that together could total up to $100,000.
Battle Creek, Michigan
Wil Hawes, son of Suzanne Hawes and Daniel Sommerfeld
After graduating from Otsego High School, Wil plans on attending Michigan State Lyman Briggs College to study and major in astrophysics, then pursue a master's degree. After graduation, his goal is to work for NASA and pursue a Ph.D. in astrophysics. In high school, he earned several honors and awards during his time on the marching band, jazz band, and pep band. He was also on tech crew and achieved 4th Dan Black Belt for Tae Kwon Do.
Emma Price, daughter of Travis and Maria Price
Emma sets her sights on graduating from Spring Arbor University with a degree in Elementary Education. During her years at Harper Creek High School, Emma took every opportunity to participate in co-op education programs at several area schools to earn an MI-YDA (Michigan Youth Development Associate) certificate, a Paraprofessional certification, and valuable work experience. If that wasn't enough, she was an Advisory Board & Leadership team member of the Calhoun Area Career Center and a member of the International Travel Club and National Society of High School Scholars. She gave back to her community by volunteering her time for church mission trips, the local food pantry, and other community activities.
Burr, Nebraska
Hayden Huskey, son of Nick and Angie Huskey
Hayden plans to fulfill a life-long dream of helping people solve problems in innovative ways by studying Mechanical Engineering at the University of Nebraska/Lincoln. As a student at Johnson County Central High School, Hayden was inducted into the National Honor Society as a sophomore; served on Student Council all four years (serving as President his senior year); was active in Future Business Leaders of America (FBLA) all four years; performed with the school choir and received numerous honors and awards; had the lead in the school musical his Junior year, earning the Best Male Vocalist award; earned a letter the three years he competed as a Cross Country runner his freshman, sophomore, and junior years; and was a member of BUDS, mentoring and helping special education students with their social skills. As a youth suffering from Alopecia areata, Nick has developed mental strength, possesses great drive and determination, and believes that it's not what happens to you in life that matters, it's how you react to it.
Cortland, Nebraska
Taden Fix, son of Casey and Tenile Fix
Taden has his sights set on graduating from Southeast Community College with a degree in the Health Sciences. During his years at Norris High School, Taden participated in cross country and soccer, being named to All-Conference in both. His various community and church activities included Holland Church Youth Group, picking up litter around the Hickman/Firth community, creating and delivering care packages to Goldcrest Nursing Home, and making blankets for the Child Advocacy Center.
Eagle Mountain, Utah
Ethan Beach, son of Adam and Amanda Beach
Ethan's plan immediately after graduating from Cedar Valley High School is to complete technical courses at Mountainland Technical College to earn certification in welding. Afterward, he plans to attend the University of Utah to pursue an Engineering & Business degree. All four years of Ethan's high school years were full of activities, both athletic (football), academic (National Honor Society & Honor Roll), and civic (Future Farmers of America). He participated in and had leadership roles in many community and social groups, including Boy Scouts of America (Eagle Scout), Rescue Mission of Salt Lake City, and church youth groups.
Kalamazoo, Michigan
Grace Babcock, daughter of Brian and Amy Babcock
While attending Harper Creek High School, Grace was very active within her community. She participated in Varsity Tennis, Student Council, Volleyball, Basketball, Marching Band, Golf, and Link Crew, while also making her dual enrollment classes through Kellogg Community College a priority. She volunteered at Kambly Living Center, the Youth Volleyball Program, and the Youth Basketball Program. After graduating, Grace plans on attending Kellogg Community College in Battle Creek before transferring to Western Michigan University in Kalamazoo.
Callahan Gothberg, daughter of Dustin and Mariah Cook
After graduating from Harper Creek High School, Callahan has plans to attend Southwestern Assemblies of God University in Battle Creek, where she will study Youth and Student Ministries. Throughout her time in high school, Callahan participated in Varsity Tennis while founding and leading the Bible Study Club. Callahan also volunteered at the Food Bank and as a Youth Worship Team Leader.
Lincoln, Nebraska
Hayley Corbridge, daughter of Erick and Laura Corbridge
After graduating from Lincoln Southwest High School, Hayley plans on attending the University of Nebraska-Lincoln to study Communication Sciences and Disorders. While in high school, Hayley was consistently an Honor Roll student, was in the Nebraska Now Program, and was an office assistant. She also spent a lot of her time volunteering in her community. Hayley was a member of the Nebraska Contemporary Dance Theater, Pure Movement Dance and Southwood Lutheran Youth Group. She also volunteered at Pink Gorilla races and Southwood Serves, was a dance assistant, and nannied. She was also a shift lead at Dairy Queen and a Starbucks partner. Hayley's goal in life is to become a Speech and Language Pathologist focused on pediatrics. She has always loved kids and wants to help them succeed in life.
Thi Dinh, daughter of Khai Dinh and Nguyet Nguyen
After graduating from North Star High School in Lincoln, Thi plans to study Marketing and continue her education in Miami, Fla., where she is currently deciding on a school. While in High School, Thi participated in Theatre, Cheer, the Key Club, and National Honor Society. She also made it a priority to give back to her community by volunteering with the Salvation Army and Center for People in Need.
Kara Higgins, daughter of Paul and Jodie Higgins
While attending Pius X High School, Kara was actively engaged in her community, participating in Spectrum Varsity Show Choir, Rolling Thunder Band, Aca Bella's Women's Choir, Pius X Choir, Pius X Jazz, the Archery Team, the Sign Language Club, and the Sewing Club. Kara also volunteered at Godteens Fellowship, Marian Camp, and Totus Tuus Youth Camp throughout her time in High School. After graduating, Kara plans on attending Concordia University in Seward, Neb.
Cecilia Howell, daughter of Scott and Andrea Howell
Cecilia will attend Nebraska Wesleyan University this fall, majoring in nursing and minoring in Spanish. While at Pius X High School, she was involved in many activities, including Campus Ministry, show choir, Pius X Players Theater, God's Teen Youth Group, Pro-Life Club, Chic-Fil-A Leadership Academy, Archery Club, and the National Honor Society. She also volunteered her time at Camp Kitaki SKY Camp, Meals on Wheels, and Matt Talbot Kitchen and Outreach.
Mana Jacobo, daughter of David Jacobo and Naoko Fujimoto
After graduating from Lincoln High School, Mana plans on attending the University of Nebraska at Lincoln but is still unsure of her course of study. During her time at Lincoln Hish, Mana was involved in swimming/diving, track/field, cross country and National Honor's Society. Mana gave back to her community by volunteering at UNL and Lincoln Parka and Recreation swim meets and working on the Link Crew.
Gracyn Jozsa, daughter of Carol and Alex Jozsa II
Gracyn plans to study pre-physical therapy at the University of Nebraska-Kearney in the fall. She's known since she was in 8th grade and shredded her ACL that she wants to pursue a career as a Physical Therapist so she can help people, easing their pain while making them comfortable. While attending North Star High School, Gracyn played violin in the Varsity/Chamber Orchestra all four years, acted in Theatre, served as Captain of the Color Guard, marched in the North Star Marching Band, and sang in the Senior Choir. Gracyn was inducted into the National Honor Society her Senior year, and she gave generously of her time, volunteering at various church activities at St. Patrick's, Matt Talbot Kitchen & Outreach, and helping with children in elementary classrooms in Lincoln. As someone who is dedicated to continuously setting goals and learning all she can, Gracyn would love to ask composer Franz Schubert what he wanted the final movement of his Unfinished Symphony (Symphony No. 8) to sound like.
Reid Nelson, son of Matt and Michelle Nelson
After graduating from Lincoln Southwest High School, Reid plans on attending the Colorado School of Mines in Golden, Colo., where he will study mechanical engineering. He is pursuing this course of study because he enjoys math and science and is very good with his hands. While at Southwest High School, Reid played tennis, where he was Team Captain his senior year.
McKenna Pry, daughter of Jason Pry and Misty Norris
Once McKenna graduates from Blue Ridge High School, she plans on attending North Greenville University in Tigerville, S.C., to study biology and play softball. After her four-year degree, she would like to attend Clemson Veterinary School with the end goal of becoming a large animal veterinarian so she can help farmers that live in her area. In high school, McKenna was on the softball team, BETA Club, National Honor Society, and Future Farmers of America. She also volunteered for the Greer Soup Kitchen, went on a mission trip to New Orleans, made Christmas cards for nursing home patients, and volunteered in the Operation Christmas Child warehouse.
Portage, Michigan
Zachary Stewart, son of Debbie and Mark Stewart
Zachary attended Portage Central High School in Portage, Mich., and he's planning to attend Western Michigan University in Kalamazoo where he will study Biomedical Sciences/Pre-Med and eventually become an Orthopedic Surgeon. Making the most of his high school years, Zachary played on the Varsity Basketball team, lettering all four years and was President of the Table Tennis club. He was active in Link Leaders, was inducted into the National Honor Society, and received an IB (International Baccalaureate) Diploma. Among the many organizations Zachary has given his time and talents, his favorite was the Miracle League, which allows children with special needs to play softball. Zachary has learned to cherish every moment he has with the people he cares about because he knows that one way or another, that time will end. He feels this knowledge has made him a better person because he makes sure the time he spends with his loved ones is always quality time.
Roca, Nebraska
Caden Cram, son of Karla and Jeff Cram
After graduating from Lincoln Southwest High School, Caden intends to work on a degree in Sports and Entertainment Management at Grand Canyon University in Phoenix, Ariz. Like most kids, he'd had career dreams when he was younger. However, Caden had an epiphany and realized his career needs to be related to something he's passionate about, like sports. As a student and student athlete, who was an Academic All-State all four years in golf, Caden believes in always doing the best he can, regardless of the challenges that spring up in life. He learned at a young age that mistakes are tools to learn from, not missteps that define you, and he's used the mistakes he's made in life to become a better person. He's also one of those rare young men who realizes that it's not a cliché: Our time with those we love is fleeting. Caden believes he has to make the most of his time with his grandmother and his parents every single day. He has watched his grandma shower unconditional love on him and his family, her friends, and even people she doesn't know, and he tremendously admires her selflessness. His greatest strength in life is listening, and he knows listening is the best way for him to soak in information.
Scotts, Michigan
Sophia Carrier, daughter of Justin and Sara Carrier
After graduating from Vicksburg High School, Sophia plans on attending Lake Michigan College to pursue an associate's degree in Pre-Engineering. She will then obtain her bachelor's degree at a college yet to be determined. While in high school, she led her volleyball team as Team Captain or Co-Captain all four years and was a member of the National Honor Society. She gave back to her community as a volunteer for the Salvation Army, children's hospital, food pantry, and church youth group.
Teterboro, New Jersey
Elijah Ware, son of Luke and Tara Bozetarnik
Once Elijah graduates from Scotch Plains Farnwood High School, he plans on attending Liberty University in Lynchburg, Va., to study business. In high school, Elijah received excellent grades, putting him on the Honor Roll all four years. Elijah was also on his high school soccer team, volleyball team, and track team. He was also an active member of a Bible club, salsa club, and was the team innovator and designer for the logos and t-shirts for the Raiders Robotics club. In his community, he was a camp counselor, tutor, media volunteer at his church, and he volunteered at several food, clothing, and toy drives. Elijah says he is blessed to be adopted into a loving and successful family, and that the people related to him by blood never applied themselves. Going to college and pursuing his education means a lot more to him than just getting a job and being successful. Going to college means Elijah would be the first out of three generations to go to college. He feels a large amount of responsibility to set an example as to how far in life hard work, perseverance, and determination can take you.
Waverly, Nebraska
Conner Beachler, son of Dustin and Shelly Beachler
After graduating from Waverly High School, Conner plans to attend the University of Nebraska at Kearney to study Computer Science. While at Waverly, Conner was on the football and trap teams, was a member of the National Honor Society, and participated in the Global Voices and Robotics clubs.
About Duncan Aviation
Duncan Aviation is an aircraft service provider supporting the aviation needs of business aircraft operators, government agencies, and other aircraft service providers. Services include major and minor airframe inspections, engine maintenance, major retrofits for cabin and cockpit avionics systems, full paint and interior services, engineering and certification services, fabrication and manufacturing services, and preowned aircraft sales and acquisitions. Duncan Aviation also has international aircraft components solutions experts available 24/7/365 at +1 402.475.4125 who can handle any aircraft system problem with immediate exchanges, rotables, loaners or avionics/instrument/accessory repairs and overhauls. Complete service facilities are located in Battle Creek, Michigan; Lincoln, Nebraska; and Provo, Utah. We also have dozens of other facilities strategically located throughout the United States to provide customers with scheduled regional support and the quickest response possible to avionics, engine and airframe Aircraft On Ground (AOG) situations.
For more information about any of Duncan Aviation's services, call +1 402.475.2611 or visit https://www.DuncanAviation.aero/services