CJ3 Pro Line Fusion® Upgrades Underway at Duncan Aviation Locations in Nebraska, Michigan and Utah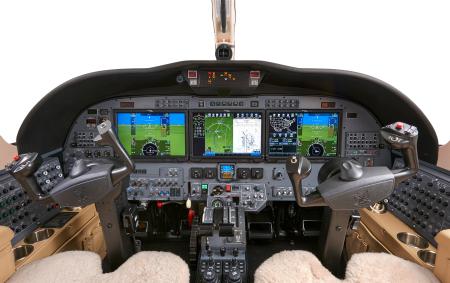 LINCOLN, NEB — A year after Duncan Aviation delivered the first Citation CJ3 aircraft equipped with the Rockwell Collins Pro Line Fusion® integrated avionics upgrade, the company has seen great demand and is spooling up additional installation locations to make the upgrade even more convenient for customers. The first eight aircraft were completed at Duncan Aviation's facility in Lincoln, Nebraska. In April, Pro Line Fusion installations will also be in work at Duncan Aviation's Battle Creek, Michigan, and Provo, Utah, locations. Duncan Aviation has 11 CJ3 upgrades completed or in work with a total of 25 commitments.
Along with being certified WAAS/LPV, the baseline Pro Line Fusion upgrade meets the current 2020 mandate for ADS-B, as well as giving a clearer path for future mandates. The Pro Line Fusion upgrade replaces the factory-installed portrait displays with larger 14.1-inch landscape touchscreen primary flight displays. The new system includes intuitive, touch-interactive maps, and easy-to-use icons, giving the pilot the ability to control items on the screen through touch as well as through two new cursor control panels and a new QWERTY keyboard, which replaces the current FMS CDU mounted in the center pedestal.
"We are proud of how this program has progressed," says Jeff Simmons, Duncan Aviation Avionics Sales Representative. "Customers are excited about the upgrade and they continue to tell us that they not only love the new flight deck, but they appreciate the experience they have had with Duncan Aviation."
Richard Boyer, President of Ontario, Inc., is one of the latest happy customers.
"I recently had Duncan Aviation upgrade my Pro Line 21 to the new Pro Line Fusion avionics," Boyer says. "Because of the planned downtime, I decided to also do new paint and interior and my three-year doc and other doc inspections completed. First off, my interaction with the team at Duncan Aviation was very pleasant. Even though the Lincoln facility has more than 1,000 employees, I always felt I was doing business with a much smaller shop. They bent over backwards to keep me happy and went beyond what I expected when it came to getting the aircraft back to me on time. Because of the extensive work completed, I was bracing myself for the nuisance of finding squawks after taking delivery. However, after flying the aircraft for two months, their work has been squawk- free. On delivery of the aircraft, all the switches were in the right places and they even had placed all of my stuff correctly back in the drawers and pockets. Lastly, there were no unexpected billings to argue over. I highly recommend Duncan Aviation for any of the areas I had work: avionics, maintenance or paint and interior."
For more information about the CJ3 Pro Line Fusion integrated avionics upgrade, visit www.DuncanAviation.aero/cj3prolinefusion.
See more information about special Duncan Aviation-designed CJ3 paint and interior packages here: http://www.duncanaviation.aero/services/avionics-installation/cj3-pro-line-fusion-interiors.
About Duncan Aviation
Duncan Aviation is an aircraft service provider supporting the aviation needs of business aircraft operators, government agencies, and other aircraft service providers. Services include major and minor airframe inspections, engine maintenance, major retrofits for cabin and cockpit avionics systems, full paint and interior services, engineering and certification services, fabrication and manufacturing services, and preowned aircraft sales and acquisitions. Duncan Aviation also has international aircraft components solutions experts available 24/7/365 at +1 402.475.4125 who can handle any aircraft system problem with immediate exchanges, rotables, loaners or avionics/instrument/accessory repairs and overhauls. Complete service facilities are located in Battle Creek, Michigan; Lincoln, Nebraska; and Provo, Utah. We also have dozens of other facilities strategically located throughout the United States to provide customers with scheduled regional support and the quickest response possible to avionics, engine and airframe Aircraft On Ground (AOG) situations.
For more information about any of Duncan Aviation's services, call +1 402.475.2611 or visit https://www.DuncanAviation.aero/services