Duncan Aviation Adds New Enterprise Manufacturing Division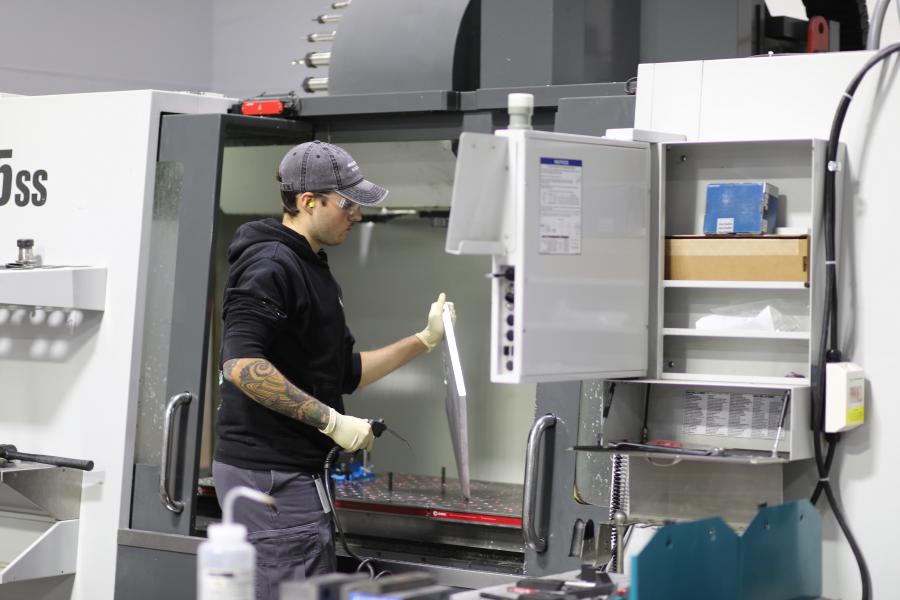 LINCOLN, NEB. — Duncan Aviation is pleased to announce that the company has expanded and reorganized its parts manufacturing and fabrication areas, creating a new division called Duncan Manufacturing Solutions (DMS).
Although DMS is currently serving in-house needs for Duncan Aviation projects and customers as well as requests from aviation system and aircraft manufacturers, the expectation is that the area will grow in the future to provide services to companies in other industries that need reliable, high-quality parts fabricated to meet their scheduling needs.
Duncan Aviation has invested more than $4 million in the DMS facility, which was built adjacent to Duncan Aviation's Turbine Engine Overhaul Shop in Lincoln, Nebraska, and has 21,000-square-feet devoted to machining, metal work, and composite capabilities.
"The expansion is exciting, and our ability to create complex geometries with tight tolerances is impressive," says Scott Stenka, Duncan Manufacturing Solutions Manager, "but it really is an extension of work we have performed for nearly 38 years through our FAA PMA (Parts Manufacturing Approval) authorization." Duncan Aviation has supported many OEMs by producing various interior components and bracketry. During a particularly active manufacturing period from 2009 through 2011, Duncan Aviation's fabrication shop produced more than 26,800 parts every month.
The company added more sophisticated equipment to supplement its previous capabilities and machinery to allow for various CNC milling, waterjet cutting, metal press, engraving, and heat-treating capabilities.
Machine Capabilities
With the addition of the HAAS VF5, DMS will effectively double its milling output. Its HAAS UMC750 five-axis allows for the machining of complex parts with great accuracy and minimal setups.
Duncan Aviation also added an Epilog Fusion Pro 48–Dual Laser Engraver. This laser engraver can do in minutes what a mill takes 35-40 minutes. It doesn't require a perfectly flat surface to remove paint or etch. And it is configured with both a CO2 and a fiber laser, allowing it to work with various materials.
Heat Treating
DMS brought heat treating capabilities in-house with the addition of two Delta H Heat Treat Ovens. These ovens are capable of heat treating aluminum, stainless steel, tool steel, and titanium. These ovens are based on the most common size requirements for working with envelopes of 16x16x24 inches and 16x24x72 inches.
Water Jet
Omax 60120 Waterjet replaces the existing water jet cutting machine expanding the ability to fabricate sheet metal parts.
Composite Repairs & Manufacturing
The new state-of-the-art, positive airflow composite shop is equipped to handle prepreg composite repairs and manufacturing. It features a 1,150-square-foot clean room and a 12x24-foot paint booth with a mixing room. More advanced repairs and manufacturing capabilities are accomplished with the purchase of the ASC AutoClave. This workhorse of a machine has a 6 x15-foot working envelope. It is used to cure carbon fiber, Kevlar, and fiberglass materials to repair or construct new parts.
Inspection Quality
A new DMS Hexagon Absolute 7 axis arm was installed to accurately inspect all of the items produced by DMS. The 7-axis arm is a multi-functional measuring tool for precision, first-article inspections, and reverse engineering when paired with the RS6 laser scanner. The arm is mobile and can be brought to an aircraft when needed.
Quality control measurement equipment and inspection processes have also been developed by DMS team members. The facility is working toward AS9100D certification and NADCAP (National Aerospace and Defense Contractors Accreditation Program) accreditation to allow future government contract and parts manufacturing support work.
DMS is continually researching other manufacturing categories to potentially increase capabilities in the future, including lathe and tubing assembly.
For more information, visit Duncan Aviation at booth #2401 during this year's NBAA convention from October 12-14, in Las Vegas, Nevada, or watch for announcements at www.DuncanAviation.aero/news.
About Duncan Aviation
Duncan Aviation is an aircraft service provider supporting the aviation needs of business aircraft operators, government agencies, and other aircraft service providers. Services include major and minor airframe inspections, engine maintenance, major retrofits for cabin and cockpit avionics systems, full paint and interior services, engineering and certification services, fabrication and manufacturing services, and preowned aircraft sales and acquisitions. Duncan Aviation also has international aircraft components solutions experts available 24/7/365 at +1 402.475.4125 who can handle any aircraft system problem with immediate exchanges, rotables, loaners or avionics/instrument/accessory repairs and overhauls. Complete service facilities are located in Battle Creek, Michigan; Lincoln, Nebraska; and Provo, Utah. We also have dozens of other facilities strategically located throughout the United States to provide customers with scheduled regional support and the quickest response possible to avionics, engine and airframe Aircraft On Ground (AOG) situations.
For more information about any of Duncan Aviation's services, call +1 402.475.2611 or visit https://www.DuncanAviation.aero/services