Duncan Aviation Adds Nine To Its AOG Rapid Response Teams During First Quarter 2021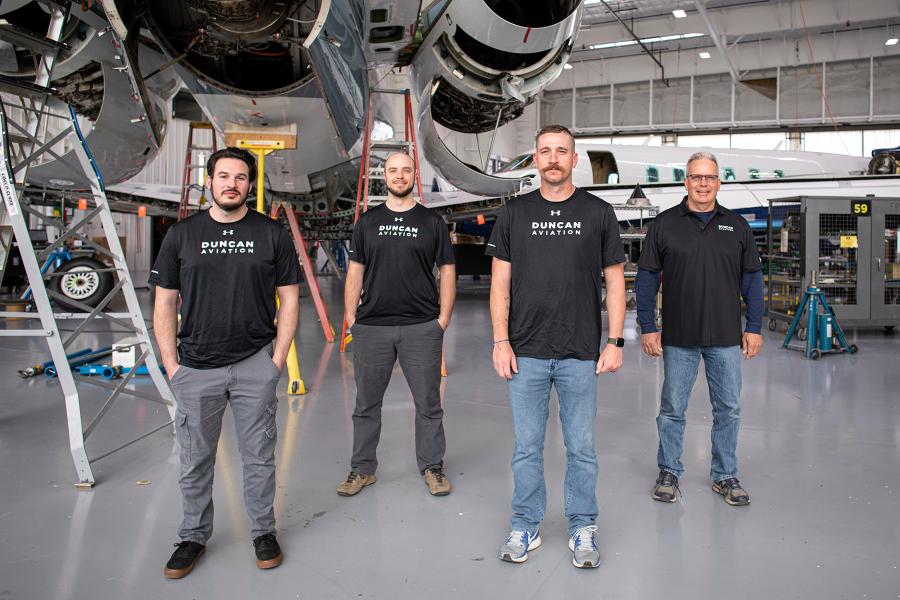 LINCOLN, NEB — More business aircraft operators seek to save time and expense by having smaller scheduled inspections or maintenance events in their hangars. In support of this trend, Duncan Aviation added nine airframe and engine technicians to its AOG RRTs (Rapid Response Teams) during the first quarter of 2021.
"Our customers are returning to the skies upending the pandemic. We are coming alongside them in support of their daily needs and to overcome obstacles they face regarding 100% aircraft readiness," says Andrew Arcuri, East Coast RRT Assistant Manager.
While the Duncan Aviation RRTs' central mission remains to respond to all AOG events across the United States and around the world, Arcuri says the team also provides the much-needed daily support at customers' home locations. "We are on the front line and have become valued members of our customers' maintenance crews."
There are 18 RRT dispatch locations across the U.S., including all three Duncan Aviation MROs in Battle Creek, MI, Lincoln, NE, and Provo, UT. They are the largest independent road team in the industry, offering mobile airframe and engine AOG and inspection services.
These teams are not finished growing and expect to add another 11 technicians before the end of the year. Skilled A&P technicians are needed in the Colorado, Florida, Illinois, Michigan, North Carolina, Utah regions.
New AOG Rapid Response Technicians
Josh Bronson joined Duncan Aviation in 2011 as an airframe technician working on Citations, Embraer, and Hawker aircraft. After transferring to the MRO RRT in late 2020, he has traveled across the U.S. supporting many airframe AOG events.
Tylor Burkett joins Duncan Aviation's northeast RRT. He has airframe and engine maintenance experience on Falcon, Challenger, and Global airframes. Before joining Duncan Aviation, he worked for Dassault Falcon Jet.
Justin Burnett comes to Duncan Aviation with 12 years of Honeywell AS907, TFE731, and APU technical and leadership experience. He worked for Turbine Engine Specialists, Inc., Texas Aviation Services, and ERA Helicopters, LLC before joining Duncan Aviation. He joins the Dallas RRT.
Dillard Knight joined Duncan Aviation in 2019, beginning on the engine line working on several platforms, including Honeywell, Pratt & Whitney, Rolls Royce, and GE. He transferred to the MRO RRT located in Lincoln, NE, in January of 2021 and immediately hit the road supporting AOG events from California to Connecticut.
James Kramer has over 20 years of aviation experience as an A&P, pilot, field support, and inspector for Honeywell, Pratt & Whitney, Rolls Royce, and GE engine platforms. He is joining the AOG RRT in Scottsdale, AZ.
Matt Olson has 16 years of airframe, electrical, engine line, and troubleshooting experience on Falcon, Citation, Embraer, Challenger, and Global aircraft; and Honeywell, Pratt & Whitney, and Rolls Royce engine platforms. He joined Duncan Aviation in 2005 as an airframe technician at the company's Lincoln, NE, facility. In 2020, he transferred to the MRO RRT in Provo, Utah.
Josiah Orme has joined the Duncan Aviation RRT in the northeast region. He has several years of airframe and engine experience. Before joining Duncan Aviation, he worked for Dassault Falcon Jet as a maintenance technician and quality control inspector.
Josh Saran's aviation experience started in the U.S. Air Force working on Sikorsky MH-53 helicopters. He has 10 years of airframe, avionics, and engine troubleshooting experience on the most popular business aircraft in flight today, including Bombardier, Textron, Falcon, Gulfstream, and Embraer airframes. He has joined the Seattle RRT.
In the years since Rafael Vargas earned his A&P in 1993, he has been hands-on as an aircraft maintenance technician, inspector, and crew lead on Gulfstream, Global, Citation, and Falcon aircraft. His engine inspection, overhaul, and troubleshooting experience include Honeywell, Pratt & Whitney, Williams International, and Rolls Royce. Before joining Duncan Aviation, Vargas worked for Gulfstream, StandardAero, and Cessna Citation. He has joined the Long Beach, CA, RRT.
About Duncan Aviation
Duncan Aviation is an aircraft service provider supporting the aviation needs of business aircraft operators, government agencies, and other aircraft service providers. Services include major and minor airframe inspections, engine maintenance, major retrofits for cabin and cockpit avionics systems, full paint and interior services, engineering and certification services, fabrication and manufacturing services, and preowned aircraft sales and acquisitions. Duncan Aviation also has international aircraft components solutions experts available 24/7/365 at +1 402.475.4125 who can handle any aircraft system problem with immediate exchanges, rotables, loaners or avionics/instrument/accessory repairs and overhauls. Complete service facilities are located in Battle Creek, Michigan; Lincoln, Nebraska; and Provo, Utah. We also have dozens of other facilities strategically located throughout the United States to provide customers with scheduled regional support and the quickest response possible to avionics, engine and airframe Aircraft On Ground (AOG) situations.
For more information about any of Duncan Aviation's services, call +1 402.475.2611 or visit https://www.DuncanAviation.aero/services