Duncan Aviation Aircraft Sales & Acquisitions Rep Leah Alexander Relocates to United Kingdom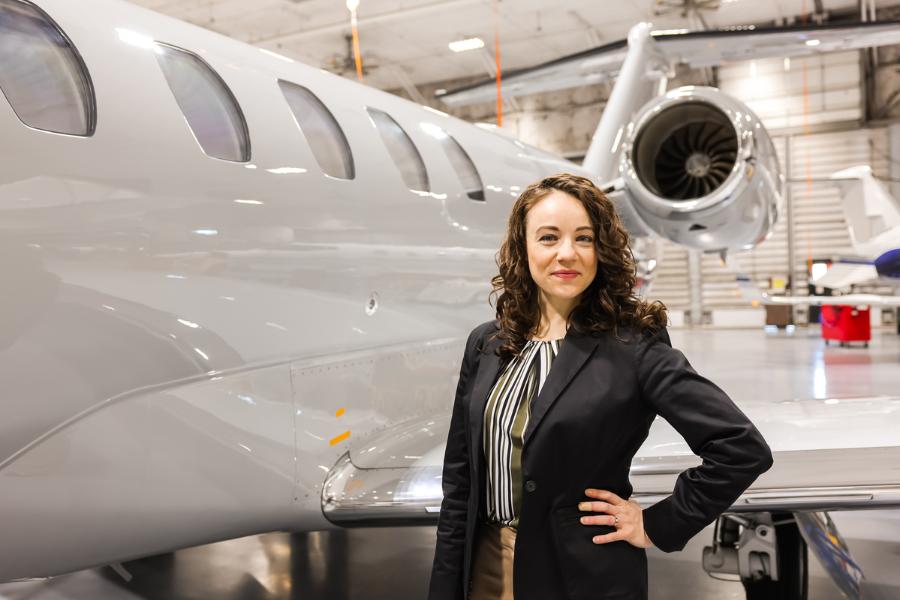 LINCOLN, NEB. — Duncan Aviation is excited to announce that Leah Alexander, Aircraft Sales & Acquisitions, has relocated from Chicago, Illinois, to the Southern Coast of England to expand Duncan Aviation's client base in Europe and the Middle East. She will join Tim Barber in representing Duncan Aviation's Aircraft Sales & Acquisitions team in the United Kingdom.
"Being in the United Kingdom allows for easily covering a wide span of time zones," said Alexander. "I can attest that from Chicago, days that begin early with a conference call to India and end late with calls to Hong Kong can grow very long, very quickly."
Duncan Aviation Vice President of Sales and Marketing Ryan Huss said Alexander's relocation will enhance the team's ability to cover the opportunities in the EMEA region.
"Leah has been working with Tim Barber over the past several years and the timing for her to return back to England could not have been better," said Huss. "They have formed a strong duo and naturally complement each other's strengths."
Huss explained that Alexander brings great energy and drive to the team.
"She does a great job of understanding the market from both the buyer and seller's sides," said Huss. "Leah is detail-oriented and articulate in both her understanding of the available aircraft as well as in the brokerage agreements she takes part in. We are looking forward to seeing Leah get settled and grow into one of the leading brokers in the region."
When Alexander joined Duncan Aviation's Aircraft Sales & Acquisitions team five years ago, she expressed that her long-term goal would be to take advantage of the location flexibility. As it happens, her parents are both from Europe and she has both UK and EU citizenships and has conversational comfort in multiple languages.
Barber explained that over the last few years, the number of aircraft acquisitions, sales, and inventory opportunities that the Duncan Aviation team has been involved with has grown tremendously, especially in Europe and the Middle East.
"We noted that it would be a strategic advantage for us to have an additional aircraft broker on the other side of the Atlantic in order for us to best facilitate these opportunities," said Barber. "The growth in our aircraft sales activity overseas coincides with our planned growth in other areas of the company."
Alexander is also heading up the Education Committee for IADA to assist with developing resources and content for the association to ensure certified brokers have a global perspective and understanding. She went on to explain that there aren't many companies with an IADA (International Aircraft Dealers Association) certified broker based outside of North America.
"I'm looking forward to forming relationships and facilitating the expanding activity of our client base in Europe and the Middle East," said Alexander. "I am excited for this opportunity."
You can learn more and contact Alexander by following the link: https://DuncanAviation.aero/services/aircraft-sales/leah-alexander
About Duncan Aviation
Duncan Aviation is an aircraft service provider supporting the aviation needs of business aircraft operators, government agencies, and other aircraft service providers. Services include major and minor airframe inspections, engine maintenance, major retrofits for cabin and cockpit avionics systems, full paint and interior services, engineering and certification services, fabrication and manufacturing services, and preowned aircraft sales and acquisitions. Duncan Aviation also has international aircraft components solutions experts available 24/7/365 at +1 402.475.4125 who can handle any aircraft system problem with immediate exchanges, rotables, loaners or avionics/instrument/accessory repairs and overhauls. Complete service facilities are located in Battle Creek, Michigan; Lincoln, Nebraska; and Provo, Utah. We also have dozens of other facilities strategically located throughout the United States to provide customers with scheduled regional support and the quickest response possible to avionics, engine and airframe Aircraft On Ground (AOG) situations.
For more information about any of Duncan Aviation's services, call +1 402.475.2611 or visit https://www.DuncanAviation.aero/services