Duncan Aviation Aurora Satellite Workaway Adds Securaplane Emergency Power Services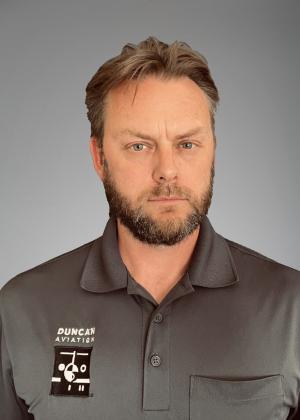 LINCOLN, NEB. — Nearly a year ago, Duncan Aviation received FAA approval to expand the company's Satellite services in Oregon to the airport in Aurora (UAO). Since then, demand from customers has continued to grow, and the Duncan Aviation workaway in Aurora recently added emergency power services to its line up of capabilities.
In the last year, Satellite Avionics Crew Lead Justin Weber has performed several two-year pito-static certifications, a few transponder certifications, resolved dozens of unscheduled squawks, performed some minor equipment installations, and repaired wires for various customers on the ramp.
"We're getting more and more business, and we've expanded our capabilities to Securaplane power supplies. We're providing a service that previously hasn't been available to customers at the Aurora airport," says Manager of the Portland, Oregon, Satellite Jonathan Almeida. "Even if you don't have an inspection coming up, if you need a check of the emergency power, we can provide that service."
The best part is that the turn-around time is 2-3 days.
"If customers have to ship the battery off to have it bench-tested for its recurring maintenance tests, the shipping alone will take 2-3 days," says Almeida. "We're getting it tested, serviced, charged, and returned in that amount of time."
Additionally, Crew Leader Satellite Avionics Justin Weber at the Aurora location, has some loaners in the event the battery must be shipped away.
"Customers love having Justin just down the ramp from them," says Almeida. "He's easy to work with and knowledgeable, and now he's providing one more service for customers at the Aurora airport."
The following are the models of batteries for which Justin has test capabilities.
SLA-3000
XL2410-XX
XL2411
XL243A
XL243B
XL244-A
XL244-B
XL244-C
XL244-D
XL245-A
XL245-B
XL245-C
XL245-D
XL246-A 15 AMP
XL246-A 10 AMP
XL246-C
XL246-S
XL249-XX
Give Weber a call for more information about the emergency power services:
Justin Weber
14369 Keil Road, Suite A
Aurora, Oregon 97002
Shop +1 503.776.9007
Justin +1 503.332.9630
About Securaplane
Based in Tucson, Arizona, Securaplane is a leading supplier of avionics products for business, commercial, and military aircraft including airborne video cameras, security systems, emergency and main ship batteries, battery chargers, inverters, and wireless control systems. With extensive technical capabilities and industry experience, Securaplane works with airframe manufacturers and operators. Our products are installed by major OEMs including AgustaWestland, Airbus, Boeing, Bombardier, Dassault, Embraer, Eurocopter, Gulfstream, Sikorsky, and Textron. www.securaplane.com
About Duncan Aviation
Duncan Aviation is an aircraft service provider supporting the aviation needs of business aircraft operators, government agencies, and other aircraft service providers. Services include major and minor airframe inspections, engine maintenance, major retrofits for cabin and cockpit avionics systems, full paint and interior services, engineering and certification services, fabrication and manufacturing services, and preowned aircraft sales and acquisitions. Duncan Aviation also has international aircraft components solutions experts available 24/7/365 at +1 402.475.4125 who can handle any aircraft system problem with immediate exchanges, rotables, loaners or avionics/instrument/accessory repairs and overhauls. Complete service facilities are located in Battle Creek, Michigan; Lincoln, Nebraska; and Provo, Utah. We also have dozens of other facilities strategically located throughout the United States to provide customers with scheduled regional support and the quickest response possible to avionics, engine and airframe Aircraft On Ground (AOG) situations.
For more information about any of Duncan Aviation's services, call +1 402.475.2611 or visit https://www.DuncanAviation.aero/services