Duncan Aviation Celebrates 65th Anniversary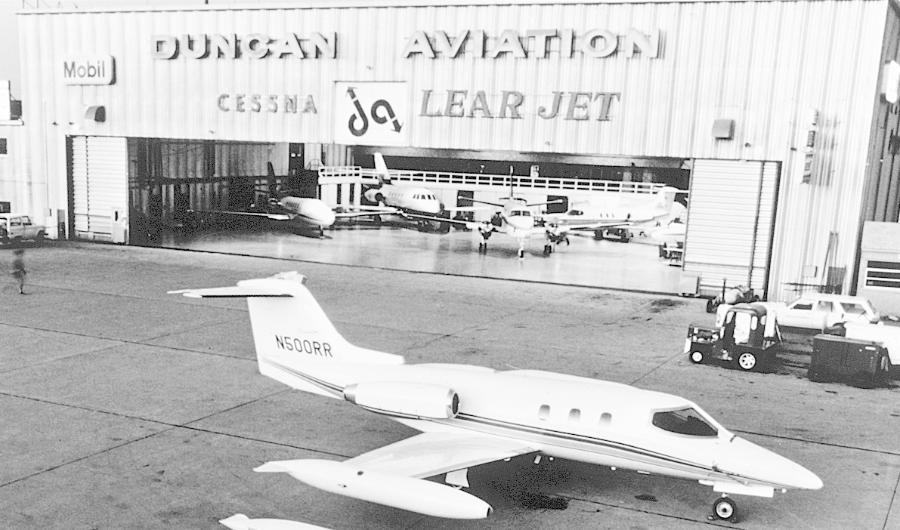 LINCOLN, NEB. — In 1956, Duncan Aviation founder Donald Duncan bought into a Beechcraft distributorship in Omaha, Nebraska. As a pilot and businessman, Duncan had many relationships with aviators who used their aircraft for business purposes. He saw the natural alignment of fast business and quick travel and he positioned his company to help others successfully meet their goals.
Now, 65 years years later, Duncan Aviation is a full-service business aviation service provider with 2,300 team members, three full-service MRO (Maintenance, Repair and Overhaul) facilities, and dozens of Satellite locations and AOG launch offices positioned throughout the United States.
"Throughout our 65 years, it has been our talented team members who have guided the company along its journey and helped to build our unique work culture, loyal customer following and excellent brand reputation," says Todd Duncan, chairman of Duncan Aviation and grandson of Donald Duncan. "We hope they are as proud of this accomplishment as our family is."
The company couldn't have grown into its current role in business aviation without significant investment.
"We are dedicated to this industry, our customers, our team members, and the communities in which we are located," says Jeff Lake, President of Duncan Aviation. "Every decision we make is with them and the future in mind."
Over the last 25 years, Duncan Aviation has invested more than $313 million in its facilities, tooling and new capabilities. In addition, the company has spent more than $68 million in training.
The company will officially celebrate its longevity supporting business aviation from its Founder's Day through the end of the year. Duncan Aviation's Founder's Day is celebrated August 22, the birthday of both founder Donald Duncan and coincidentally of his grandson and current chairman Todd Duncan. Celebration activities will include a team member song and art contest, local gatherings, and the publishing of a historical coffee table book entitled, "Always Trust Your Cape: The Soaring Story of Duncan Aviation."
About Duncan Aviation
Duncan Aviation is an aircraft service provider supporting the aviation needs of business aircraft operators, government agencies, and other aircraft service providers. Services include major and minor airframe inspections, engine maintenance, major retrofits for cabin and cockpit avionics systems, full paint and interior services, engineering and certification services, fabrication and manufacturing services, and preowned aircraft sales and acquisitions. Duncan Aviation also has international aircraft components solutions experts available 24/7/365 at +1 402.475.4125 who can handle any aircraft system problem with immediate exchanges, rotables, loaners or avionics/instrument/accessory repairs and overhauls. Complete service facilities are located in Battle Creek, Michigan; Lincoln, Nebraska; and Provo, Utah. We also have dozens of other facilities strategically located throughout the United States to provide customers with scheduled regional support and the quickest response possible to avionics, engine and airframe Aircraft On Ground (AOG) situations.
For more information about any of Duncan Aviation's services, call +1 402.475.2611 or visit https://www.DuncanAviation.aero/services