Duncan Aviation Completes STC on Hawker Aircraft for Gogo AVANCE L3 Upgrades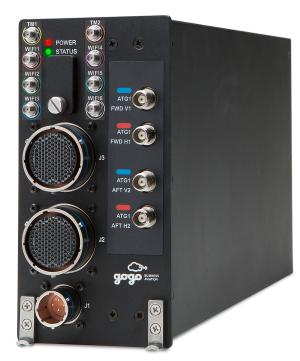 LINCOLN, NEB. — Duncan Aviation's Engineering & Certification Services has developed a Supplemental Type Certificate (STC) covering the equipment upgrade from Gogo Business Aviation's legacy Air-to-Ground (ATG) systems to the newer AVANCE L3 Wi-Fi system for operators of the Hawker 800XP. This STC was completed on a Hawker at Duncan Aviation's Satellite in Chesterfield, Missouri, at the Spirit of St. Louis Airport.
This upgrade will allow passengers and crew aboard Hawker aircraft equipped with the AVANCE L3 system to retain in-flight connectivity once Gogo's newer Long-Term Evolution (LTE) network is available. The LTE network is replacing the existing Gogo Biz network.
"We were pleased to accommodate our customer's Wi-Fi needs by installing the AVANCE L3 in his Hawker 800XP," says Ed Reeve, Manager of Duncan Aviation's Satellites in St. Louis, Missouri, and Nashville, Tennessee. "Now that we have this STC, we are able to provide a reliable in-flight system to our Hawker customers. As long as you're upgrading from one of the Gogo legacy ATG systems originally installed with a Duncan Aviation STC, we can prepare the aircraft and install the AVANCE L3."
Downtime for the upgrade is minimal: five business days in most cases. The upgrade entails removing the existing ATG line replaceable unit (LRU) and replacing it with the newer AVANCE L3 LRU. The antennas installed with the legacy system won't need to be replaced and will provide access to the Gogo LTE network.
Gogo's legacy ATG systems (ATG 8000, 5000, 4000, 2000, and 1000) won't be able to connect to the LTE network. Without an AVANCE upgrade, aircraft with Gogo's legacy ATG equipment will no longer have in-flight connectivity. To help make the upgrade more affordable, Gogo is offering incentives for customers to upgrade to an AVANCE system:
$50,000 rebate for AVANCE L5 upon service activation
$25,000 rebate for AVANCE L3 (MAX and PLUS only) upon service activation
Planning and scheduling upgrades take time, and there is already a growing demand, so don't wait to reserve your spot at the Duncan Aviation Satellite nearest you today!
Contact one of the more than 25 Duncan Aviation Satellites located at business aviation airports throughout the country (DuncanAviation.aero/locations/#satellites) or contact Duncan Aviation's Regional Avionics Sales Manager, John Spellmeyer, at +1 316.214.8867 or via email at John.Spellmeyer@DuncanAviation.com for information and scheduling.
In addition to the extensive library of STCs developed by Duncan Aviation for Gogo equipment, STC development is already underway for existing classic ATG-equipped Falcon 2000/2000EX aircraft to AVANCE L3 coming later this year.
Duncan Aviation is considering additional models for STC development to assist operators with the transition from Gogo's legacy ATG systems to its industry-leading AVANCE platform, to be performed at one of Duncan Aviation's three full-service facilities and more than 25 Satellites.
About Duncan Aviation
Duncan Aviation is an aircraft service provider supporting the aviation needs of business aircraft operators, government agencies, and other aircraft service providers. Services include major and minor airframe inspections, engine maintenance, major retrofits for cabin and cockpit avionics systems, full paint and interior services, engineering and certification services, fabrication and manufacturing services, and preowned aircraft sales and acquisitions. Duncan Aviation also has international aircraft components solutions experts available 24/7/365 at +1 402.475.4125 who can handle any aircraft system problem with immediate exchanges, rotables, loaners or avionics/instrument/accessory repairs and overhauls. Complete service facilities are located in Battle Creek, Michigan; Lincoln, Nebraska; and Provo, Utah. We also have dozens of other facilities strategically located throughout the United States to provide customers with scheduled regional support and the quickest response possible to avionics, engine and airframe Aircraft On Ground (AOG) situations.
For more information about any of Duncan Aviation's services, call +1 402.475.2611 or visit https://www.DuncanAviation.aero/services