Duncan Aviation Completes STCs for Legacy 600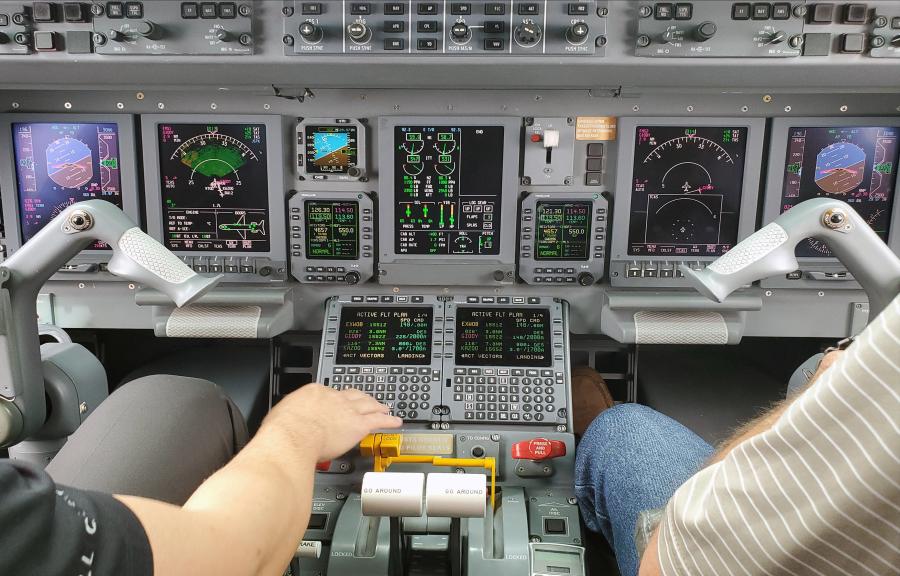 LINCOLN, NEB — Duncan Aviation is pleased to announce its Engineering & Certification Services recently amended two Supplemental Type Certificates (STCs) for the Embraer Legacy 600. The first STC (ST01856WI) is for the Honeywell Aerospace Flight Management System (FMS) and the second STC (ST01858WI) is for Future Air Navigation System (FANS). These STC amendments will allow owner/operators of Embraer (Yaborã Indústria Aeronáutica) EMB-135BJ aircraft to upgrade their existing NZ-2010 FMS from version 6.1 to version 6.1.1 and certify the Mode V Glidepath deviation alerting and annunciation for precision approaches.
ST01856WI updates the Honeywell FMZ-2000 FMS to FMZ-2010 and allows for LPV/WAAS (Localizer Performance with Vertical Guidance/Wide Area Augmentation System) and Vertical Navigation (VNAV) capabilities. The amendment certifies the use of the Mode V Glidepath monitoring, alerting, and annunciation for LPV approaches. The new software gives audio and visual alerts when a pilot's approach is too low.
The amendment to ST01858WI resolves the issue of latency with FANS. The new software includes a message latency monitor to detect old Controller Pilot Data Link Communications (CPDLC) messages that may no longer apply.
"Prior to the software fix, Air Traffic Control (ATC) could send a pilot a message, and it was possible for that message to get lost or delayed. Effectively, the upgrade time-stamps the message so pilots know which messages are current," says Duncan Aviation Certification Coordinator Russ Kromberg. "Although there were many reasons our customers wanted these upgrades, the primary concern was to make CPDLC fully compliant with current FANS standards for flying the North Atlantic Tracks (NAT)."
Although these upgrades were completed at Duncan Aviation's Satellite Shop in Houston, Texas, they can be performed at any of the company's 28 Satellites or workaway stations or at any of the three full-service facilities in Battle Creek, Michigan, Lincoln, Nebraska, or Provo, Utah. For information about buying one of the STCs or to schedule an installation, contact any Duncan Aviation Satellite Avionics Representative (https://DuncanAviation.aero/services/avionics-installation/contacts).
About Duncan Aviation
Duncan Aviation is an aircraft service provider supporting the aviation needs of business aircraft operators, government agencies, and other aircraft service providers. Services include major and minor airframe inspections, engine maintenance, major retrofits for cabin and cockpit avionics systems, full paint and interior services, engineering and certification services, fabrication and manufacturing services, and preowned aircraft sales and acquisitions. Duncan Aviation also has international aircraft components solutions experts available 24/7/365 at +1 402.475.4125 who can handle any aircraft system problem with immediate exchanges, rotables, loaners or avionics/instrument/accessory repairs and overhauls. Complete service facilities are located in Battle Creek, Michigan; Lincoln, Nebraska; and Provo, Utah. We also have dozens of other facilities strategically located throughout the United States to provide customers with scheduled regional support and the quickest response possible to avionics, engine and airframe Aircraft On Ground (AOG) situations.
For more information about any of Duncan Aviation's services, call +1 402.475.2611 or visit https://www.DuncanAviation.aero/services