Duncan Aviation "Day in the Life" Video Series and Upcoming Lincoln Career Fair Give Glimpse of Company Culture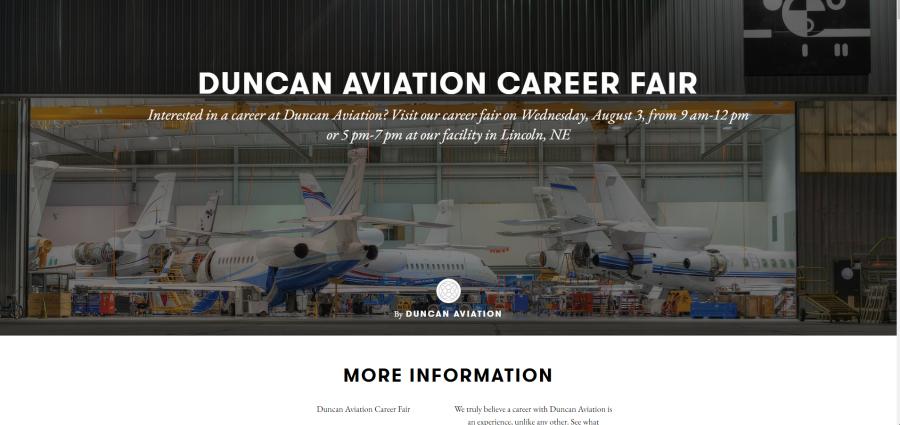 LINCOLN, NEB. — Duncan Aviation is sharing the company's employment culture through the release of a new video series and a local company career fair at its Lincoln, Nebraska, location.
The Video Series – Installment 1
The video series, titled "A Day in the Life," gives viewers a glimpse of what it's like working at Duncan Aviation. In the episodes, Duncan Aviation team members from across the company discuss their backgrounds, what a typical day looks like, their job duties, and why others should consider joining the team at Duncan Aviation.
Watch now: www.DuncanAviation.aero/careers/day-in-the-life-video-series
Featured in the first three-part video installment of the series are Airframe Tech Hunter Borah, Airframe Lead Tech Brandon Husted, and Airframe Lead Tech Max Mcelroy.
Additional installments that highlight other career opportunities, different departments and positions, and other locations will be added periodically.
Duncan Aviation Career Fair – Lincoln, Nebraska
For those interested in an aviation career or a career with Duncan Aviation, the company will host a career fair at its full-service facility in Lincoln, Nebraska, on Wednesday, August 3, from 9 am-Noon and 5-7 pm. Representatives will be available from several departments, including Design, Information Technology, Facilities, Shipping/Receiving, Paint, Customer Service, Fuel/Line Services, Engine, Avionics and Airframe to give tours and provide more information about careers at Duncan Aviation.
Learn more here: www.DuncanAviation.aero/careerfair
Those who can't come to the career fair can email their resume to Recruiting@DuncanAviation.com.
Other Duncan Aviation Career Resources
For those interested in pursuing a career in aviation, Duncan Aviation has compiled other helpful resources. The company website has a Career Resources page that consists of videos, podcasts, brochures, career pathway stories, Student Edition Debrief magazine, and links to other business aviation career resources. Learn more here: www.DuncanAviation.aero/careers/resources
Duncan Aviation offers an experience, unlike any other. See what career opportunities are waiting: www.DuncanAviation.aero/careers
Upcoming Duncan Aviation Recruiting Events
August 3: Duncan Aviation Career Fair, Lincoln, Nebraska
August 17: Spartan College of Aeronautics, Tulsa, Oklahoma
August 17 & 18: Wyotech Career Fair and on-site interviews, Laramie, Wyoming
August 18: Military Recruiting Event, Marine Corps Base, Camp Pendelton
September 7: UNO Aviation Expo & Career Fair, Omaha, Nebraska
September 8: Northland Community College Class Presentation
September 12: Southern Utah University Class Visit & Lunch
September 13-15: Pennsylvania College of Technology – Avionics Electronics 9/13, Airframe Maintenance 9/14, Automotice Collision/Repair & Paint Career Fair 9/15
September 15: National Aviation Academy, Tampa, Florida
September 22: Hill Air Force Base, Hill Air Force Base, Utah
About Duncan Aviation
Duncan Aviation is an aircraft service provider supporting the aviation needs of business aircraft operators, government agencies, and other aircraft service providers. Services include major and minor airframe inspections, engine maintenance, major retrofits for cabin and cockpit avionics systems, full paint and interior services, engineering and certification services, fabrication and manufacturing services, and preowned aircraft sales and acquisitions. Duncan Aviation also has international aircraft components solutions experts available 24/7/365 at +1 402.475.4125 who can handle any aircraft system problem with immediate exchanges, rotables, loaners or avionics/instrument/accessory repairs and overhauls. Complete service facilities are located in Battle Creek, Michigan; Lincoln, Nebraska; and Provo, Utah. We also have dozens of other facilities strategically located throughout the United States to provide customers with scheduled regional support and the quickest response possible to avionics, engine and airframe Aircraft On Ground (AOG) situations.
For more information about any of Duncan Aviation's services, call +1 402.475.2611 or visit https://www.DuncanAviation.aero/services