Duncan Aviation Delivers Aircraft with Hydrographic Countertops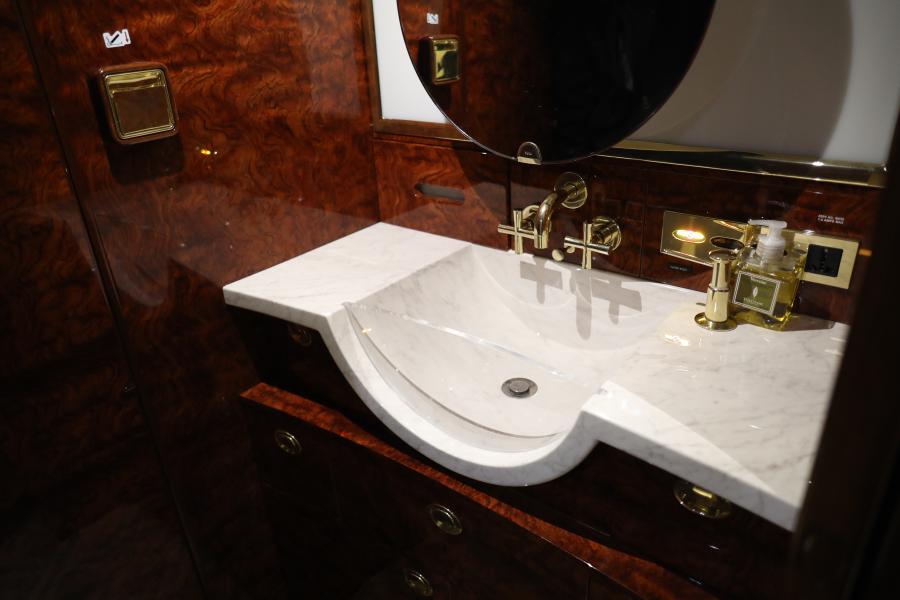 Duncan Aviation recently delivered two aircraft with interior elements that were created with hydrographic printing. The Gulfstream 150 and Challenger 300 are the first aircraft to receive countertops that were created with hydrographic technology, a new finish option recently implemented by Duncan Aviation interior experts.
Duncan Aviation Completions and Modifications Sales Rep Jeff Beaudette says, "Both customers are ecstatic with their new countertops. The solution provides new finish options for countertops and sinks without weight changes or certification concerns." Beaudette continues, "Going forward we will be using hydrographics on other applications such as dividers, monuments, card table inserts and so on."
These unique three-dimensional printing solutions can be used on interior components, panels, accents, and even full cabinets, depending on their size. The capabilities open up a variety of aesthetic options for interior finishes without changing cabinet veneer, and designs can include wood grain, stone, metals, as well as custom designs. Some options allow shorter downtime than traditional methods and are excellent alternatives to traditional re-veneer or strip and refinish.
Duncan Aviation Sales Manager Nate Klenke says, "Experimenting with and introducing interior finishes in new and creative ways is critical in providing relevant and interesting interior designs. Hydrographics create the ability to replicate a variety of textures and designs in an aircraft interior while providing a lightweight, durable finish at an incredible value compared to genuine materials like leather, stone, or wood veneer. Many times, the genuine products also create challenges with thickness and lack of flexibility, which add to the complexity during the construction and application phases of the refurbishment. Hydrographics nearly eliminate the need for special edge treatments and will cover the most complex shapes."
Duncan Aviation Interior Manager Jared Stauffer adds, "Offering hydrographic solutions for interior finishes is an extra touch to meeting our customers' needs. We are trying to widen our lens to more than what's just in aviation. We consider what options and capabilities the customer has outside of their aircraft, and look for ways to not only integrate those into their aircraft experience, but also make the experience special."
About Duncan Aviation
Duncan Aviation is an aircraft service provider supporting the aviation needs of business aircraft operators, government agencies, and other aircraft service providers. Services include major and minor airframe inspections, engine maintenance, major retrofits for cabin and cockpit avionics systems, full paint and interior services, engineering and certification services, fabrication and manufacturing services, and preowned aircraft sales and acquisitions. Duncan Aviation also has international aircraft components solutions experts available 24/7/365 at +1 402.475.4125 who can handle any aircraft system problem with immediate exchanges, rotables, loaners or avionics/instrument/accessory repairs and overhauls. Complete service facilities are located in Battle Creek, Michigan; Lincoln, Nebraska; and Provo, Utah. We also have dozens of other facilities strategically located throughout the United States to provide customers with scheduled regional support and the quickest response possible to avionics, engine and airframe Aircraft On Ground (AOG) situations.
For more information about any of Duncan Aviation's services, call +1 402.475.2611 or visit https://www.DuncanAviation.aero/services