Duncan Aviation Delivers Gulfstream G550 With Modified Cabin Management System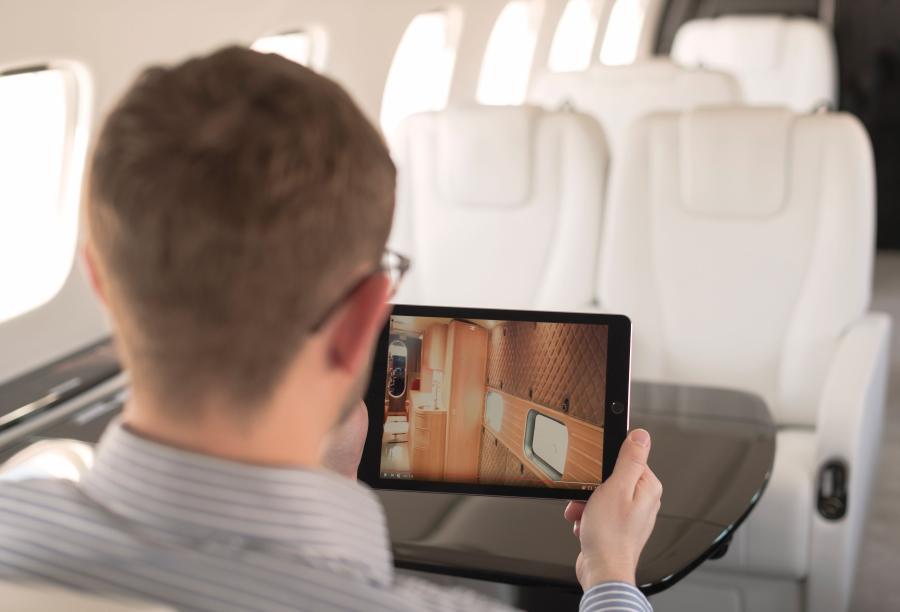 LINCOLN, NEB — Duncan Aviation recently modified a Cabin Management System (CMS) for a Gulfstream G550, resolving an issue with obsolete parts without the need to replace all the switch panels or provide major alterations to all of the drink rails. Using a new distribution system for the entertainment portion of the CMS allowed the customer to upgrade to newer, more advanced High-Definition (HD) monitors, High Definition Multimedia Interface (HDMI) panels and touchscreen controllers.
"This modification gives the customer custom entertainment options such as streaming video, HDMI Ports, and touchscreens, as well as control of the cabin through iPad's remote application," says Senior Avionics Sales Rep Dennis Kruse. "It's an ideal solution for customers who aren't ready to replace veneer/woodwork and drinkrails but want access to high-definition entertainment content with the look and feel of a new CMS.
"Not only do customers get a customizable In-Flight Entertainment system, but they'll also get new equipment that is fully supported and has a warranty," says Kruse.
For more information about modifying the CMS for your G550 or to schedule an input date at one of Duncan Aviation's three main facilities in Battle Creek, Michigan; Lincoln, Nebraska; or Provo, Utah, contact:
https://duncanaviation.aero/services/avionics-installation/contacts
For information about scheduling an installation at one of Duncan Aviation's 28 Satellites:
Regional Avionics Sales Manager Michael Kussatz, 531-207-3951 or Michael.Kussatz@DuncanAviation.com
Regional Avionics Sales Manager John Spellmeyer, 316-214-8867 John.Spellmeyer@DuncanAviation.com
About Duncan Aviation
Duncan Aviation is an aircraft service provider supporting the aviation needs of business aircraft operators, government agencies, and other aircraft service providers. Services include major and minor airframe inspections, engine maintenance, major retrofits for cabin and cockpit avionics systems, full paint and interior services, engineering and certification services, fabrication and manufacturing services, and preowned aircraft sales and acquisitions. Duncan Aviation also has international aircraft components solutions experts available 24/7/365 at +1 402.475.4125 who can handle any aircraft system problem with immediate exchanges, rotables, loaners or avionics/instrument/accessory repairs and overhauls. Complete service facilities are located in Battle Creek, Michigan; Lincoln, Nebraska; and Provo, Utah. We also have dozens of other facilities strategically located throughout the United States to provide customers with scheduled regional support and the quickest response possible to avionics, engine and airframe Aircraft On Ground (AOG) situations.
For more information about any of Duncan Aviation's services, call +1 402.475.2611 or visit https://www.DuncanAviation.aero/services