Duncan Aviation Delivers Its First Challenger 300 7500-Landing Inspection with Commitments for More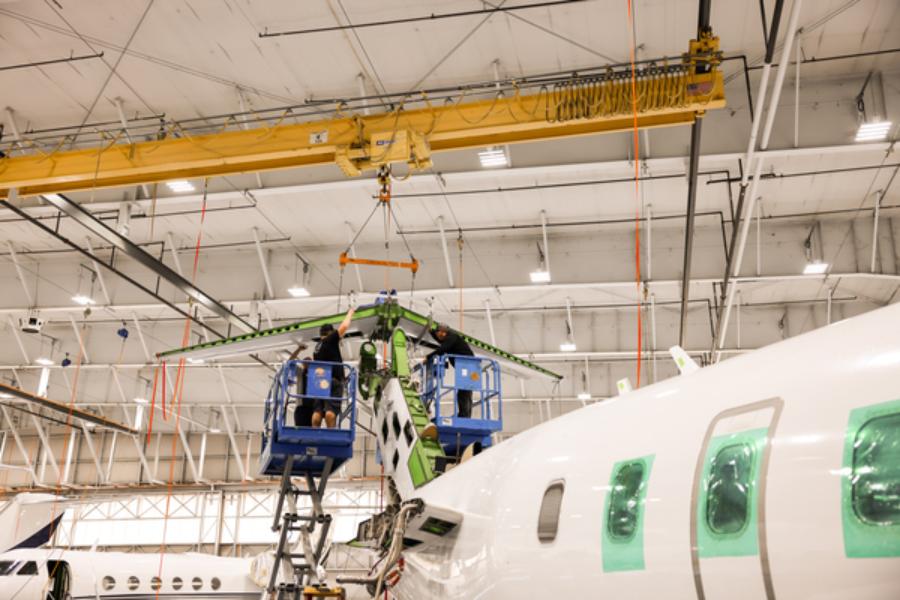 LINCOLN, NEB. — After two successful test flights with zero airframe squawks, Duncan Aviation delivered the company's first Challenger 300* 7500-Landing Inspection, with added full interior refurbishment, complete paint, broadband internet, 192-month airframe, and landing gear overhaul.
The 7500-Landing inspection is the most comprehensive inspection for Challenger 300 aircraft. It is a major undertaking for which every Duncan Aviation in-house backshop team had a hand in completing the project, including expertise from Duncan Aviation's in-house Nondestructive Testing (NDT) team. Nearly $500,000 was invested in purchasing new NDT standards and probes to gain access to inspect new areas of the aircraft and complete the inspection.
Preparation for this major inspection began months ahead of the aircraft's arrival, with hundreds of hours of researching, quoting, and planning. This in-depth planning turned into flow charts, milestones, ordering parts, and acquiring tools.
"Preparation for this inspection was no different from others we've done. It was just larger," said Todd Shriner, Duncan Aviation Bombardier Tech Rep. "The airframe team, led by Airframe Team Leader Nick Lovell, researched all the tasks, grouped them, and flowed the activities to determine timelines and milestones. They created a good plan and were prepared to react to anything that arose."
Taking advantage of the extended downtime and open access, the Challenger aircraft had a complete interior refurbishment and new exterior paint. It was also outfitted with the Collins Aerospace Luxstream broadband internet SATCOM system for fast and reliable inflight satellite internet service around the world.
The inspected and refurbished Challenger 300 aircraft was delivered on January 21, 2023, and according to Duncan Aviation's Project Manager Bill Collins, it continues to fly without issue.
The second Challenger 300 aircraft arrived for its 7500-Landing inspection at Duncan Aviation's MRO in Lincoln, Neb., on January 31, with six more scheduled through 2023 and into 2024.
Nearly 800 Challenger 300 aircraft are flying today, with many approaching this major inspection milestone. For more than a decade, the Challenger 300 series aircraft have accounted for more deliveries than any other business jet platform in the super mid-size segment, offering customers superior comfort, performance, reliability, and value.
Bombardier operators worldwide have trusted Duncan Aviation with airframe inspections for all Bombardier make/model aircraft. "They are looking for an MRO facility that can provide a competitive downtime with the tooling and experience to skillfully work through any discrepancies and concerns that may arise," says Duncan Aviation Airframe Service Sales Rep Adam Lauderback. "They are finding it at Duncan Aviation."
Duncan Aviation's three full-service facilities in Battle Creek, Michigan; Lincoln; and Provo, Utah, are Authorized Service Facilities, providing comprehensive sales and services with teams dedicated to Bombardier aircraft. They are well known by Bombardier operators calling to schedule the 7500-Landing inspection and all the smaller inspections that lead up to it.
*Trademarks of Bombardier Inc. or its subsidiaries
About Duncan Aviation
Duncan Aviation is an aircraft service provider supporting the aviation needs of business aircraft operators, government agencies, and other aircraft service providers. Services include major and minor airframe inspections, engine maintenance, major retrofits for cabin and cockpit avionics systems, full paint and interior services, engineering and certification services, fabrication and manufacturing services, and preowned aircraft sales and acquisitions. Duncan Aviation also has international aircraft components solutions experts available 24/7/365 at +1 402.475.4125 who can handle any aircraft system problem with immediate exchanges, rotables, loaners or avionics/instrument/accessory repairs and overhauls. Complete service facilities are located in Battle Creek, Michigan; Lincoln, Nebraska; and Provo, Utah. We also have dozens of other facilities strategically located throughout the United States to provide customers with scheduled regional support and the quickest response possible to avionics, engine and airframe Aircraft On Ground (AOG) situations.
For more information about any of Duncan Aviation's services, call +1 402.475.2611 or visit https://www.DuncanAviation.aero/services