Duncan Aviation Delivers Updated Falcon 900EX EASy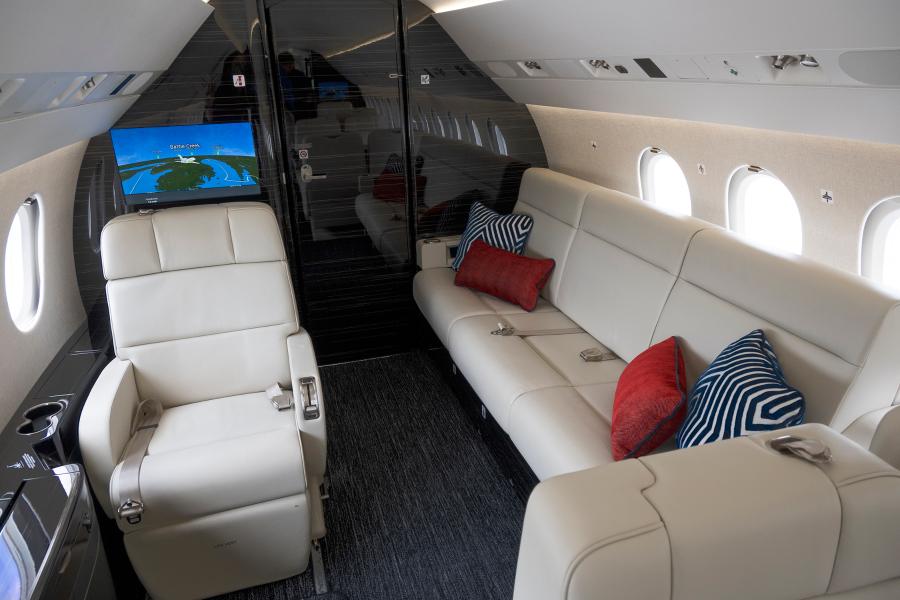 LINCOLN, NEB. — Duncan Aviation is excited to announce that its Battle Creek, Michigan, teams recently delivered a Falcon 900EX EASy complete with new paint, interior, and a Collins Aerospace CMS Venue upgrade. The aircraft was also the make/model STC launch aircraft for the ACA Ionization system.
The loyal Duncan Aviation customer loved the look and feel of their Falcon 7X, so they wanted their Falcon 900EX EASy to be identical.
"When the customers came me with their 7X, they really liked the overall design, color palette, and feel of their 7X interior," said Lead Designer Emily Krawzcak. "The only thing they really wanted to change was the original carpet because it didn't fit with the rest of the interior."
The overall design is clean and masculine with a lot of leather and dark, heavily grained veneer, mixed with textures to help soften the overall space. The interior is highlighted by plated tambour doors in the galley, embossed lower sidewalls, custom seats, frosted galley doors, and plated trim.
"In addition to changing the carpet, we updated the pillows and credenza pad fabric," said Krawczak. "Those details will be updated in their 7X, too, so the two aircraft will be mostly identical."
Krawczak said that the updated interior in the 900EX is absolutely gorgeous, and that she has heard nothing but positive comments from Duncan Aviation team members and the customer.
The customer wanted the new exterior paint to match of their 7X exactly, complete with a Matterhorn white base and gold and navy stripes.
The aircraft also received the Collins Aerospace Venue CMS and was the make/model STC launch aircraft for the ACA Ionization system. You can learn more about how the ACA Ionization system works here: https://duncanaviation.aero/videos/air-quality-systems-installed-by-duncan-aviation
About Duncan Aviation
Duncan Aviation is an aircraft service provider supporting the aviation needs of business aircraft operators, government agencies, and other aircraft service providers. Services include major and minor airframe inspections, engine maintenance, major retrofits for cabin and cockpit avionics systems, full paint and interior services, engineering and certification services, fabrication and manufacturing services, and preowned aircraft sales and acquisitions. Duncan Aviation also has international aircraft components solutions experts available 24/7/365 at +1 402.475.4125 who can handle any aircraft system problem with immediate exchanges, rotables, loaners or avionics/instrument/accessory repairs and overhauls. Complete service facilities are located in Battle Creek, Michigan; Lincoln, Nebraska; and Provo, Utah. We also have dozens of other facilities strategically located throughout the United States to provide customers with scheduled regional support and the quickest response possible to avionics, engine and airframe Aircraft On Ground (AOG) situations.
For more information about any of Duncan Aviation's services, call +1 402.475.2611 or visit https://www.DuncanAviation.aero/services